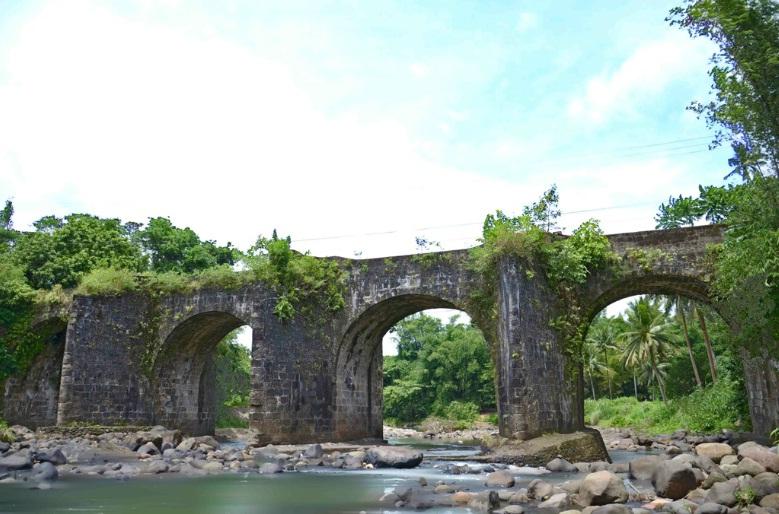 For adventurers who want to indulge themselves in our country's history and architecture, the Malogonlong Bridge in Tayabas, Quezon presents a structure made from local ingenuity that has withstood the test of time.

A declared historical site by the National Historical Institute, Malagonlong is a 445-foot-long bridge built in 1840. It was the longest bridge ever made during the Spanish colonial era with approximately 100,000 adobe blocks used.
Puente del Malagonlong
Malogonlong Bridge is said to be one of the oldest and longest stone arched bridges found in the town of Tayabas, province of Quezon. The bridge is reported to have been built between the years 1840 and 1850 under the direction of the "Ministro del Pueblo," Fray Antonio Mattheos, a Franciscan priest.
155 years after its construction, the bridge remains a testimony to the excellent stone arch bridge craftsmanship that was its foundation. It joins other such bridges in the world that are worthy of preservation as it provides us a window to the past when natural materials such as stone, molasses, eggs and blood resulted in a structure that lasted through the ages.
The bridge crosses the Dumaca-a river and connects Tayabas to towns towards its Eastern side. Specifically it connects Barangay Mateuna and Barangay Lakawan, as well as the municipalities of Mauban, Pagbilao and Tayabas.
Malagonlong Bridge is proudly claimed by the citizens of Tayabas as an important heritage object that reminds them of the history and uniqueness of the city. The Bridge is one of the eleven stone measonry bridges in the city that reminds them the importance of Tayabas as a former capital of the province.
How to get there
From Manila you can reach Quezon Province by bus to your destination.
Here is the list of terminals where you can catch buses going to Lucena, Quezon.
EDSA-Kamuning

Cubao

Buendia-Taft

EDSA-Pasay
Travel time to Tayabas is about 3 hours from Manila. It is bounded on the north by Lucban, Lucena to the south, Pagbilao to the south-east and Sariaya to the west.
Board a bus from the stations above going to Lucena, Quezon. Get off at Lucena Grand Terminal. From there, jeepneys and tricycles are available to go around the town.
Rating:
0 people rated this.