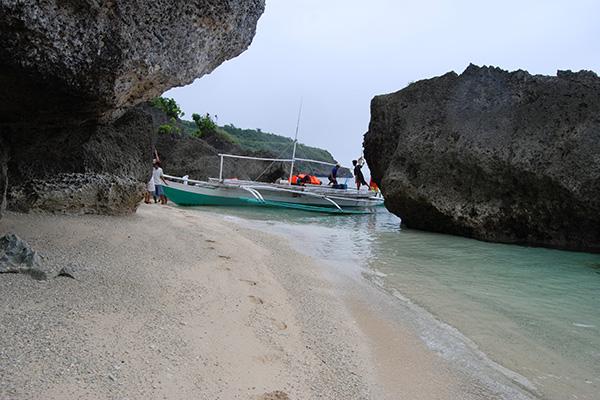 Gaspar Island

Tres Reyes Islands can be found in Barangay Pinggan in Gasan, Marinduque. The name of the islands are originally derived from the three Kings of the Nativity: Gaspar, Melchor, and Baltazar. The Tres Reyes Islands, also called the "Three Kings," is a chain of three islands off the coast of Gasan.
It is one of the most popular tourist destinations in the province of Marinduque. You can reach the islands in more or less half an hour by boat. You can organize a boat trip with one of the resorts along the coastline or with a local fisherman.
The island is an ideal place for picnics and diving in Marinduque. The islets have a long stretch of coral beach and clear blue-green waters which are perfect for swimming and snorkeling. There is an abundance of marine life and coral reefs under the water.
Gaspar Island
Gaspar Island is located in the south west of Marinduque Island. It is the biggest and the largest island of the Tres Reyes Islands. It has a short stretch of coral beach. In 1981, a sunken ship was found in the area over 130-feet under the waters between Gaspar and the mainland. It was one of the Chinese pirate Limahong's vessels,. The find surrendered artifacts and treasures which are worth millions pesos. Some of it are porcelain jars and plates. The Underwater Archeology division of the National Museum recovered various of artifacts from the wreckage. Today, all of the artifacts are now displayed in the museum for exhibit.
Melchor Island
Melchor Island is located near at the mainland of Marinduque among the Tres Reyes islands. There are cottages in the area that are for rent made by the locals . The guests in the area are warned not go too far because there is a strong current in the waters.
Baltazar Island
This is an islands reserve with an excellent dive spot. You can also explore the underwater cave here. Baltazar is one of the most well-known dive areas in the province and among the three islands.
How to get here:
From Manila, you can board a plane going to Marinduque Airport, the island's only airport, which is situated in Barangay Masiga.

From Manila, one can also ride a bus going to Lucena Port. After that, you can ride in a "RORO" bound for Marinduque.

Rating:
1 people rated this.