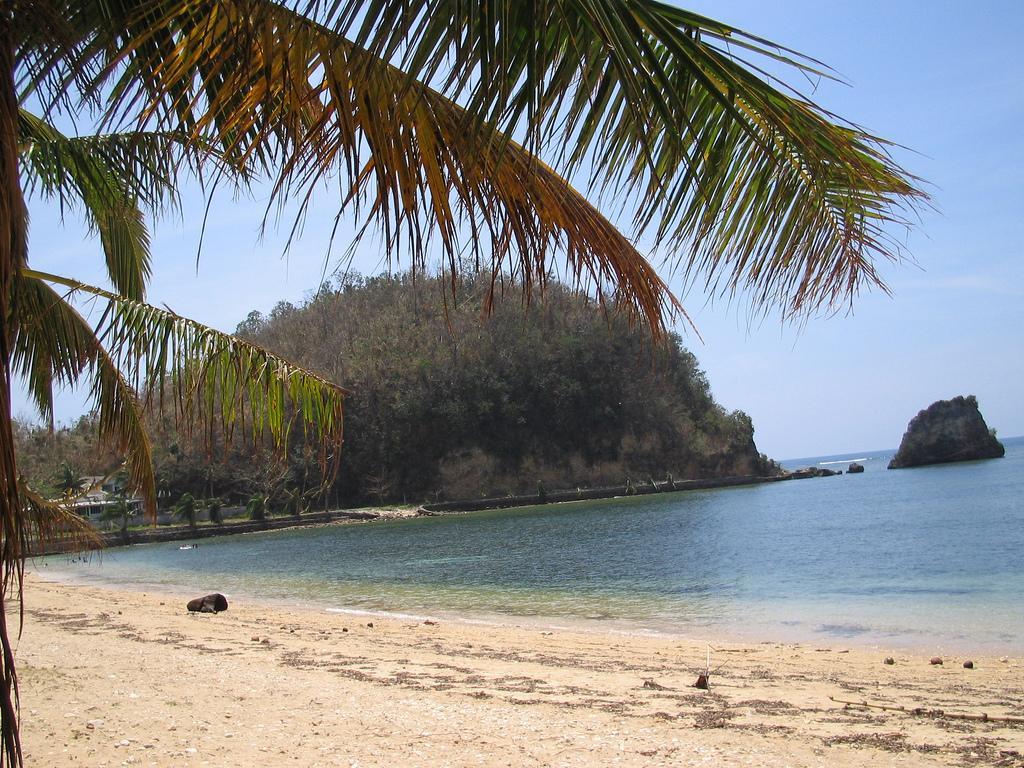 The province of Catanduanes is a part of the Philippines with miles of beautiful coastline, and Twin Rock Beach is a sterling example of how the region has become the next top international travel destination for great beaches.
Pockets of white sand beaches sandwiched between coves, this place is a haven for surfboarding & wind surfing. The underwater coral formations are ideal for spear fishing. Some caves are located nearby.
Swimming is only allowed in some designated areas. An idyllic cove named Twin Rock by its former owner, a Japanese expatriate, the beach resort endows its visitors with calming vibrations that permeates the area and seawaters around it.
The green hills are enveloped with serenity from its two sentinels the residents call the twin rocks. They don't look like twins though, with the inner rock much bigger than the outer one, but nature must have so designed them to stand majestically, even intimidating to preserve and protect the tranquility of the place.
Try walking on its white sands and when in the middle of the semi-circular beach, observe and savor the incessant call of the great Pacific. Its tireless waves breaking before reaching the portals of Igang's cove and continue its rhythmic ripples to lap at the shores. The waters come endlessly and leave temporarily in a rhythm so poignantly expressive, so much like life itself, assuring all that as life must come and go, so must it complete a cycle. And Igang must have had umpteenth cycles as its soul nourish the fullness of her being. Whatever modern ways and systems have been applied to it, however the imaginative masters have cosmetically rearranged her contours, build and construct indigenous habitat or concrete edifices on it.
Splash in waters of incredible clarity beneath, which lie sanctuaries of rich and colorful marine life. Its underwater coral formations offer an added adventure for spear fishing and snorkeling. Scuba diving, either as a fun-filled introduction or a recreational dive, is a very promising activity in this resort.
The resort offers the comforts and luxury of modern day living amid the verdant surroundings. People came here to swim, snorkel, skin dive and play water sports in its crystal clear pristine waters. Twin Rock is apparently the most advertised and photographed resort in the island. Located just nine kilometers from the town capital of Virac, it has been a local institution and a favorite destination for weekenders because it has lots of open space. It's enclosed in a cove so the water is calm, which is ideal for swimming especially for kids.


Location
The beach is located at barangay Igang in Virac Catanduanes.
How to get there
By Air
Zest Air and Cebu Pacific fly from Manila going to Virac, Catanduanes.
By Land and Water
Numerous bus lines operate air-conditioned coaches from Manila to Tabaco, Albay. From the seaport of Tabaco, hop on either at MV Calixta 2, 4 and 5 or MV Eugene Elson to reach the island of Catanduanes going to the seaport of San Andres or Virac.
Another way is to take RSL bus from Manila to Catanduanes that has terminals at Alabang near Metropolis or Ermita.
Going around the Island
Tricycle is the primary mode of transport within the capital town of Virac. PUJs and buses ply from Virac to the different municipalities daily on scheduled time. For the more daring and adventurous, the entire province could be reached by motorcycle.
Barely 15 minutes' drive from Virac Domestic Airport or roughly 30 minutes from Virac seaport, the resort can be viewed while on board the ferry boat.
Accommodations
• Catanduanes Midtown Inn - San Jose, Virac Catanduanes
• Marem Pension House - Sta. Cruz, Virac, Catanduanes
• Kemji Resort and Restaurant - San Isidro Village, Virac, Catanduanes
• Rakdell Inn - San Pedro, Virac, Catanduanes
• Rhaj Apartelle and Executive Inn - Rizal Avenue, Gogon, Virac, Catanduanes
Rating:
0 people rated this.