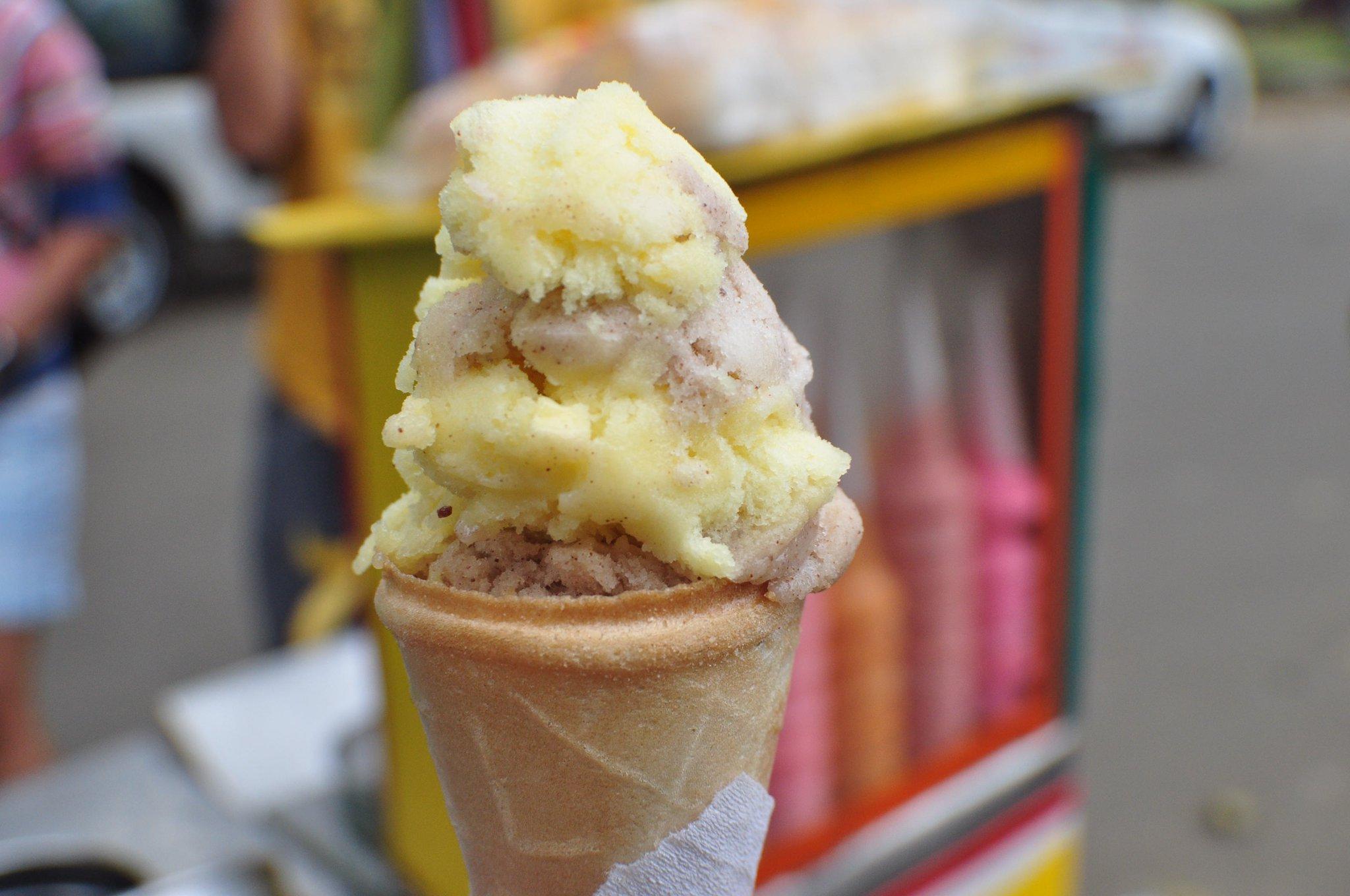 Cheese-flavored ice cream, anyone?
I was looking for strange and unique Pinoy ice cream flavors and this came on top of the list. I mean, really? I was more than surprised because I grew up eating ice creams with this particular flavor. Foreigners might say that cheese is meant to be put on buns and crackers, not processed and chilled as an ice cream. All I can say is that you'll easily fall in love with this ice cream flavor once you try it.
Mmm! Tropical fruit ice creams!
As a country abundant with tropical fruits, the Philippines offers a lot of delicacies and desserts made from these harvests. The most common flavors are ube (purple yam),macapuno (sweet coconut), mango, langka (jackfruit), and avocado. These are usually mixed with nuts and marshmallows for a more delicious taste.
Other ice cream flavors are durian, calamansi (local lime), and sweet corn. If you can't stomach the smell of a real durian fruit, you can settle for a durian ice cream instead because its stench is a lot less intimidating. If you have a cold but are still craving for some sweet dessert, then insist on having a calamansi-flavored ice cream because maybe, just maybe, it would serve as a natural remedy for your cold. Finally, if you love to try eating corn with a twist, the sweet corn ice cream will surely captivate your taste buds.
Carbs on a cone…
Sebastian's Ice Cream is a local ice cream chain which is now getting popular because of its unusual Pinoy ice cream flavors. One of them is the tibok-tibok flavor which is made from fresh coconut milk and cream with latik (fried coconut milk solids) on top. This flavor is inspired by a pudding from Pampanga. Another yummy dessert is the champorado ice cream which is made of sweet chocolate rice porridge. Lastly, there is a puto bumbong ice cream which comes from a popular Filipino delicacy during Christmas season.
Alcoholic ice creams are worth a try!
El Fav Ice Creamery in Paranaque City offers a variety of ice cream made of alcoholic drinks. Two of them are the beer ice cream and the tequila rose ice cream. If you want your normal beverage to be below-zero cold and extra creamy, then you should definitely try these ice creams for a change. Just make sure to bring an ID with you because employees have to verify if you're 18 or above to avail these alcoholic products.
Check these out – Ice cream from plants and flowers!
Among these exotic ice cream flavors are sampaguita (Arabian jasmine), malunggay, and chilli. Sampaguita is the Philippine national flower. It's not enough just to see and smell this small white blossom – you also have to taste it! Ilustrado Restaurant in Intramuros converts this fragrant flower into a rich creamy dessert. Also, if you want to stay healthy without cutting back the sweets, the malunggay-flavored ice cream is your best pick. Butchie's Recipe in Greenhills braved to make a dessert from a vegetable, a very interesting feat. Bicolanos, famous for their extra spicy food, made the first ever hot and spicy dessert in the Philippines. Colonial Grill of Legazpi City made a chilli-flavored ice cream and is now gaining a lot of popularity because of it.
Original Pinoy Products: Yakult and Chocnut Ice Cream
Yakult is a cultured milk product in the Philippines sold in mini plastic bottles. Filipinos – especially kids – totally love its taste and an ice cream made of this will surely take its lusciousness to the next level. Plus, it is good for your tummy! Chocnut, on the other hand, is a unique blend of chocolate and nuts. Having it made into a cold dessert is a source of delight for foreign tourists and local residents alike.
Want different tastes in one scoop?
There are also different ice cream combinations like ube and macapuno, cheese and corn, and langka and cashew. You have to try a halo-halo ice cream if you want a mix of ube, macapuno, langka, leche flan, and other fruits. This flavor is based on a dessert made of mixed fruits, crushed ice, sugar, and milk.
Rating:
1 people rated this.