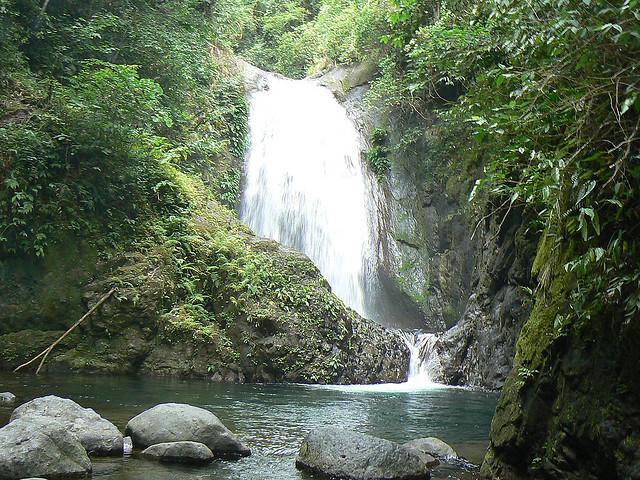 It is like the garden of Even with wonderful creations and diverse flora and fauna – Adam Town.
Positioned at the northern edge of Ilocos Norte, the town of Adams is surrounded by fertile mountains and valleys with unspoiled rain forests. The small town offers a system of breathtaking waterfalls for the tourists' delight.
For nature lovers and adventurers, Adams is a perfect getaway. The place offers priceless hiking trails that give you a scenic view of the waterfalls. One prided waterfalls of Adam is the Anuplig Falls, providing you with a view to appreciate and love.
Anuplig Falls is about 12 meters high with two basins which are really ideal for swimming. You can climb the top of the falls through the rock formation on the side. The falls is also a much-photographed subject, setting a natural view of the tranquil environment.
The Trek to Anuplig Falls – Adams is accessible through Pagudpud; it is 200 meters away from the Patapat Viaduct. For the hike, you need to pass a man-made rice terraces and through waterfalls. It is a thrilling trip because of the high cliffs, sharp rocks, and slippery terrains. Be careful and make sure you have a tour guide before trekking. The hike is good for 45 minutes but it is not boring because of its scenic view of nature.
Reaching the Anuplig Falls – All your tiredness will surely be washed away as you reach the falls. The spectacular view of Anuplig Falls and the lush green forest will make you forget the difficult and exhausting trek. For many adventurers who visit the place, no matter how easy or difficult the trail is, it is still an achievement for them. A trek to Adams is a unique experience and seeing the breathtaking view of the Anuplig Falls might bring tears of joy down your cheeks any minute.
--- :)
The Municipality of Adams, Ilocos Norte is exerting the best efforts to become a good tourist destination that will entice and attract tourists.
Travel Information – To go to Adams via air, ride a plane to Laoag (travel time: less than an hour) then take a van or bus headed for Sanchez Mira; get off at Pancian and hire a motorbike to go upland (travel time: 45 minutes). To go to Adams via land, there are buses that go straight from Manila to Sanchez Mira (Florida Transit, travel time: approximately 9.5 hours).
Accommodations in Laoag are also available. There are lots of inns and hotels throughout the town offering comfortable rooms and cottages at a reasonable price.
• Fort Ilocandia Resort Hotel - Brgy. 37 Calayab, Laoag (Ilocos Norte), Ilocos Region, Philippines
• Pamulinawen Hotel - National Highway, Brgy. 22, 2901 San Nicholas, Laoag (Ilocos Norte), Ilocos Region, Philippines
• Plaza Del Norte Hotel and Convention Center- 15 Suba, Paoay, Laoag (Ilocos Norte), Ilocos Region, Philippines
• Grand Octagon Resort - Airport Ave., Brgy.50, Butong, Laoag (Ilocos Norte), Ilocos Region, Philippines
• Java Hotel - 55B Salet Gen. Segundo Avenue, Laoag City, Laoag (Ilocos Norte), Ilocos Region, Philippines
Rating:
0 people rated this.