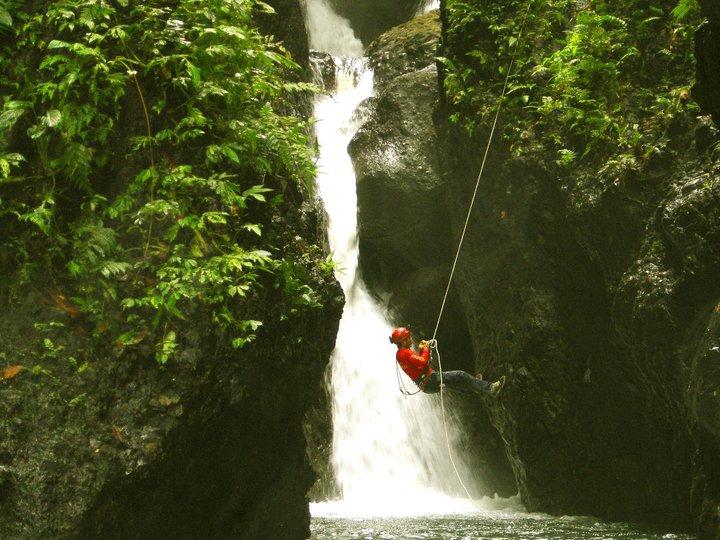 Rock climbing at Uwan-uwanan Falls
Uwan-uwanan Falls is located in Barangay Kawayan, Libagon, Southern Leyte. The gorge is a world-class adventure wonder. Going here is a mix of climbing, swimming, and trekking rolled into one. It will take a two-hour trek to the mountains, rappelling and climbing bamboo ladders within cascading falls before you reach the top.
Uwan-uwanan literally means "resembling a rainfall" because the two-hour track entails an enchanting encounter of an "uwan-uwanan". And at the top, photo enthusiasts are in for a marvelous treat. At exactly 12:00 noon when the sun is directly above the middle of the narrow opening at the gorge, the natural light is awe-inspiring as it dramatically illuminates the whole area resembling a magnificent altar in a cathedral or a place of worship.
Accommodations
Tahusan Beach Road Hinunangan
GV Hotel Maasin (Southern Leyte)
T. Opus Street, Maasin City, Southern Leyte, Samar / Leyte, Philippines
Osmena Street, Sogod, Leyte
Maasin City
Along Kangleon Street, Barangay Matahan, Maasin City, Southern Leyte
Southern Comfort Pensionne
Demeterio Street, Barangay Abgao, Maasin City, Southern Leyte
Ibarra Beach, Maasin City, Southern Leyte, Samar / Leyte, Philippines 6600
How to get there
From Manila, tourists can reach Southern Leyte by riding a plane via Tacloban. Local airlines from Manila have trips going to Tacloban - the gateway to Southern Leyte. From Tacloban, take an FX van going to Hinunangan - one of the towns in Southern Leyte.
There are buses from Manila, particularly in Pasay or Cubao, that have direct trips to Hinunangan.
Rating:
1 people rated this.