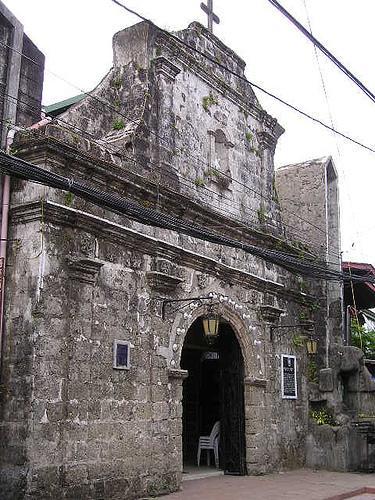 Declared a national shrine by the National Historical Commission, the Jesus Dela Peña Chapel was built by the Jesuits on April 16, 1930 and the first church in Marikina. The city was once been called Jesus Dela Peña in honor of the Infant Child Jesus. The town of Marikina was established in 1630 by the followers of St. Ignatius of Loyola, the Jesuit Orders who blazed the trail in quest of spiritual transformation among the country's inhabitants.

The establishment of Jesus Dela Peña Chapel

The chapel is the first church in Marikina. In April 1630, Fray Pedro de Arce, apostolic ruler of the Archbishopric of Manila, approved the transfer of ecclesiastical control and supervision of the Marikina area to the Society of Jesus, and directed the Augustinians to cede the territory to the Society to be converted to ranch for the support of the Universidad Maximo de San Ignacio in Manila. The Jesuits also decided to build a mission chapel near the banks of Marikina River, a rocky place which they called Jesus Dela Peña. Cavada also considers the year 1630, as the year the mission church was completed, and where mass was regularly held.

Getting around

Currently, elevated light rail systems run through Marikina City. The first or last station of LRT 2 is Santolan located along Marcos Highway. The station connects to Claro M. Recto Avenue in Manila.

Public transportation within the city, like in most of the urban areas in the Philippines, is facilitated mostly using inexpensive jeepneys and buses. Tricycles (motorbikes with an attached two seater carriage) are the usual transportation used for short distances, while Taxi cabs are used by the upper middle class. The roads are organized around a set of long narrow and circumferential roads that radiate and circle in and around the city.

Accommodations

• EDSA Shangri-la Manila Hotel - 1 Garden Way, Ortigas Centre, Mandaluyong City , Ortigas-Pasig, Manila, Philippines 1650
• Best Western Premier F1 Hotel - 32nd St. Bonifacio Global City, Bonifacio Global City / The Fort, Manila, Philippines
• Oakwood Premier Joy Nostalg Center Manila - 17 ADB Avenue Ortigas Center, Ortigas-Pasig, Manila, Philippines 1600
• The Linden Suites - 37 San Miguel Avenue, Ortigas Center, Ortigas-Pasig, Manila, Philippines 1600
• New Horizon Hotel - 778 Boni Avenue corner EDSA (near boundary of Makati), Mandaluyong, Manila, Philippines 1550
Rating:
1 people rated this.