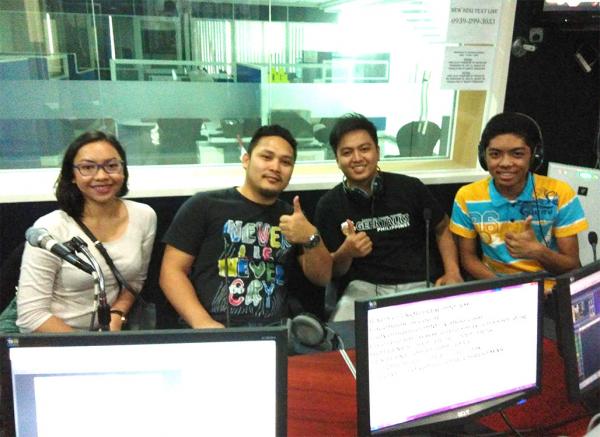 (From L-R) Ms. Ada Hernandez & Shimlett Bay of DigitalLEDTechnology and Mr. Allan Jay Dumanhug & John Patrick Lita of HackerSpace.
After discussing the new medical treatment available in the Philippines last Saturday (October 11, 2014), Vigattin Radio with co-anchors Den Macaranas and Elison Barcelo talked about digital taxitop advertising and web security with a new set of guests coming from the IT industry.
Their esteemed guests are Ada Hernandez and Shimlett Bay; both are from DigitalLEDTechnology and OrangeApps— the premiere digital taxitop advertising company in the Philippines. They were joined by web security researchers from HackerSpace, namely: Allan Jay Dumanhug and John Patrick Lita.
Ada told Vigattin Radio that DigitalLED Technology focuses on providing business establishments an advanced advertising solution. Their product, the CATCH-e, is the first in the Philippines. It is a digital taxitop advertising solution that integrates the latest LED Technology complete with 3G and GPS connectivity.
Currently, DigitalLED Technology is partnered with over six (6) taxi companies in Metro Manila and targets to have 100 units. Right now they have forty (40) taxis running their advertising solution. She added that CATCH-e can also be used by taxi operators to monitor the status of their taxi, whether it's running or not.

"The initial goal of the product is also to provide SME's (small and medium enterprises) advertising solutions," Shemlitt said. Their advertising rate per taxi is P 1, 500, with a minimum of ten (10) taxis. If you are interested, you can visit www.digitalledtech.com or call them at (02)403-6691.
Later on, Vigattin Radio with guests Allan Jay and John Patrick discussed the bug bounty program. It is where an individual can receive reward or recognition by reporting bugs to website owners or software developers. Allan Jay told Vigattin Radio that he was able to report 107 bugs making him one of the top security researchers of hackerOne.
JP aside from being a video editor for the hit-noontime program Eat Bulaga, he is also a security researcher. He said that it is definitely fun to search for web vulnerabilities where they can be rewarded with some stuffs. Presently they are helping startup companies to secure their websites.
Their company, HackerSpace, aims to sustain Asia's capability to build a safer and effective vulnerability disclosure program through collaboration and participation.

-----------------------------------------------
Recorded Stream:



Rating:
0 people rated this.