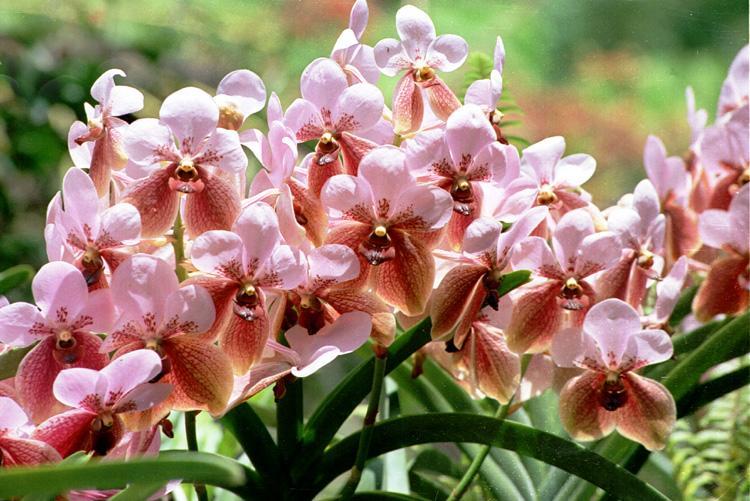 Waling-waling or Vanda Sanderiana is dubbed as the "Queen of Philippine Orchids". It is also worshipped as Diwata (fairy) by the native Bagobos and discovered in the year 1882. It is the rarest, most beautiful, and most expensive orchid among thousands of species that can be found in the country. It is also one of the largest species of orchids in the world. Out of 8,000 species of flowering plants around the world, 3,500 species can be found only in the country. The discovery of this wild flower has prompted cultivation of colorful and attractive hybrids that are now part of the world's multibillion-dollar orchid and cut flower industry.
Waling-waling is a flower of the orchid family and it is famous for its large and colorful hybrids. It is showy, very attractive, and offers a very spectacular sight when it is in full bloom. The flower has wide and colorful petals. "The flowers are flat, to eight centimeters across; the sepals and petals are obviate, bluish pink, with buff-yellow stain, and dull-crimson reticulations on the lateral sepals; the lip is small and concave, purple-red at base, strongly recurved and brownish purple at apex; with three prominent keels." It is the description of Waling waling in the book, A Pictorial Cyclopedia of Philippine Ornamental Plants.
Endemic to the Philippines, this lovely flower grows on the trunks of tall hardwood tropical trees in the forests of Davao, Sultan Kudarat, and other parts of Mindanao. This flower also abound in the tropical forest of Mount Apo and its surrounding areas. It blooms only once a year, between the months of July and October, and it easily propagates. But the terrible plunder of the country's wildlife still continues in spite of a law that is meant to protect the natural and native flora. Now some of the flower species, especially the Waling-waling, have been brought to near extinction. The environmentalists believe that it requires more than a law, but the active support of the people to protect the endangered Waling-waling and maintain the right attitude and knowledge in collecting this kind of wild flowers.
Back in the year 2004, there had been a motion in the House of Representatives of the Philippines to declare Waling-waling as the country's national flower that will replace the Sampaguita. Waling-waling is indeed indigenous and endemic the country while Sampaguita, even though popular and common to the Filipinos, is still a foreign flower from India and Arabia. As a compromise, it is now declared that Waling-waling is another national flower of the country together with Sampaguita.
Rating:
0 people rated this.