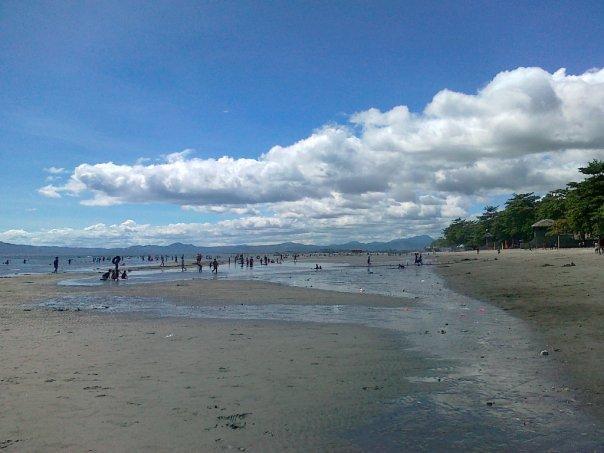 Baybay Beach

Baybay is known as the hub of business and industry for the western coast of Leyte, with a commercial service sector in the city that includes banks, virtual assistance centers, restaurants, cafes, night spots, sports centers, as well as retail and wholesale stores. The city's seaside promenade is the most visited, especially at nighttime. Other things you may want to know about the city include:
Generally an agricultural city, the common means of livelihood are farming and fishing. Some are engaged in hunting and in forestall activities. The most common crops grown are rice, corn, abaca, root crops, fruits, and vegetables. Various cottage industries can also be found in Baybay such as bamboo and rattan craft, ceramics, dress-making, fiber craft, food preservation, mat weaving, metal craft, and Philippine furniture manufacturing and other related activities.

It is the home of the premier university of the Visayas and also in Philippines and one of the leading schools in Southeast Asia on agricultural research, and was called as Resort University, the Visayas State University.

The city is the second largest city after Ormoc City in the province in terms of land area. Before, Baybay was the biggest town in Leyte in terms of land area covering an area of 46,050 hectares (459.3 km2).

People of Baybay called as Baybayanons or Baybayanos (depending on the usage) which are a Cebuano-speaking people.

Festivals
Binaybayon Festival - is the city's festival, is celebrated every 27th day of December (the city fiesta) in honor of the Patroness of Baybay, Our Lady of Immaculate Conception for the blessings that she gave every year. It also depicting the rich history of Baybay and also, showing the main source of livelihood of most Baybayanons like fishing, farming and weaving.

Halaran Festival - is celebrated at Brgy. Sto. Rosario every month of October in honor of the Holy Rosary. It also depicting the history of Brgy. Sto. Rosario and also, it shows the main source of livelihood among residents in the place which is fishing, because the barangay itself is resided beside in the seashore.

Sirong Festival - is celebrated at Brgy. Pomponan every 13th day of June in honor of Saint Anthony of Padua. Like other festivals in Baybay, it also showing the history of Brgy. Pomponan and its main source of livelihood which is farming.
Shopping Centers
Prince Mall of Baybay

Metro Baybay (soon to rise)

Prince Mall Baybay

Prince Tiangge-Tiangge

Novo Baybay

Centro Department Store

HM Enterprises

Sanying Commercial

Allison Marketing

VSU Market Complex

Fatima RTW and Footwear

G and S Store

Melinda's Baclaran Store

572 Enterprises

Lifeline

Bacdivisoria Enterprises

Chabita Fashion

Amony Fashion
Industries
Ching Bee Trading Corporation

Green Carbon Inc.

SC Global Coco Products Inc.

Specialty Pulp Manufacturing Corp.

Visayas Oil Mill Inc.
Accommodation
Palermo Hotel

GV Tower Hotel Baybay

Lady Sam Residence

Palermo Hotel

Uptown Plaza Hotel

Asia Novotel

Baybay Townhouse Hotel

VSU Hostel

The Apartelle at VSU

VSU Garden Resort

JR Pension House

Kilim Bayview Pension house
Transportation
Baybay can be reached by different types of transportation. It is 5 hours from Cebu City through ferry, 6 hours from Mindanao (via Bachelor Express) and 20 hours from Manila by passenger vessels. It can also be reached by air from Manila through Daniel Z. Romualdez Airport which is located in Tacloban City. From Tacloban, ride a public utility van and it takes 2 hours, or by a bus, which takes a three-hour trip. Also, from Ormoc City, ride a bus and it takes one-hour trip, same as from Maasin City.
Rating:
1 people rated this.