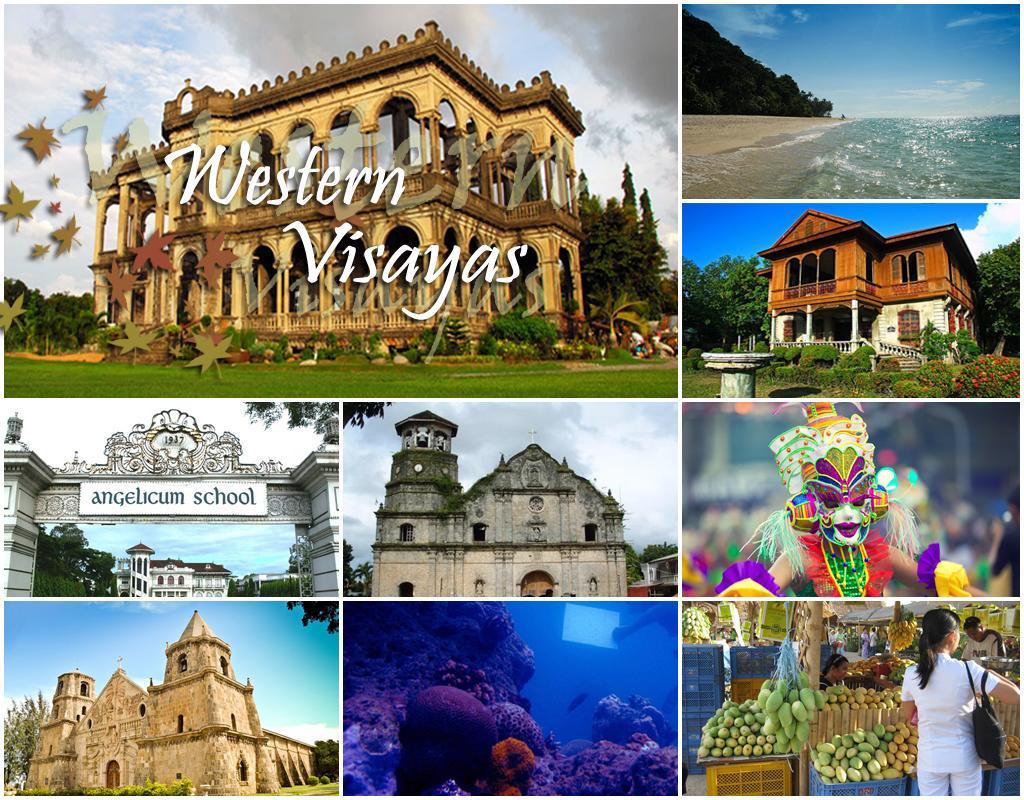 Western Visayas, one of the regions of the Philippines, is designated as Region VI. It consists of seven provinces, namely, Aklan, Antique, Negros Occidental, Capiz, Guimaras, Iloilo and Palawan and 17 cities making it the region with the most number of cities. Hiligaynon, the main language, is spoken in Negros Occidental, Guimaras, Capiz and some parts of Iloilo. Kinaray-a is spoken in Antique and in other parts of Iloilo. Aklanon is spoken in Aklan. Iloilo City is the regional center of the region.
Western Visayas is composed of 7 provinces and the cities of Bacolod and Iloilo. Bacolod City and Iloilo City are highly urbanized cities. All of the provinces of Western Visayas (except Negros Occidental) are also known as "The Piedmont of the Philippines".
Brief History
The Western Visayas region was created from Aklan, Antique, Capiz, Guimaras, Iloilo and Negros Occidental by Presidential Decree No. 1 as part of the Integrated Reorganisation Plan of President Ferdinand Marcos.
Palawan, formerly part of MIMAROPA (now MIMARO), was moved to this region on May 23, 2005 by virtue of Executive Order No. 429. Administrative Order No. 129 was issued on August 19, 2005, to resolve the negative backlash and as part of the supervison of the transfer process of Palawan from MIMAROPA to Western Visayas.
Languages
The languages native to the inhabitants of Western Visayas are:
Hiligaynon, spoken in Iloilo, Negros Occidental, Guimaras, and Capiz.

Capiznon, spoken in Capiz

Kinaray-a, spoken in Antique and parts of Iloilo, Capiz and Aklan.

Akeanon, spoken in Aklan.

Malaynon, spoken in Aklan.

Cebuano, spoken in the northern parts of Negros Occidental and its municipalities and cities which are facing Tañon Strait towards Cebu.
Transportation / Airports
International
Bacolod-Silay International Airport

Iloilo International Airport

Kalibo International Airport
Domestic
Evelio Javier Airport (Antique)

Godofredo P. Ramos Airport (Caticlan)

Kabankalan City Domestic Airport

Roxas Airport
Gallery
Boracay Island Don Mariano Ledesma Lacson Ruins

Guimaras - Manggahan Festival Bacolod - Masskara Festival

Miag-ao Church Panay Church

Nogas Island, Anini-y Villa Lizares Mansion / Angelicum School Iloilo

Balay Negrense

Rating:
0 people rated this.