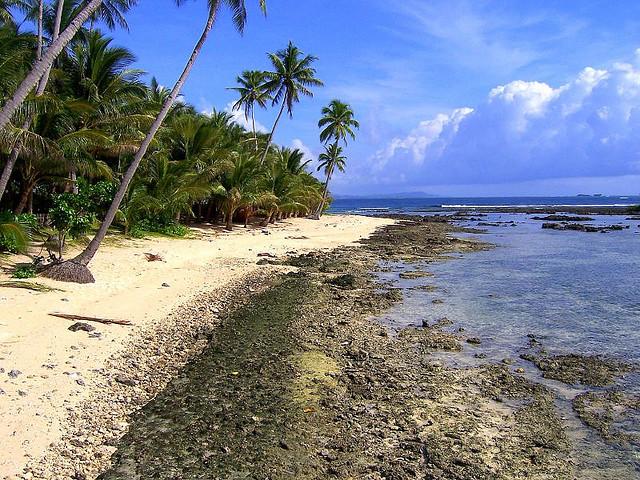 Searching for the perfect wave?
Who would have thought that a local chocolate bar could make a place a world-famous destination? Well, John Callahan might have known because he was the one who called a particular surfing wave "Cloud 9," originating from a Pinoy chocolate bar with the same name. This wave has a thick, hollowed tube which is ideal for surfers, thus achieving its reputation as one of the best surfing waves in the world. Callahan published pictures of "Cloud 9" in a lot of surfing books and magazines, consequently presenting the wonders of Siargao to the world. Word spread around and surfers started coming from all over the globe.
Nowadays, the local government of Surigao del Norte holds an annual surfing competition called "Siargao International Surfing Cup" every September to October. Professional surfers of every nationality join this prestigious event, exposing the island to the centerstage of the world of surfing and tourism.
"Cloud 9" is just one of the many quality waves that you can find in Siargao. If you don't want a crowd of surfers sharing your wave, you can go to secluded surfing spots around the island. Here is a list of waves in Siargao and where to find them:
Siargao Waves: Sharing to You the Secret Spots
No worries, Siargao is not exclusive to surfers. There are other enjoyable activities you can do throughout the island.
The waters hugging this place is bustling with colorful marine life, so you can scuba dive or snorkel in the pristine seas. Snorkelling is best spent at Guyam and Dako's coral reefs while scuba divers can visit underground caves and coral formations. Notably, Pansukian's coral reefs are truly breathtaking, especially at night. Deep sea fishing is also a recommended activity for tourists. There are various game fishing and sport fishing spots where you can catch huge fishes like tuna, mahi-mahi, and tanigue.
In the neighboring islands, you can find fascinating rock formations, caves, lagoons, waterfalls, and whirlpools. You will be able to connect with nature and relax at the sound of birds and the gently blowing wind. A variety of unusual flora and fauna may also be found in Siargao. You can go sightseeing in some jungles and take the chance to spot tarsiers, monitor lizards, and plenty of birds.
After a tiring swim or trek, satisfy your palate with a variety of local and international cuisines in the area. Many foreigners have found their home and built their businesses in Siargao. They brought their native tastes along and mixed them with the local delicacies, resulting in different mouth-watering delights.
At the end of the day…
You will surely learn to love this little island. Spending your vacation here will take you closer to nature and appreciate the wonders this world has to offer. You will find that your trip is not yet over but you are already planning to go back here… and soon!
Rating:
0 people rated this.