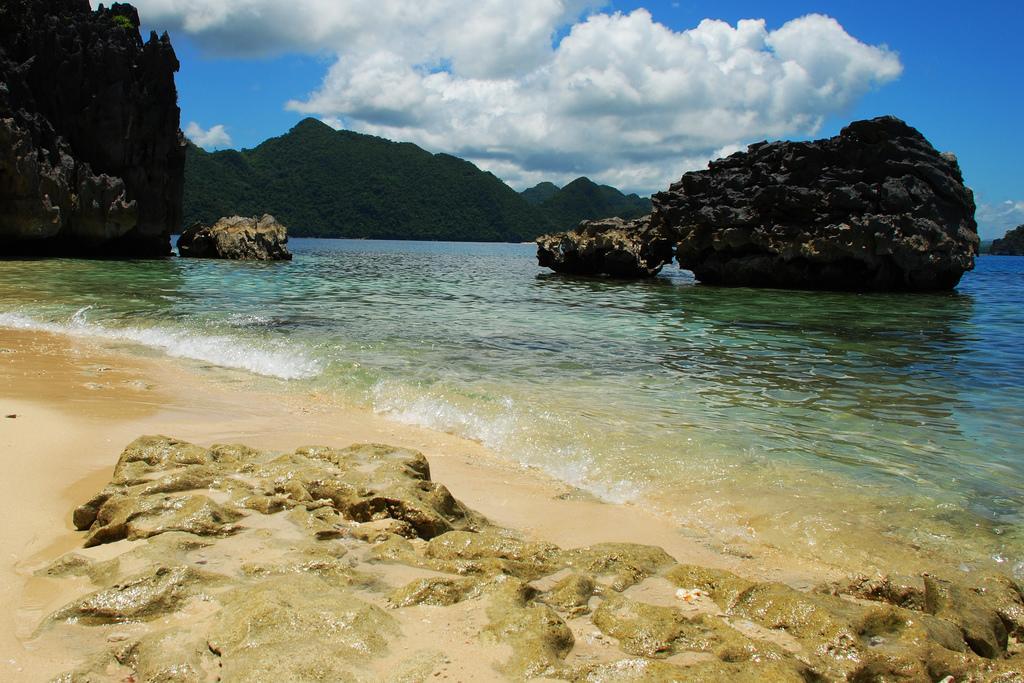 Among the extensive and majestic coastline and numerous wondrous islands, Lahos Island still stands out like a rare pearl in Caramoan. A journey to Caramoan Island will never be complete if you don't get the chance to visit Lahos. It is said that it is named as such because its white sandy beach disappears with the high tide, the word "laho" in the vernacular, or "disappear" or "vanish" in English.
How to describe the Caramoan Island?
Lahos Island boasts of spectacular stretches of white sand beaches amongst striking and unique rock formations that partition areas of the island. Lush vegetation can be seen of various parts of the island. The aquamarine waters around the island are picturesque and ideal for swimming, snorkelling and scuba diving. Many tourists stop over at Lahos Island during their island hopping at Caramoan.
Picturesque Lahos Island
Island hopping at Caramoan is one of the best experiences that you may have, and islands such as Lahos are sights to behold and worthy of your visit.
How to get there
By Air: The province of Camarines Sur can be reached by plane within 45 minutes. Flights are serviced by Air Philippines (Pal Express), Zest Air and Cebu Pacific from Manila to Naga City Airport.
By Land: Aircon and non-aircon buses from PhilTranco, Isarog Bus Co. and Peñafrancia Bus Lines ply routes daily through the Quirino Highway from Manila to Naga.
From Naga Central Terminal ride a jeepney or a minivan bound to Sabang Port / Talisay Port in San Jose. Travel time is about 2 hours. From Sabang / Talisay Port catch a motorboat enroute to Guijalo Port in Caramoan. Public boats are only available from 6AM to 11AM so be sure to be there before the last boat leaves otherwise you will have to rent a private boat. Travel time of 2 hours. From Guijalo Port ride a tricycle or habal-habal (motorbike) to Centro or wherever your accommodation is located. Travel time of 15-20 minutes.
Where to stay
Here is a list of inns, pension houses, and hotels near Caramoan:
Rex Tourist Inn

Villa Julianna Inn

Caramoan Home Stay

CMC Villa Caramoan

Caramoan Bed and Dine

West Peninsula Villas

Gota Beach Resort

La Casa Roa

BC Hometel Tourist Inn

Caramoan Kayaks Inn