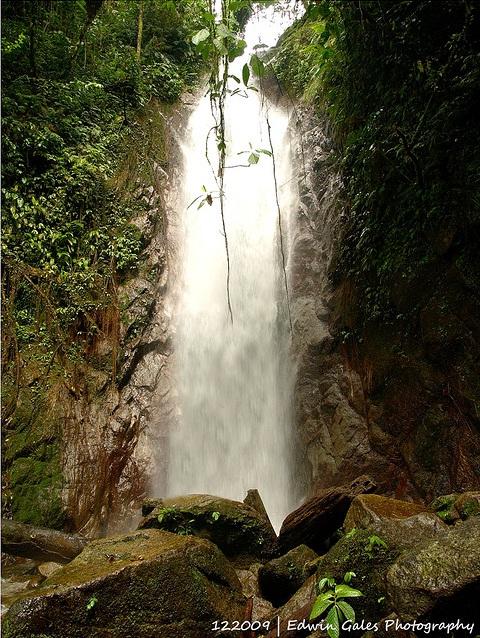 Compostela Valley is a province of the Philippines located in the Davao Region in Mindanao. The province, called Comval for short, used to be part of Davao del Norte until it was made independent in 1998. It is the third newest province of the Philippines, behind Dinagat Islands and Zamboanga Sibugay. Its capital is Nabunturan. The province borders Davao del Norte to the west, Agusan del Sur to the north, and Davao Oriental to the east. To the southwest lies the Davao Gulf. Its first elected governor was lawyer Jose Caballero who used to be a lawyer for the mining group in the province.
Compostela Valley is blessed with nature's magnificent works of art. It brims with natural attractions like beaches, waterfalls, forests, mountain ranges, caves, lakes, rivers, hot and cold springs, all found in the province. No wonder it stands as a strong tourist spot in Mindanao and assemble a small fraction in the tourism in the Philippines.
The province is also proud of its people and cultural heritage, a varied blend of ethnicity and dominance. To be in Compostela Valley is to experience a blend of sight and sound that defines a place and a people, pulsing with life yet reserved in spirit.
The Provincial Government believes in marketing tourism responsibly. ComValeños want you to explore and revel in nature's finest without destroying the environment.
Choices within the province are almost limitless. It has something that caters to everyone's enthusiasm, all waiting for the adventurous spirit in everyone. The province is an Eco-Adventure Tourism Destination.
Brief History
The approval of the Republic Act No. 8470, which was ratified through a plebiscite held on March 7, 1998, marks the birth of Compostela Valley Province. This new province was carved out from the mother province of Davao del Norte, which was created together with the provinces of Davao del Sur and Davao Oriental by virtue of R.A. 4867 dated May 8, 1967.
People and culture
Majority of the inhabitants are migrants from Cebu, Samar, Bohol and other Visayan provinces. The cultural minorities in the province include the Mansaka, Mandaya, Dibabawon, Mangguangan and Manobo groups such as the Ata, Talaingod, Langilan, and Matigsalug Manobo.
Arnold Bajo is the most successful defender of the poor minorities, especially the Mandaya. He died in the battle while defending the poor. According to the legend, 40 days after his death, somebody reported that his spirit come from his body and infused in the statue of Ara-araba, their god of harvest. From then on, people worship him as a god in the Mandaya tribe, which he refused as he confessed as a follower of Rizal, the original defender of the poor.
Economy
The main source of livelihood of this province are agricultural products such as rice, coconut, cacao, coffee, papaya, mango, pineapple, durian and banana. It has been projected that by 2030, the province will be one of the richest provinces in the country because of its rich natural resources and hardworking people. Some residents have fishponds and culture their own fish like tilapia, milkfish and a lot more. The province is also rich with gold ore.
Tourist Attractions
Maragusan Town: Aguacan Inland Resort, Tagbibinta Falls,Mt. Candalaga Peak, Haven's Peak, Kanlawig Hot Spring Sky Garden Restaurant and Fitness Gym

New Bataan Town: Manurigao Falls, White Peak, Bamboo garden island resort, tatay rofeno beach resort, etc.

Maco Town : Mainit Sulfuric Hotspring, Lake Leonard, New Leyte

Nabunturan Town, San Vicente Caves, Toyuzu Inland Resort

Pantukan Town: Welborn's Beach, Magnaga Waters, Sea World Oasis

Mabini Town: Manaklay Beach Park and Resort, Pindasan, Mabini

Mabini Town: Beach View Resort, Pindasan, Mabini

Mabini Town: Bern Berioso Beach Resort I, Pindasan, Mabini

Mabini Town: Bern Berioso Beach Resort II, Pindasan, Mabini

Monkayo Town: Kumbilan Cave, Octagon Park, Mt. Diwata Mining,Monkayo Arena

Monkayo Town: Mt. Diwata's Peak, Agusan River, Baylo Falls
List of Festivals
Sal'lupongan festival - Sangguniang Bayan institunalized the town's Sal'lupongan Festival to be celebreted every 2nd Quincena of August ( Municipality of New Bataan )coinciding with the Founder's Day. The highlight of this event is the 'indak-indak sa kadalanan, drumline(high school) D.B.C(elem.), and the fireworks display at night'.

Kariyawan Festival - celebrated together with the Araw ng Monkayo (in the municipality of Monkayo) every 4th day of September.

Simballay Festival - celebrated every 3rd week of December, Simballay Festival showcases different cultures in the capital municipality Nabunturan.

AniBina Bulawanon Festival - showcases the culture of Compostela Valley. This event is celebrated from March 1 to 8 which is also the founding anniversary of the province.

Buganihan Festival - celebrated every June 19 to 23, culminating on the 23rd - the Founding day of the Municipality of Compostela.

Diwanag Festival celebrated every December showcasing lighted booths and barangay corners within the Poblacion of the Municipality of Montevista.

Kaimunan Festival - celebrated every founding anniversary of the Municipality of Maco as well as the Mother of Perpetual Help Fiesta Celebration every 4th week of June.

Pyagsawitan Festival - celebrated every founding anniversary of the Municipality of Maragusan every 25th day of November. It showcases the thanksgiving for the abundant harvest of the people of the municipality. Highlights the "Indak-indak sa Kadalanan", a street dancing competition.
List of Accommodations
CL Microtel - Poblacion Nabunturan, Compostela, Compostela Valley

Agwacan Inland Resort - Poblacion, Marugasan, Compostela Valley

Albano Guest House - Tupas, Marugasan, Compostela Valley

Cabana Pension House - Gumamela St., Marugasan, Compostela Valley

Durian Inn - Mahogany St. Poblacion, Marugasan, Compostela Valley

Maragusan Holiday Plaza - Poblacion, Marugasan, Compostela Valley

Kanlawig Hot Spring Resort - Maragusan, Compostela Valley

Aguacan Inland Resort - Maragusan, Compostela Valley

Haven's Peak Resort - Maragusan, Compostela Valley
How to get there
Compostela Valley is accessible by air, land, and sea transportation. Davao City, 979 km. from Manila, is the gateway to the province. On arriving at the airport, take a taxi or a bus ride to Davao City Overland Transport Terminal at Ecoland to board a bus to Nabunturan, the capital town, 90 kms away and a two-hour ride. In Nabunturan, the visitor can transfer to any public utility vehicles for another ride to any destination in the province. Single motorcycles and/or habal-habal, locally-known as Skylab, are available in any major point of the province.
Rating:
0 people rated this.