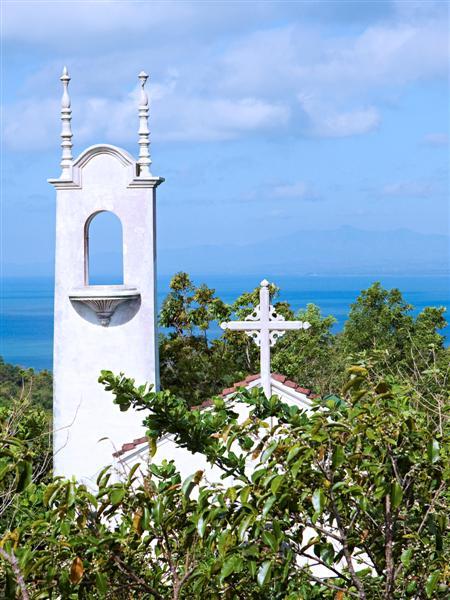 Guimaras Province is home to an astonishing number of churches displaying the rich culture and religious heritage of the province. Renowned by even the most devout of other regions in the Philippines, these places of worship have continued to inspire and give refuge of faith for all people in the province.
BALAAN BUKID SHRINE
Balcon Melliza, Jordan, Guimaras
This was discovered in 1956 by an Italian priest, Rev. Fr. Bergil Pixner, OSD, Prior of Dornition Abbey, Mt. Zion, Jerusalem. The image of Mother and Child enshrined at the chapel was designed by a certain Crisogono Domingo, a leper patient of Sta. Barbara Leprosarium. The shrine was managed by the Knights of Columbus of Jaro, and lately it was turned over to the Parish of St. John the Baptist by Msgr. Angel Lagdameo, Bishop, Archdioses of Jaro. During the Lenten Season and every 1st of May, both local and foreign visitors, particularly devotees, flock this place for a pilgrimage on the 14 Stations of the Cross.
CONSOLER'S OF THE IMMACULATE HEART OF MARY (CIHM)
San Miguel, Jordan, Guimaras
It is a 7-hectare monastery for men and women, established in 2000 by Rev. Fr. Florentino Lim, a former Trappist monk and member of the Sisters of CIHM. The place offers a retreat and recollection on a donation basis. They have an outreach program, like tree-planting projects, for the poor (Aetas) and reforestation.
HOLY FAMILY
Tamborong, San Lorenzo, Guimaras
This is owned by Monsignor Josefino Ramirez and managed by Eucharistic Disciples of St. Pius X. It has a total land area of 52-57 hectares. Amenities include the Grotto of Holy Family, Chapel, Prayer Room, and life-size Station of the Cross (7 Sorrowful & 7 Joyful Mysteries). The place offers a day recollection on a donation basis.

Parish of St, Isidore the Worker in Navalas, Buenavista, Guimaras
It is the oldest existing Roman Catholic Church in the province of Guimaras that has survived the ravages of time, built in 1880-1885. A bigger bell, said that be more than four feet tall, formerly hang at the belfry but was carted away and dumped into the sea near Isla del Siete Pecados by Muslim raiders. Only the façade remains untouched; the ceilings and structure inside the church was already renovated.
OUR LADY OF THE PHILIPPINES – TRAPPIST MONASTERY
San Miguel, Jordan, Guimaras
Trappist Monastery is the only men's monastery in the Philippines run by Cistercian Order of Strict Observance, established in 1972. This place is always open to those who seek the solace and self-examination through meditation and retreat from taxing endeavors of the materialistic world. The Cistercian was founded in 1098 near Dijon, France. In the 17th century, at the monastery of La Trappe in Normandy, a reform of the Cistercian Observance was undertaken. The monasteries that descended from that reform movement were organized into what is called the Trappist, which is a separate Order of Cistercians, in the year 1892. Cistercian Monasticism is a form of Benedictine monastic life, being based on the Rule of St. Benedict as interpreted by the 12th century monks in Citeaux, France.
Balaan Bukid Hill in Jordan, Guimaras
Ave Maria Purisima Shrine or the "Guimaras Island Cross" is one of the first things that you will notice on Guimaras Island. The cross is located on top of Balaan Bukid Hill in Jordan and 45-minute trek to the hill is required before you have a glimpse of the cross.

Where to Stay
Shirven Hotel -

San Miguel, Jordan, Guimaras
Pine Haven Hotel -

Islander Village, San Miguel, Jordan, Guimaras
Small Wings Pension Inn -

San Miguel, Jordan, Guimaras
Miewa Pension House -

Mclain, Buenavista, Guimaras
OLP-Trappist Monastery Guest House -

San Miguel, Jordan, Guimaras
Guisi Heritage Cottage -

Dolores, Nueva Valencia, Guimaras
Where to Dine
NVDS Refreshment/ Tita Nels Refreshment -

Mclain, Buenavista, Guimaras
Gladys Refreshment (Carinderia & Videoke) -

Rizal, Jordan
Paul and Michelle Kitchenette -

Rizal, Jordan
Toms Place Bar and Refreshment -

Hoskyn, Jordan
Dans Batchoy -

Rizal & San Miguel, Jordan
Victors Restaurant 7 Fastfood Center -

San Miguel, Jordan
Sa Payaw Seafood Grill -

San Miguel, Jordan
How to Get There
Iloilo City is the gateway to Guimaras. Guimaras can be reached by air and boat from Manila and other origins, via Iloilo City and by pumpboat in Pulupandan, Negros Occidental. The island province is 20-30 minutes by motorboat or ferry boat from Parola, Ortiz, Muelle Loney or Lapuz Wharves in Iloilo City. Direct travel to Guimaras is possible by light planes, which can land at the Guimaras Feeder Airport.
Jeepney and tricycles are also available as a mode of transportation when touring the province from one town to another.
Check the Guimaras Official Website for more informations about the transportation schedules and locations.
Rating:
0 people rated this.