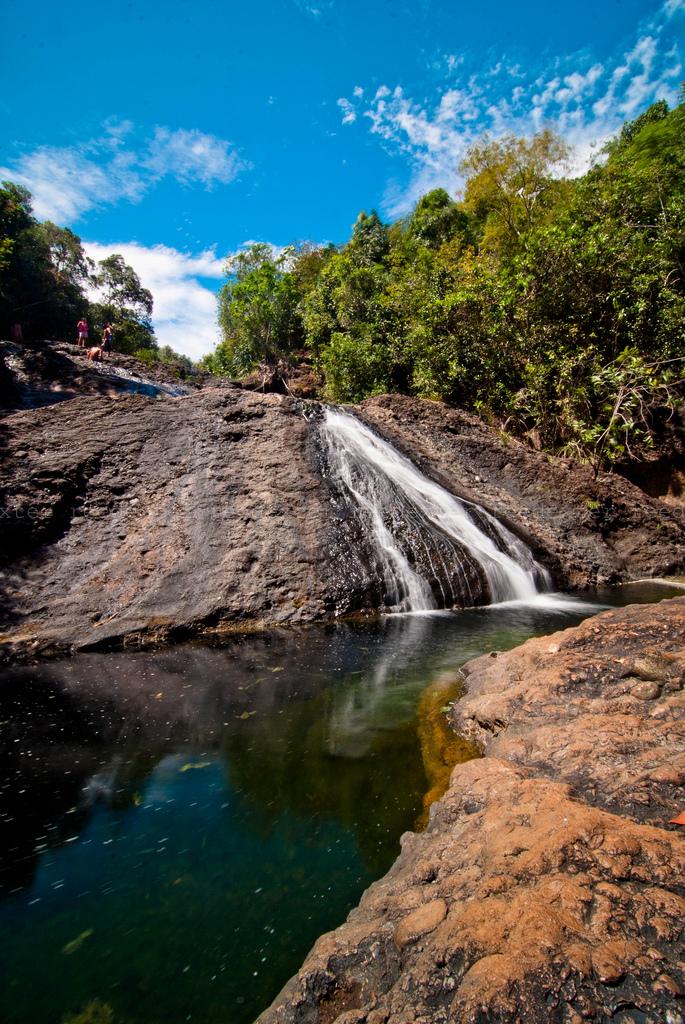 Jawili Falls

Overview
Tangalan is a 5th class municipality in the province of Aklan, Philippines. It was formerly an arrabal of Makato, Aklan. At the time of its creation, it included the following barrios: Tondog, Jawili, Dumatad, Afga, Baybay, Dapdap, Pudyot, Tagas, Tamalagon, Panayakan, Vivo, Lanipga, Napatag and Tamoko.
Tourist spots with government support under "Project Bugna" include Jawili Falls, Jawili Beach Resorts, Dumatad Souvenir Shop, and Bughawi Reforestation Project.
The Local Government Unit (LGU) of the Municipality of Tangalan launches its new Eco-tourism site which is the Tangalan Marine Sanctuary. This sanctuary covers 375 hectares of marine ecosystem and a 10 hectares Coral Garden. This project deploys artificial reefs wherein the natural corals will grow soon. This will serve to fishes and other marine species as their harbor and fort where to settle and multiply. The Government targets for the next 10 years of protection to this site, marine resources will recover. If fishes and other marine life will vigorously multiply, it will be expected that they will go out of this sanctuary, and this is now the time where local fisherfolks can catch the abundant fish and other marine resources. This will also open as a SCUBA Diving site and good for snorkeling.
Ecotourism
Bugna is the local term for "blessing", and quiet appropriately, is the name of Tangalan's Community Based Ecotourism Program. BUGNA it TANGALAN (Blessings of Tangalan) features the best Tangalan has to offer, from waterfalls and beaches to food and hospitality. The program was designed to reduce poverty through community based tourism development. Various packages are available, so please feel free to pick and choose which destinations are most suited to your desires.
Tourist Destinations
St. John Nepomucene Parish Church
For almost twenty-eight years men, women, and children carried limestone and coral blocks on their heads and shoulders from the quarries of Barangay Afga to the town proper from sunrise to sunset in a great polo (forced labor). Being finished in 1889 and still intact today the century old church is one of the oldest in the province, featuring limestone and coral walls.
The wave-rock formation is a unique environmental phenomenon produced by wave action on a rocky shore. It is told that the wave-rock formation served as the quarry site for the distinct limestone and coral walls of the St. John Nepomucene Parish Church. It is a detrital type of sedimentary rock stratified in the colors yellow, grey, black, and reddish-brown. Dwarf mangroves have found a home amongst the numerous cracks and crevices.
The white sands and crystal clear waters of Jawili Beach are an excellent location for a weekend getaway or a relaxing vacation. Jawili Beach provides Boracay like scenery with the slow place and tranquility of a small fishing village. Fishing boats line the beach as the majority of the local community still rely on the sea for their livelihood. Jawili Beach is an ideal destination for sea related recreation, picnics, conferences, conventions, holiday outings, and vacations.
The splendor of Jawili Falls is only a five to ten minute walk from Jawili Beach. The seven basins have been uniquely arranges by centuries of water flow. Crystal clear water cascades from basin to basin as if rolling down a giant stairwell. The falls are surrounded by a pristine forest that serves as a wildlife sanctuary for endemic flora and fauna. Tracing the tributaries of the falls into the heart of the forest is a challenging yet rewarding adventure.
Tangalan Marine Sanctuary
The 375ha Marine Sanctuary was established in 2003 within the municipal waters at Pungtod Reef. Pungtod Reef is approximately 150ha consisting of patch reefs and ranging in depth from 8 to over 30m. Live coral coverage and fish density have been increasing since the sanctuary was implemented. The sanctuary hosts numerous species of hard and soft corals, sponges, shells, sea stars, sea cucumbers, oysters, and lobsters. There are a variety of colorful fish as well, including Butterflyfish, Angelfish, Damselfish, Parrotfish, Surgeonfish, Scorpionfish, and Sweetlips among others. There are also many species targeted for fishing, such as Fusilers, Groupers, Jacks, Snappers, and Emperor Breams. Endangered sea snakes and sea turtles are also found within the sanctuary, as well as dolphins and stingrays. The sanctuary is currently closed to SCUBA diving and snorkeling.
Coral Garden
One of the 49 artificial reefs located within the Coral Garden area. The artificial reefs are located in seven clusters, some of which are amongst the healthy patch coral reefs characteristic of Pungtod Reef and others are in areas previously decimated by destructive fishing methods. Photo by Eric E. Richer
The Coral Gardening and Reef Rehabilitation Project is a 10 ha area inside the Marine Sanctuary where 49 cross-bar pyramid type artificial reefs were deployed in 2003 in a cooperative effort of the LGU-Tangalan and DA-BFAR. The goal of the project is to rehabilitate an area that was previously decimated by dynamite and cyanide fishing. The artificial reefs, by increasing coral cover and providing additi0nal shelter for juvenile fishes, will in turn increase the catch of municipal fisherfolk. Numerous species of hard and soft corals can be observed growing on the artificial reefs after only 2 years. Sea stars, feather stars, tunicates, and oysters have also taken advantage of the additional habitat provided by the artificial reefs. Fish are plentiful within the Coral Garden as they utilize the shelter provided by the artificial reefs. The artificial reefs consist of 16 concrete bars stacked in a pyramid to maximize the amount of surface area exposed to sunlight. One of the artificial reefs, the "mother" artificial reef, is made up of 48 concrete bars. The LGU is currently developing an ecotourism project in which SCUBA divers will be able to purchase a growing coral and "plant" it on an artificial reefs, thereby contributing to the rehabilitation of coastal resources in the Philippines. The Coral Garden is scheduled to open for SCUBA diving in May 2006.
What to Do
Swimming in both the Jawili waterfalls as well as at the white sand Jawili beach(pronounced 'Ha Willy'). At night there is 'phosphorescence' in the sea water: when you move in the water, the water glows. Very cool. This effect could be seasonal.
The coral reef was severely damaged by cyanide and dynamite fishing in the past, but as of few years ago it has been turned into a Marine Sanctuary, and many concrete blocks were planted in the water for coral to get established on. It has been a huge success, and after only a few years, most species have come back. The site is proposed for diving and snorkeling, but it may or may not be ready yet (in April 2007 it had not been opened for diving yet). The reef had suffered some damage from a recent typhoon. But it may be open now.
You can go hiking in the nearby reforestation project. You can hike on a trail from the Falls. There is also a park entrance along the highway.
Places to Stay
Devora Resort and Cottages

Green Meadows Beach Resort

Jawili Blue Starfish Resort

Jawili Falls Resort

The Wave Beach Resort & Cottages

Villanueva Cottages

Wassenaar Beach Resort
Getting There
The Municipality of Tangalan is located in the Western Visayas Region of the Philippines on the Island of Panay in the Province of Aklan. There are two airports in the Province of Aklan, located in Caticlan, the jump off point to Boracay Island, and in Kalibo, the capital city of Aklan. Cebu Pacific Airlines and Philippine Airlines both have daily flights to Kalibo from Manila and visa versa. Numerous shipping lines provide service between Manila and Caticlan or Dumaguit, Aklan.
Tangalan can be reached via Kalibo from Iloilo by bus, van, or jeepney. Asian Spirit Airlines offers daily flights between Cebu and Caticlan as well. Transasia also provides overnight service by boat to and from Cebu and Iloilo.
Tangalan is only 19 km or 30 minutes from Kalibo and 45 km or one hour from Caticlan via the provincial highway. Buses, vans, and jeepneys provide daily transportation to Tangalan from Kalibo and Caticlan. From the town proper, it is only a 10 to 15 minute tricycle ride (the common means of transportation) to Barangay Jawili. Tricycles also provide regular service to Barangays Afga, Dumatad, and Panayakan. Private vans are available for hire in Kalibo and Caticlan that can provide service to any point on Panay Island.
Rating:
1 people rated this.