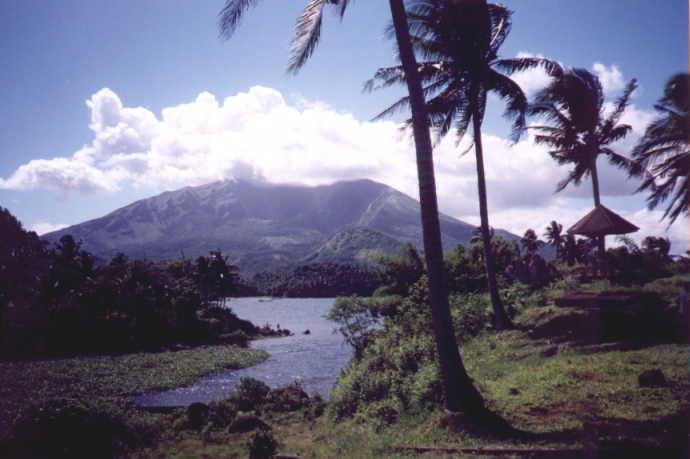 Lake Buhi and Mount Asog

The mountains of Camarines Sur are certainly some of the most beautiful in the country, but Mount Asog deserves special mention as it is an active volcano with a picturesque peak crowned with pine trees.

Mount Asog is also known as "Mount Iriga," one of several active volcanoes in the country. The mountain reaches 1,120 meters at Buhi side and 1,212 meters Iriga City side. Overlooking Lake Buhi, Asog beckons to adventurous mountaineers who are rewarded with discovering at mits peak a three-hectare sunken crater blooming with pine trees. It is home to the Agta, a tribal people of Bicol.
Mount Asog is generally known for its phreatic explosions (occurs when magma heats ground or surface water). Asog erupted in 1628 and 1642.
Location
Mount Asog is located in the city of Iriga in the province of Camarines Sur.
How to get there
By Air
The province of Camarines Sur can be reached by plane within 45 minutes. Flights are serviced by the Air Philippines (Pal Express), Zest Air and Cebu Pacific from Manila to Naga City Airport (the capital of the province). Riding a plane is the quickest way to go to the province.
By Land
Aircon and non-aircon buses like PhilTranco, Isarog Bus Co. and Peñafrancia Bus Lines ply daily routes through Quirino Highway from Manila to Naga. Take vans or buses to Iriga City, then take a jeep going to Municipal Hall of Buhi then from there, ride either jeep or tricycle travelling to the jump-off point of Mount Asog.
Where to stay
Hotels that can be found in Iriga City for your day and night stay.
• Parkview Hotel - San Roque, Iriga City - Camarines Sur, Bicol
• Asog County Hotel - Highway 1 San Isidro , Iriga City - Camarines Sur, Bicol
• Bersabaren Garden Resort - E. Corporal Street, San Isidro, Iriga City - Camarines Sur, Bicol
Rating:
0 people rated this.