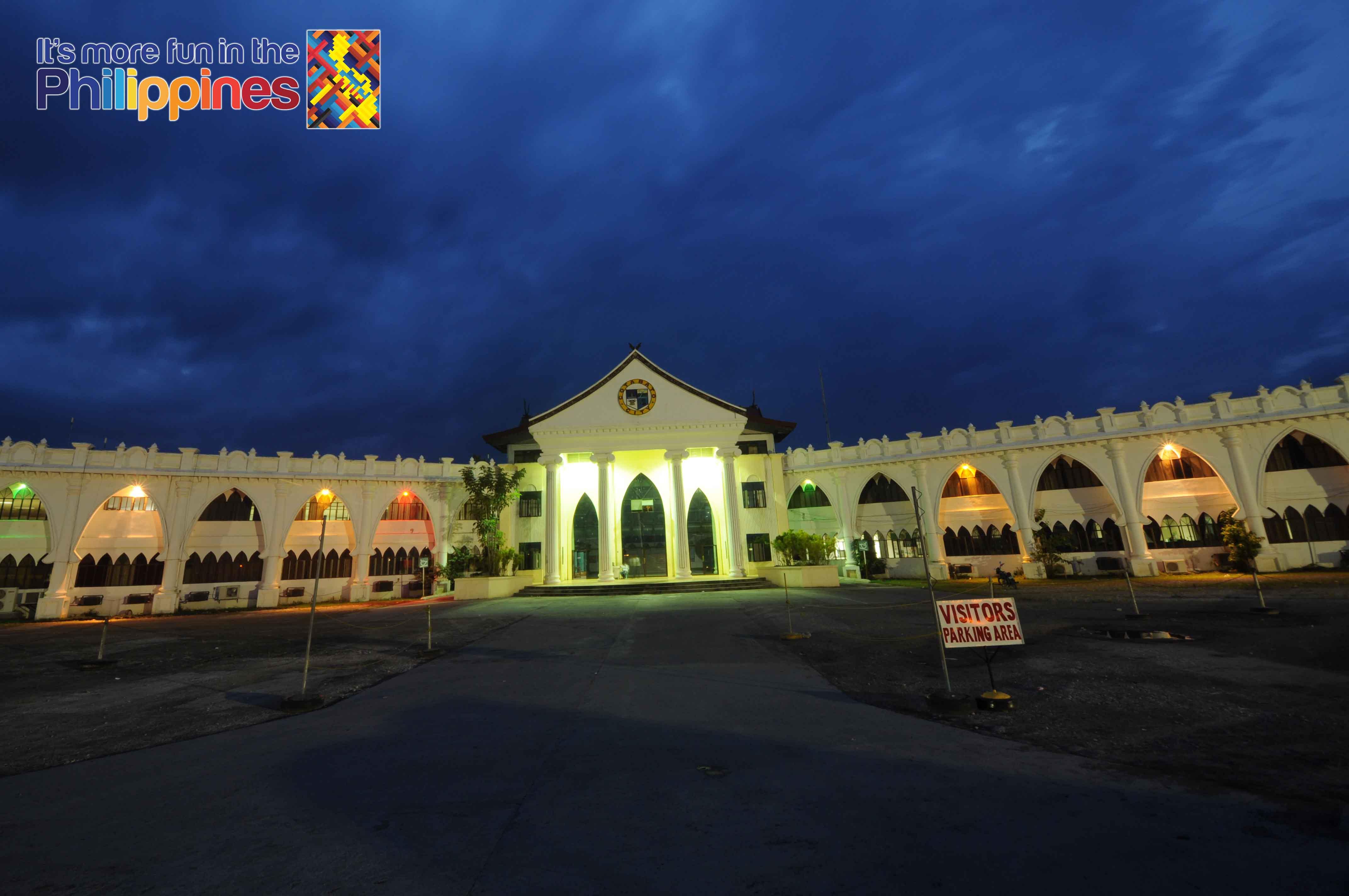 The City of Cotabato is one of the cities of the Philippines located in Mindanao. Cotabato City is an exclave of the SOCCSKSARGEN region found within the boundaries of Maguindanao province, but is independent of that province. Cotabato City is distinct from and should not be confused with the province of Cotabato.
The Serene Cotabato Landscape
Discover this marvelous city and visit the newest pride of Cotabato City, the People's Palace's or "Palasyo ng Masa", sitting on an 8-hectare prime location. The structure showcase a rich blend of unique Muslim and Christian architectural design.
Uncover the Kutawato Cave, the only system of caves that you can find right in the heart of the city, with major entrances offering various natural attractions like rock formations, salt water ponds, an underground river, and an array of fruit bats. Enjoy water sports in the Rio Grande de Mindanao, the longest river in Mindanao and the second longest river in the country.
See the colorful and intricately handwoven cloth called "Inaul malong" that are queenly paraded in the Inaul Festival. Experience sumptuous dinner in the "Pagana Maguindanao", a traditional way of dining in honor of guests, held during festivals, special occasions, and dinner receptions.
Tourist attractions
Rio Grande de Mindanao. The second largest river in the Philippines and the longest in Mindanao crisscrossing, with its tributary, the city's vast area. It is estimated to be 182 kilometers long and 96 meters wide. Water sports and boat racing are the popular attractions of the river, usually held to coincide with the Shariff Kabunsuan Festival and the Feast of Hariraya Puasa.
Sultan Haji Hassanal Bolkiah Masjid. The largest mosque in the Philippines.
Tamontaka Church. Built in 1872 of Spanish architecture and design. It is the oldest church in the city, a relic of the living past.
Lourdes Grotto. A replica of Our Lady of Lourdes Grotto in France. The compound is equipped with a retreat house for recollection and seminars, a mini zoo, and a children's park.
Kutang Bato Caves. The only cave in the country that is right in the heart of the city. Its various entrances, all within traffic a rarity that can only be had in the "Heart of Mindanao". These caves were also the source of the city's present name for "Kuta" means "Fort" and "Bato" means "Stone" hence the name "Fort of Stone" which later on became Cotabato.
Old Cotabato City Hall. A century old structure which houses almost all of the city government offices. It showcases the architectural design of the Maguindanaon Art.
Takumi Butai Memorial Shrine. A monument in honor of Takumi Butai and the Japanese soldiers who died here during the Second World War. Takumi was the Provincial Commander of the Japanese forces assigned in Cotabato City. Before he died, he requested that some of his ashes be buried in Cotabato City. This shrine was put up by the Lion's Club of Kyoto, Japan in cooperation with the City Government of Cotabato.
Where to Stay
Grand Rio Hotel - #80 Don Rufino Alonzo Ave., Cotabato City

Estosan Garden Hotel - Gov. Gutierrez Boulevard, Cotabato City

Diamond Hotel - Cor.Makakua and Jose Lim St., Cotabato City

Pacific Heights Hotel and The Marqueza - #66 Don. T.V. Juliano Avenue, Cotabato City

Citi Plaza Hotel - Makakua Street, Cotabato City

El Manuel Hotel - 111 Quezon Avenue, El Manuel Drive, Cotabato City

Vision Inn - #48 Notre Dame Avenue, Cotabato City

Sardonyx Pension House - Gov. Gutierrez Avenue, Cotabato City

Pension Rafael - San Isidro St.,Cotabato City

Fiesta Cotabato - Dr. Rabago St., Cotabato City

Hotel Cirilo - Sultan Makakua Street, Cotabato City
How to Get There
By Air
To Cotabato City
From Metro Manila 1 hr 30 min

From Cebu City 45 minutes

From Zamboanga 25 minutes Check for Plane Fares and Flight Schedules
To Marawi City (through Cagayan de Oro City)
From Metro Manila to CDO 1 hr 20 min

From Cebu City to CDO 35 minutes
(Marawi is 3 hours overland from Cagayan de Oro.)
By Sea
Sulpicio, Negros Navigation, Aboitiz, William and Gothong Lines ply routes from Manila to Cotabato, serving areas of Cotabato province, Cotabato City, and Sultan Kudarat.
Their Manila-to-Cagayan-de-Oro routes also serve the areas of Iligan, Lanao del Norte, and Marawi City.
Check SuperFerry Schedule and Fares
By Land
( PUV's like L300 Vans, Jeeps and Buses ply these routes)
To Cotabato City From Davao City 4 hrs

To Marawi City From Cagayan de Oro via Iligan 3 hrs

To Cotabato City From General Santos City 4 hrs
By Bus
From Davao to Cotabato City 6 hrs
Air conditioned minivans
From Lanao Sur, General Santos City, Tacurong, Marawi City, Kidapawan City to Cotabato City
Jeepneys
From General Santos City, Kidapawan City, Marawi City, all points of the Municipalities of Maguindanao.
Non-aircon/aircon Bus lines
From the city to nearby municipalities and to Davao City. Weena Express, and Grand transport provides service from the north leading to Davao City.
There are many jeepneys and tricycles to get you around the city.
Rating:
0 people rated this.