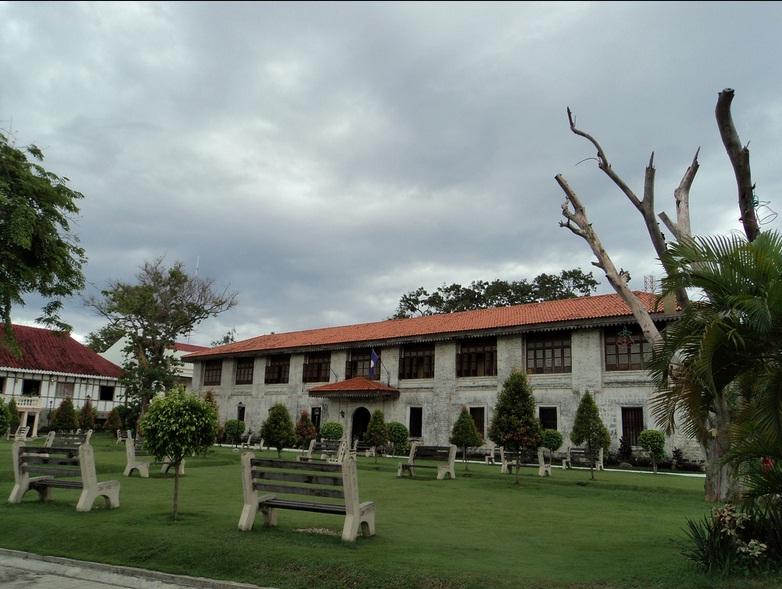 Argao Municipal Hall
If Cebu is the Queen City of the South, Argao would definitely rank as a Princess Royal. The town of Argao is extremely proud yet also very humble. It is one of the oldest and most interesting towns in the entire country. It is a town trying hard to catch up with the modern times but at the same time trying to retain most of its old flavor. It is home to people proud of their heritage. It is rich in natural resources and famous home-grown products. Above all, its most important wealth is its people.
Many prominent people come from Argao or have Argawanon roots. It is the birthplace of many Cebuano priests, and is proud to say that it has produced the most number of priests in the province of Cebu. It has also produced several representatives to congress and provincial board members, and even the province's first recognized Governor, Julio A. Llorente, was half Argawanon by virtue of his mother, Martina Aballe y Perez. Another former governor, Arsenio Climaco, married Juanita Cabrera Osmeña, whose mother was an Argawanon. Former Supreme Court Chief Justice Hilario Davide, Jr., 1979 Binibining Pilipinas-Universe Jennifer M. Cortes, comedian and impersonator Jon Santos, actress Maila Gumila, and international model Amanda Griffin, are all of Argawanon descent.
The municipality of Argao rests in the southern portion of the province of Cebu. Since its founding in 1608, Argao has grown from a sleepy fishing and farming town to a tourist destination today with many promises.
As modernization and fast-paced developments happen to more and more municipalities in the province of Cebu, in particular, and throughout the rest of the country, in general, Argao strives to catch up with the strings of changes happening around the Philippine islands, proving to the rest of the country what it is worth, but also very mindful of its rich socio-cultural and environmental heritage, making certain that whatever change happens the identity of Argao for which it is known is still preserved, thus ensuring that the future generations can still view Argao in all its historic splendor.
Argao has always been described as one of the most interesting places in the province and in the past it was known for its public stone buildings roofed with tiles and for its ovens used for the baking of bricks and tiles, which served as one of the basic means of livelihood for the inhabitants. Many of these Argao-made bricks and tiles found their way to Cebu City where they were used in the houses of the elite.
Argao remains one of the few towns in the country that still has traces of Spanish and early-American influences. This is evident not only from its old church, but also from its venerable houses made of tisa, which is said to have been imported straight from Spain.
These include eighteenth century houses and buildings to age-old socio-economic activities and livelihoods that started during the Spanish era, or even farther than that. A walk in the poblacion proper would undoubtedly allow anyone a glimpse of what has been. Aside from its historicity, Argao is also blessed with an abundance of nature's attractions, from beaches with pristine water and white sand, deep and intricate caving systems where only a portion has been explored by cave experts, to majestic and lush-green forests seated at the top of Argao's famed Mt. Lantoy, where also an abundance of rare wildlife resides.
Location
Argao is a 1st class municipality in the province of Cebu, Philippines. According to the 2010 census, it has a population of 69,503 people. It is located at the southeastern portion of the province of Cebu, approximately 68 kilometers from Cebu City. Argao is exactly between Cebu City and the southern tip of the island (Santander). It is approximately 26km from Carcar, from Alcoy, and from Loon which is across the Bohol Strait. The rectangle that is Argao (approximately 20 X 40 km) is bounded, clockwise, in the west by Badian, Alcantara, Ronda, and Dumanjug; in the north by Sibonga; in the east by the Bohol Strait; and in the south by Dalaguete. Aside from the Poblacion proper are 44 barangays which are, clockwise, Tulic, Bogo, Talaga, and Casay; then Balisong, Cambantug, Bala-as, and Linut-od; then Butong, Cansuje, and Tulang; then Anajao, Apo, Mompeller, Lengigon, Colawin, Gutlang, Langub, and Sumaguan; then Guiwanon, Taloot, Bulasa, Binlod, and Langtad. Inner barrios are Alambijud, Ubaub, Capio-an, Mandilikit, Mabasa, Jampang, then Usmad, Catang, Panadtaran, Jomgao, Talaytay, Canbanua, and Lamacan; and finally the southern group of Calagasan, Conalum, Tabayag, Lapay, Tiguib, and Bug-ot.
Tourism
Heritage Sites
The area around the structure used to be a cemetery (hence the term "Ermita") up to the early 1800s when the cemetery was transferred to Looc; Built around the same time as the church and probably finished before it; Functioned as a mortuary chapel in the Spanish period; Briefly served as a leprosarium in the American period.
Considered as one of the most beautiful best kept plazas in the Visayas; Features 3 authentic, still-functional late Spanish to early American period cannons; Has a Spanish period community well; The Rizal Monument (erected in 1932 though the statue was only made in 1954 by sculpture Fidel Araneta); The Liberation marker showing the first elected officials of Argao after WWII.
Saint Michael Archangel Church
Argao became a parish in 1703, which prompted the construction of a beautiful Rococo-Baroque church structure in 1734 and was completed in 1788. The church was renovated for its bicentennial celebration in 1988.
Despite some renovations and modernizations done to it, the San Miguél Archangel Parish still remains one of the richly furnished churches in the South.
Argao Hall of Justice (Cuartel Building)
The Cuartel Building referred as Apta Building used to be a military barracks. Presently, being used as Hall of Justice is under going rehabilitation though the effort of Chief Justice Hilario G. Davide Jr.
Main entrance to the pueblo of Argao. Built in the mid-1700s, this served as the first line of defense of the pueblo.
Casa Real exemplifies the government building architecture. With stone masonry in the first level and exclusively timber construction on the second, the Casa Real is one fine example of the highly romanticized bahay na bato, more aptly known in Cebuano as balay na tisa. The Casa Real is the oldest existing town hall in Cebu Province.
The Church of Argao possesses one of the remaining 14 Spanish era pipe organs, and is one of the three in the whole province of Cebu. Estimated to have been built in the 17th to the 19th century by Spanish pipe organ makers.
On the ceiling are murals done by two of the best church muralist during that time (early 20th century). The first portion portraying biblical manifestations of angels was done by the famous artist Canuto Avila. The other portion by the altar was done by Reynaldo Francia and depicts the victory of St. Michael over Lucifer.
Tourist Attractions
Take an adventure trek to discover Bugasok Falls. Walk up river and experience an enchanted walk along forested cliffs and solid rock boulders.
Rice Terraces of Linut-od and Butong, Mystic Mountains of Argao. The Rice terraces of Barangay Linut-od and Butong, cultivated even in middle of summer. See and participate in the different stages of cultivation of rice.
These terraces are feed by a big spring that irrigates the rice fields. After a hike up and down the terrace you can take a dip in the cold water pool of the spring under the protection of the 200-year-old Balete Tree.
Visit one of the largest Cebu cave systems. Its giant vertical openings impress even experienced caver's.
Walking, hiking, jogging, or plain sight-seeing are simple pursuits than can be done in Argao. Enjoy a walk around Don Gil Gardens, a long stretch of road going to Argao Nature Park perfect for early morning or late afternoon jogging or walking, or even picnics.
Get a chance to watch wild egrets feeding in the wide-open space of the rice fields. Argao Nature Park is also another perfect destination for those with quiet pleasures. Walk under big trees or sit by the lagoon area while watching different and some rare birds around the park.
Lawis Point is now considered the Skim boarding capital of Cebu south, because of its fine sand and shifting sand bars which stretches out to the sea. Whether its habagat or amihan one part of Lawis either north or south of the sandbar will always have good waves for skim boarding.
Castle in Jomgao - Riverstone Castle Nearby Argao you can visit the "Riverstone Castle", considered as the" only authentic castle in Cebu.
Mt. Lantoy of Tabayag - Conquering Mt. Lantoy, Argao's second highest peak (1,945 ft. or 593 meters), involves many exciting and challenging activities, including the Usmad River-trekking, a visit to Bugasok Falls, and Balay sa Agta Caves.
Mt. Lantoy is the domain of Maria Cacao and Mangao. Their legend provides a rather quaint and romantic appeal to this particular mountain.
Resorts and Accommodations (Argao Town)
Kalumpang Beach Resort

Looc Garden Beach Resort

Woodruff Beach Resort

Bamboo Paradise Resort

Luisa's Place Resort

Mahayahay Beach Resort and Cottages

Palm Garden Resort

Pool Garden Resort
How to Get There
By Plane: From Manila, there is a daily flight going to Cebu City.
By Boat: Cebu City's domestic port is the country's busiest. Cebu City is home to almost 80 percent of the country's passenger vessels. The country's largest shipping lines, namely WG&A, Sulpicio Lines, Trans-Asia, George & Peter Lines and Lorenzo Shipping Lines, are headquartered in Cebu. Large passenger ferries with a capacity of 2,000 to 4,000 passengers ply the more distant routes such as Manila, Davao, Butuan City, Zamboanga, and Cagayan de Oro.
From the airport, you can ride a multicab, jeepney, or taxi. Simply ask around for which route to take. They are available 24 hours and cover most of the nooks and crannies of the city. Just be sure you know what part of the city the jeepney will take you to.
Rating:
6 people rated this.