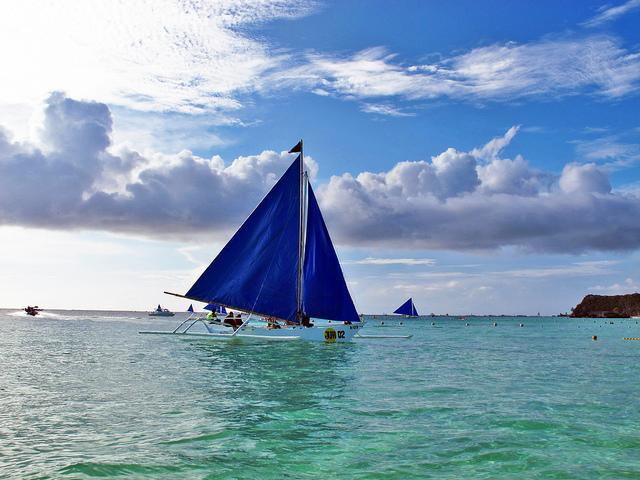 Sailing in Boracay

If you want a different adventure or a thrilling experience, the Philippines has its all splashing sports that will peak your interest. Water sports offer a good exercise and excitement that will make you appreciate and love the nature that is full with wonderful islands and a great variety of sea creatures.
Sailing, white water rafting, surfing and skim boarding are some of the popular water sports anywhere in the Philippines coastline. Are you exited to ride the waves and explore the multitude of Philippines lakes, rivers and waterfalls? Here is my perspective of top 10 water sports to engage in when in the Philippines.
Sailing
Sailing is a good sports to try whether in the sea or in vast lakes. With over 7,000 islands to explore, learning to sail for the first time is a good experience. Racing or cruising along the waves is a great way to enjoy the summer, strong sea breezes, and appreciate the beautiful scenery in the Philippines.
Caliraya located in Laguna is the closest board sailing destination from Manila and considered to be one of the finest sailing spot in the Philippines. Another good spot for sailing, is the Boracay beach provided with the northeast monsoon winds which are perfect for beginners. Other destinations are Anilao in Batangas, Subic Bay, and Pagudpud in Laoag. These places have always been visited by board sailors for many years because of its perfect winds which is good for sailing destination.

Whitewater Rafting
Whitewater rafting is a more challenging water activity than sailing. It is an extreme sports and it is quite dangerous. It uses an inflatable raft to navigate a river or other bodies of water and this is usually done on different degrees of rough water in order to thrill and excite the passengers.
Whitewater Rafting

in Cagayan de Oro
Whitewater Rafting is one of the newest extreme adventures in the Philippines today and an adrenaline-pumping experience that might be more exciting than a roller coaster ride. Here are the list of top destinations for this activity.
1. Cagayan De Oro River - The river stretch from barangay Dansolihan to the city offers a thrilling rafting experience. The adventurous traveler will surely enjoy the challenging rapids of the river together with the power of water cascading over rocks and boulders. Rafting season here is al year round, with June to December serving as the peak season.
2. Chico River, Kalinga Province - River rafting in Chico River is the best way to see the Kalinga's sleeping volcanoes, breathtaking canyons, narrow limestone canyons, sleepy villages and stone rice terraces that stair up over 2,500 feet on the mountainsides. Open schedules for trips are available all throughout the year. Whitewater Rafting in Kalinga can be done throughout the year and is ideal, from June through early January, with other dates possible dependent on water level. Rafting Season ends Mid-March and begins on June . (Depending on water levels in Chico River).
3. Davao River - Davao river is the seventh among the largest river basins in the Philippines and the largest of the city's nine principal watersheds. The river has a total length of 143 kilometers, stretching through a good number of streams.
Water Skiing
Water skiing is a sports where an individual is pulled behind a boat or a cable ski installation on a body of water, skimming the surface. It usually begins with a deep water start, with the skier crouching down in the water. When the skier is ready, the driver accelerates the boat to pull the skier up.
Show skiing, slalom skiing, and tournament slalom skiing are some types of water skiing where skiers try to perform tricks somewhat similar to those of gymnasts while being pulled along by the boat.
Camarines Sur is the best place for this, at the modern Camsur Watersports Complex. For outdoor waterskiing behind a boat, Anchor Bay Water Sports offers great waterskiing around the calm waters of Romblon.
Wakeboarders at Camsur Watersports Complex
Wake Boarding and Wake Skating
Experience to fly and perform different stunts in the air by trying the adventure of wake boarding. Similar to water skiing, wake boarding involves riding on a board to which both feet are bound while being towed across the water by a boat or cable. Wake skating is similar except the feet are not bound to the board.
Camsur Watersports Complex is still the best place for this. It is designed for wakeboarding, wake skating and waterskiing. The complex is just an easy ride. It is just a quick 10- to 15-minute drive from Naga City and only about 1.5 kilometers from Naga Airport.
Wind Surfing
On wild waters where strong winds blow, wind surfing is an excellent sports to engage in. Also known as board sailing, it involves riding on the surface of the water on a board with a sail that is propelled by the wind. The best time for windsurfing is when the amihan or northeastern monsoon winds are present.
Boracay is the best place for wind surfing beginners. It has a perfect mixture of sun, heat and surf. There are spots there where the water is always warm and the lagoon is shallow enough to stand in most places. Another some of the most popular wind surfing destinations in the Philippines are Lake Caliraya, Subic Bay, Anchor Bay Water Sports, Anilao, and Pagudpud.
Surfing and Skim Boarding
Head to Siargao Island, considered the Surfing Capital of the Philippines, for a wonderful surfing experience. It is a sports that involves using a board to ride on large breaking waves. Cloud 9 is known as one of the best surfing destinations in the world for its thick, perfect, hollow tubes that international surfers call a special wave. The best surfers from around the world gather here just to experience the perfection of this great wave.
Rowing
Be proud for the Filipinos for their excellent in dragon boat rowing teams which have brought home medals from the Southeast Asian (SEA) Games. Rowing teams can often be seeing practicing in Manila Bay.
Rowing is a good sports which practices the discipline of every athlete involved. They have to race against each other while the boats are propelled by the reaction forces on the oar blades as they are pushed against the water. It is one of oldest Olympic sports. It can be recreational and competitive where overall fitness plays a large role.
Paraw Sailing
Jump now to the Island of Boracay and witness one of their most popular water sports. Sail on around the island and see one of the world's amazing sunsets with this traditional Philippine double outrigger boat.
Paraw Sailing in Boracay

Historically, the paraw may be attributed to the Borneans who sailed to the Philippines, particularly in the Visayan region, during the 1200s to venture for trade and commerce. Made from wood and bamboo, a paraw is a small boat that is native to the Philippines. On its sides, there are two floaters or logs that act as outriggers to help balance the boat and prevent it from capsizing. Its design is usually very colorful and creative – the owner's expression of his personality.
Paraw Sailing activity will complete your vacation in the island because it is easy, affordable and a lot of fun whether you are looking for a good leisure or competition in Boracay. It is commonly compared to the popular foreign water sport, windsailing. But it is not only for competitions; through paraw sailing, tourist may enjoy sightseeing and appreciate the relaxing beauty of nature.
Water Polo
Water Polo is like playing soccer but this time you need swimming skills because it is a sports played in the swimming pool.
Originally called "football-in-the-water," it consists of seven players per team. It is played like soccer/football in the water using only one hand at a time to handle the ball. Points are recorded when the ball made the goal, which is very much like a soccer goalpost.
Water Polo is a best sport and considered as the most physically and mentally challenging water sports.
Storm Surfing
And last, for those who want an adrenaline-pumping, thrilling, exhilarating, and exciting experience, storm surfing in the Philippines is all these and so much more. While most people avoid beaches during typhoons, a handful of adventurers paddle out on surfboards to meet gigantic waves on the surfing beaches facing the Pacific Ocean. It is also during the typhoon season where the world famous Cloud 9 waves of Siargao come alive.
Cloud 9, Siargao Island

Rating:
0 people rated this.