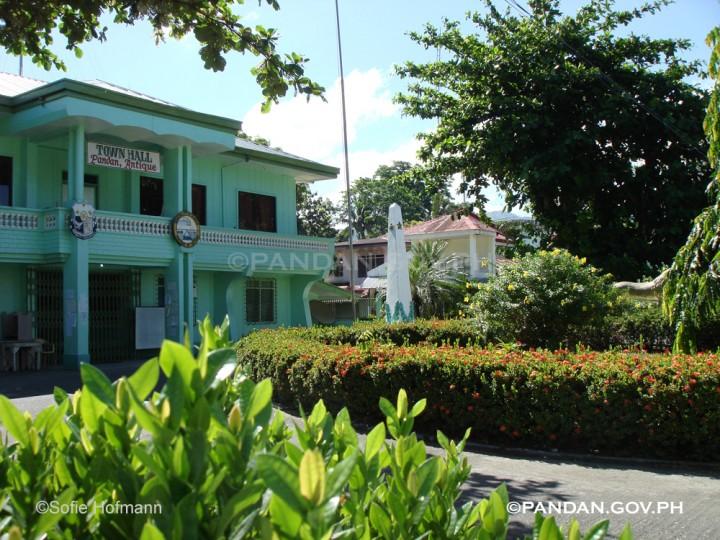 Visitors have long praised the silent charm of the town of Pandan in the province of Antique, owing its renown to its lovely world-class beaches, agreeable weather and industrious and friendly people.

Pandan is one of the 18 towns making up the Philippine province of Antique. It is also one of Antique's industrialized and well-known towns with destinations like its Cold Spring, the Bugang River and white beaches along the Pandan Bay at Barangay Mag-aba to Barangay Duyong. Pandan is endowed with eco-tourist attractions.
Source of name
According to a story whose source is unknown but which is widely accepted in the area, the town's name is a combination of the Spanish word "pan" (bread), and the Visayan demonstrative pronoun "dan" (that). Supposedly, when Spanish explorers first met the area's natives and asked them if they had any food, one native said "Dan", pointing to a basket containing some "kamotes" (sweet potatoes). Mistaking the kamotes at first glance for bread, one Spaniard happily exclaimed "Pan!"
Those who regard the above account as more myth than fact believe that the town's name more probably came from "Pandanus", a genus of monocot plants that together are termed pandans, or "Pandanus amaryllifolius", a plant which yields the pandan leaf used widely in Southeast Asian cuisine.
Home Cottage Industry and Handicrafts
In barangay Sto. Rosario, Sta. Cruz and Buang, a local cooperative is engaged in the production of bags and mats made from buri, bariw and abaca "piti" twines. The bags produced ranged from clutch bags, hand bags, shoulder bags, and knapsack of various sizes and designs. Mats produced are also of varying sizes. The products are bought by traders and sold to Kalibo, San Jose, Iloilo, Manila, and even outside of the country. The Department of Trade and Industry (DTI) continuously supports the cooperative in terms of both quality control and marketing.
All visitors, tourists, and guests of this municipality never fail to visit or drop by Barangay Sto. Rosario to buy these excellent export-quality products as these show true Filipino ingenuity and skils preserved and handed over from generation to generation.

Famous Attractions
Vera Mar Retreat House and Tourist Resort

Phaidon Villas and Beach Resort

Bunny's Beach Resort
Other Attractions
Roman Catholic Church Bell
The bell, which is made of Spanish brass, played a significant role during the war. The bell was rung to signify the coming of Japanese soldiers. It served to warn Pandananons to evacuate and secure themselves from such attacks.
Each barangay in Pandan has its own fiesta. The fiestas are normally being held in April, May and December.
This was the site of the battle between The Japanese Imperial Army and Filipino defenders during World War II.
A monument constructed by Japan Asian Friendship Society, a non-government organization from Osaka, Japan, in memory of the past. The site where the bones and remains of the Japanese soldiers were buried during the battle at Highway Pucatod.
This is where a monument of General Leandro Locsin Fullon, a soldier who guarded the Province of Antique against Spanish colonialists.
Gen. Leandro L. Fullon Monument
An Antiqueño soldier who led the Filipino revolutionaries against Spaniards in Pandan. He became a governor in the Province of Antique.
Established along the Quibacan River, the shrine was made known after a vision revealing the area's sacrality. A spring located nearby is believed to be miraculous. The Rosa Mystica Shrine is often visited by religious groups from nearby municipalities. Part of it are the 13 stations of the cross along the way going to the shrine, which makes the place ideal for hiking.
Archeological Expedition Site in Manlonggong
The site of archeological excavations in Sitio Manlonggong, Barangay Guia, where pieces of Ming Chinese jars and jarlets were unearthed in the 1980s. It is reported that one of the jars displayed in the National Museum was excavated in Barangay Guia, Pandan, Antique.
Accommodation Facilities
Pandan Beach Resort is a bed and breakfast front-beach boutique resort located a few meters away from the town center. Pandan Beach Resort has eight airconditioned rooms with toilet and bath with hot and cold shower, television and refrigerators. It has one dormitory-type fan room with toilet and bath which could accommodate at least ten persons.
Phaidon Villas and Resort
It offers a residential villa with two to three bedrooms with individual air-conditioning units, hot and cold water, shower and toilet with pocket Japanese garden, Jacuzzi pool with good scenic view of Batbatan Island and sunset. The villa offers very affordable rates for the guests. For Filipino guests, special affordable rates is being offered (maximum of five guests per room).
Mag-aba Beach House also accepts overnight or long stay for big groups. It is used by Japan Asian Friendship Society Work Campers in groups of 15-20 during their week-long stay in the municipality.
CA Lodging House, registered and listed in the Provincial Tourism Office as available for lodging, caters to the needs of guests, tourists and transient merchants who stay overnight in Pandan.
Private-owned cottages for family use in Malumpati are sometimes being rented out for resort visitors.
Others
Other available lodging houses include Rovel's in front of the main entrance as well as Tagala's and Tesoro's residence in Barangay Baybay.
How to get there
From Manila, flights are available to airports in Iloilo City, Roxas City, Caticlan or Kalibo.
Pandan is about thirty kilometers from Caticlan Airport. Sea transport via Iloilo Port in Iloilo City, Culasi-Lipata and San Jose Ports in Antique, or Dumaguit and Caticlan Ports in Aklan are widely available.
Pandan can also be accessed taking buses and jeepneys from Kalibo, Aklan and from sea transport also available.
Rating:
0 people rated this.