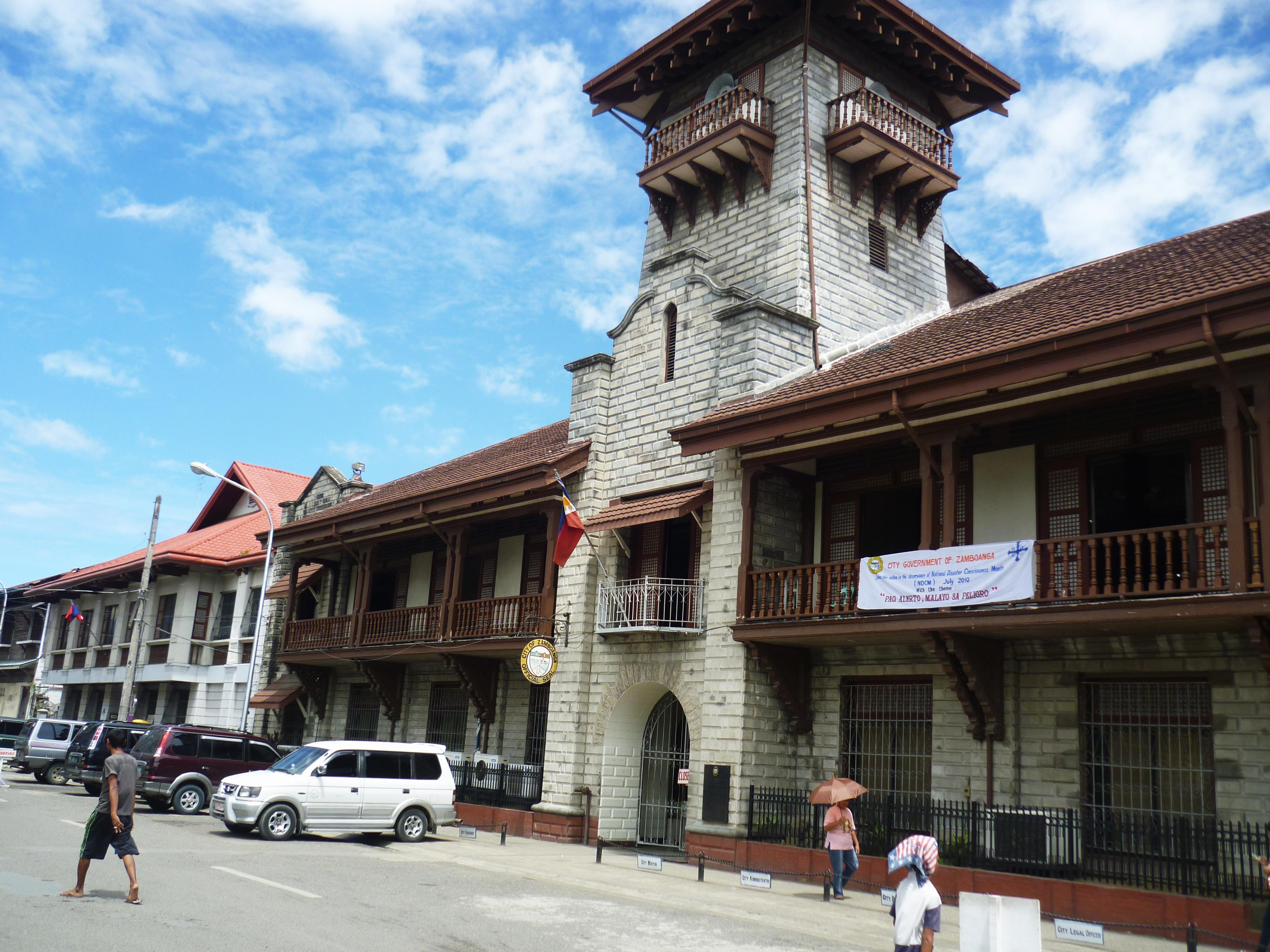 Zamboanga City Hall
The city of Zamboanga is a highly urbanized city located in Mindanao, Philippines. It is a picturesque locale that proudly exhibits the many colorful co-existing cultures of the south amid the splendor of pristine natural landscapes and seemingly endless beautiful beaches. It has a population of more than 807,129 according to the 2010 census. Zamboanga is the 6th most populous and 3rd largest city by land area in the Philippines. It is the commercial and industrial center of the Zamboanga Peninsula.
Zamboanga was the capital of the former Moro Province, now Mindanao, from 1903 to 1913. On September 15, 1911, the Municipalidad de Zamboanga was converted into a city by the legislative order Act. No.272. Known for Hispanic influences in its culture, it bears the nickname Ciudad Latina de Asia (Asia's Latin City).
Zamboanga is the third oldest city in the Philippines, with a mayor-council form of government. The city received its own representation for the Philippine Congress in 1984. The former lone congressional district was divided into two separate districts: the West Coast District from the City Proper to Limpapa represented by incumbent Congresswoman Beng Climaco, while in the East Coast District from Tetuan to Licomo is headed by incumbent Congressman Erico Basilio A. Fabian. The government is composed of a Mayor, Vice Mayor, two district representatives, and eight councilors in each district.
Zamboanga City contains 28 islands off the mainland coast. The largest is Sacol (about 12 km. long and 8 km. wide). Three of them, (Vitali, Malanipa, and Sacol) are inhabited mostly by fishing residents and have their own barangays. The others are not regularly inhabited, but frequented by fishermen and scuba divers. A group of 11 islands located on the Moro Gulf coast are known collectively as the Eleven Islands, Cabugan Island (approx. 11 hectares) is the largest of them.
The most popular islands among both tourists and local residents are the Great and Little Santa Cruz Islands, known for pink coral sands, and rich in coral, shell varieties and sea life.
Zamboanga City Hall y Rizal Monument
Tourist Attractions
The Department of Tourism has selected Zamboanga City as a flagship tourism destination in Zamboanga Peninsula. Domestic and foreign tourist arrivals increased 8 percent to 439,160 in 2005, according to data from the regional tourism office. The same report notes that Filipinos accounted for 80 percent of the tourist arrivals. Moreover, 50 percent of those tourists visited Zamboanga City before. With that, Zamboanga City really is a player in the tourism of the Philippines
ARCILLAS BEACH
Distance: 7 kms. from the city proper.
Attractions: Eating sheds/water available; stony, gray sand beach with numerous coconuts and other fruit trees near the shoreline; a good picnic ground.
CARAGASAN BEACH
Distance: 12 kms. from the city proper.
Facilities: Chanting rooms, eating sheds, and tables for rent at P20-40/table; eateries are likewise available. Attractions: Gray sand beach, ideal for swimming; sunset can be viewed from this area, adding to it is a very considerable charm and character.
MALANDI BEACH
Distance: 30 kms from the city proper, private beach area.
Facilities Privately owned beach house, complete facilities, prior reservation needs contact with the Department of Tourism –9. Attractions Gray sand beach, ideal for swimming, fishing and skin diving.
BOLONG BEACH
Distance 32-96 kms from the city proper. Mode of transport Cars, buses taken from Tomas Claudio Extension, shuttles.
Facilities eating sheds.
Attractions Highlight in going to Bolong is a fish market which comes alive every Sunday, the village's market day and one can get a clear view of the neighboring islands such as Sacol . One passes through roads blooming
Built in June 23, 1635, it is a silent witness to many battles fought by the Spaniards against the Moros. A witness to the heroic courage of Zamboangueños for their love of freedom. It is a home to legions of devotees who pay tribute to the miraculous Nuestra Señora La Virgen del Pilar.
Plaza Pershing
A ground for special events, this was originally called the Plaza de Don Juan Salcedo, Spain's great conquistador. It was renamed Plaza Pershing in honor of Gen. John J. "Blackjack" Pershing who was loved and respected by the Zamboangueños for his achievements.
City Hall
The construction of this building started in 1905 and was completed in 1907 by the Federal Government of the United States of America. The building served to be the official residence of the US military Governor for Mindanao. Today, this serves as the City Hall of Zamboanga where the city mayor holds office.
Petit Barracks
Pettit Barracks was the headquarters and home of the Spanish soldiers until it was turned over to the American troops in 1899, the place was developed into a beautiful barracks, home of the American soldiers and it was named after Col. James S. Pettit of the 31st Infantry U.S. Volunteer Commanding Officer who became the Inspector General and in-charge of civil Affairs of Zamboanga.
One of the country's premier attractions is the Pasonanca Park, located at the outskirt of the city, about six kilometers from the city proper. It is referred to as the Little Baguio of the South. The park was developed in 1912, under Pershing's administration with one swimming pool. Pasonanca is nestled about five hundred feet above sea level surrounded by rolling hills and verdant mountains. Two other pools were constructed under Mayor Climaco's time. It likewise houses the famous tree house built in 1960, the butterfly sanctuary and the aviary which showcases different bird species including the Philippine Monkey Eating Eagle.
Mayor Climaco Freedom Park - A trip to Pasonanca Park is incomplete without visiting Mayor CCesar limaco FREEDOM PARK formerly the Abong-Abong Park. Located on upper Pasonanca with a panoramic view of the city. It can be reached by jeepney on a 15 minute ride. Going up the hills one can see the fourteen Stations of the Cross. Today, it is the most popular site to spend the Lenten Season.
Japanese Memorial Shrine
There are two Japanese Memorial Shrines in the city. One is located in Pasonanca Park which is 7 kilometers from the city proper. Another is located in Malagutay which is 11 kilometers from the city proper. The shrines are made of marble that came from Japan with names engraved on it in Japanese character.
The names engraved are those of the Japanese soldiers who died during the World War II as they were retreating from the liberating US Forces.
Climaco Freedom Park
7.5 kilometers from the City Proper. The park is a hiking distance away from Pasonanca Park and some 7.5 kilometers away from the city. A project developed by the City Government of Zamboanga and spearheaded by the late Mayor Cesar C. Climaco. The park is more or less 7.5 kilometers away from center city and is accessible by a 10-15-minute ride via a public utility or any vehicle. It is ideally located in a valley where one can have the sights of the mountains and panoramic view of the city.
Some of its popular attractions are a campsite for Boy and Girl Scouts, a natural swimming hole called Chrislam Pool, Heroes Hill in honor of World War II soldiers, the Freedom's Eternal Shrine in honor of the late Sen. Benigno Aqui8no, and the Ecumenical or Holy Hill where the 14 Stations of the Cross can be found leading up to the giant white cross at the top of the hill. The park also serves as the final resting place of the late city mayor Cesar C. Climaco.
Yellow Beach
About 8 kms. from city center via jeepneys & minibuses from public market
Landing site of US Liberation Forces under Maj. Gen. Jens A. Doe on March 10, 1945. The Americans named the beachhead Yellow Beach for operational identification. Japanese resistance collapsed on April 2 with Filipino guerillas effectively collaborating with US Forces. The beach is in Sinunuc, about 8 kms. west of the city center.
San Ramon Prison & Penal Farm (22-kms. west of city proper)
A 19th century Spanish-built prison penal farm about 22 kms. along the city's west coast accesible via jeepneys or mini-buses from downtown. First set up by the Spaniards as an experimental agricultural extension facility.
Great Sta. Cruz Island
Known for its pinkish sand beach which gets its unique hue from coral bits washed up from the sea bottom. On the island is a fishing village, a lagoon, and an old Muslim burial ground. Characterized by extensive and varied aquatic life, coral heads and rocks support a wide array of tropical fish. The island is ideal for swimming, skin/scuba diving, beachcombing, and sunbathing. Facilities on the island include dressing rooms, toilets, picnic sheds, and cooking areas.
As it is a coral island, drinking water is not readily available. As such, swimmers are advised to take along drinking water and food. They are also advised to wear canvas or plastic shoes/slippers to protect their feet from sharp rocks and coral shards. Sta. Cruz Island is 15 minutes away from either the Lantaka Hotel or the Golf course beach in a vessel which carries 6-15 persons. It is only about 4 kilometers from Zamboanga mainland.
Zamboanga Beach Park
Distance: 6.5 kms. from the city proper
Transport: Cars, jeepneys, & motorized tricycles bound for Calarian.
Facilities: Family-type picnic sheds; Small sheds; picnic tables; shower rooms, eateries, picnic grills, children's playground, bancas for rent.
La Vista del Mar Beach
Distance: 7kms. from the city proper
Transport: Cars, jeepneys, & motorized tricycles bound for Calarian or Sinunuc.
Facilities: Cottages (closed/fully-airconditioneced); open Pavilion; picnic huts; family hut; triangular deck with tables.
TaIuksangay Village
About 19 kms. east of the city, accessible by jeepneys and minibuses
A Sama village made more picturesque and majestic by golden minarets towering over a lagoon and luxuriant green brushlands. Villagers are engaged in fishing, seaweed farming, and firewood-gathering from vast swamplands nearby. An interesting site is its "floating village" made up of little houses on stilts above the water.
Zamboanga Barter Markets
There are 4 barter markets: BCC Shopping Center in Baliwasan, Sta. Cruz Market, Port Area, and Canelar. These are where one can shop for imported merchandise from Europe, the US, Indonesia, Japan, Singapore, Malaysia, Taiwan and the People's Republic of China. On sale are textiles, houseware, blankets, batik cloth, umbrellas, toys, canned goods, toiletries, and electronic items.
Campo Muslim - Rio Hondo - Sahaya
3 kms. from the city, accessible by jeepneys and tricycles. A colony of coastal Tausugs, Samas, and Badjaos living in frail-looking houses on stilts situated about 200 meters from Fort Pilar, Campo Muslim can easily be located by its silver-dome mosque. To reach the other area known as Rio Hondo, one has to cross the wooden bridge that spans the narrow river that has given this part of the village its present name - Rio Hondo - meaning deep river. Inside Rio Hondo is a human settlement project of the government called Sahaya. It sits on a 23-hect-are tract of mangrove.
Zamboanga Golf Course & Beach Park
Approx. 6 kms. on the west coast, accessible by jeeyneys and minibuses. Originally known as the Zamboanga Golf and Country Club when it was founded in June 1910 by Gov. John "Blackjack" Pershing of the Moro Province. This is one of the oldest golf courses in the Philippines with Pershing himself as the club's first president. This course has a fine layout with winding fairways, dogleg situations, and good greens planted to Tifton 228. Its bunkers have the pinkish sand from Sta. Cruz Island. Although Zamboanga's first nine is somewhat flat in terrain, the second is fairly rolling, skirting around the Basilan Strait for a bit of ocean view. Interesting rounds await the average golfer or seasoned campaigner, as flexibility is assured with long tee mounds. The course has elevated greens which can be tricky for their small size and rolling make-up. The course has 18 holes in 64 hectares.
Metropolitan Cathedral of the Immaculate Conception City Proper
A new landmark of Zamboanga City completed in December 1999. It is perhaps the country's most modern cathedral and the only one with an elevator. Summary: 2-storey Cathedral accessible by ramp & side stairs; Cruciform design accented elliptical/oval forms in the shape of candles - 3 at main entrance (foot of cruciform) and 1 each at 3 other ends of the cruciform Ground Floor: Area - 2,303.77 sq. m.; 400-500 capacity Day Chapel; 536 sq. m. Conference Room; 250 capacity Perpetual Adoration Chapel; 355 sq. m. Crypt; Public and Clergy Offices Second Floor: Area - 2,276.82 sq. m.; 1,600 to 2,000 capacity Main Cathedral; 250 each capacity Baptistry and Blessed Sacrament Chapel; 116 sq. m. Sacristy; highly proportional Sanctuary and Altar, elevated Bishop's Chair, ample area for Ordination ceremonies; approached by Front Ramps, side stairs, and winding stairs.
Weaving Village
7 kms. on the west coast, accessible by jeepneys & minibuses bound for Sinunucor Ayala. The Yakans, the original inhabitants of Basilan, are considered among the finest weavers in the Philippines. The Yakan weave is so fine that it takes a week to finish a meter of cloth. The Yakan cloth commands a high price in well-known trade centers in the Philippines because of its craftsmanship.
Assemblyman Joaquin F. Enriquez Memorial Complex
A sports complex of 5.75 hectares considered one of the most modern in the country. Ten contractors and 1,500 workers joined hands to complete the facility in time for the March 6, 1992 Palarong Pambansa (National Games). Total construction cost was a little over P64-million. The latest synthetic rubberized coating known as Super AG was used for the oval, only the second in the world after one in Saudi Arabia.
Accommodations
Here is the list of accommodations located around the city of Zamboanga.
Lantaka Hotel By the Sea - Mayor Valderos St. , Zamboanga City

Garden Orchid Hotel - Gov. Camis Avenue , Zamboanga City

Grand Astoria Hotel - Mayor Jaldon St., Zamboanga City

Zamboanga Hermosa Hotel - Jaldon St., Zamboanga City

Woodland Resort & Restaurant - Zambowood, Zamboanga City

Vernell Farm & Mountain Park - Cacao, Zamboanga City

New Inland Resort & Restaurant - Boalan, Zamboanga City

Hotel Perlita - Mayor Jaldon Street, Zamboanga City

Hotel Preciosa - Mayor Jaldon Street, Zamboanga City

Azenith Royale Hotel - Gov. Camins Avenue, Zamboanga City

Blue Shark Pension House - Mayor Jaldon Street, Zamboanga City

GC Hotel - T. Claudio cor. Gov. Wood

Jardin de la Via - Fidela Bldg., Gov. Alvarez Ave., Zamboanga City

Hotel Salwa - Gov. Camins Avenue

Yang Hotel Tourist Inn - T. Claudio Street, Zamboanga City

Viva Pension House - Urdaneta Street, Zamboanga City

La Casa Maria Pension House - Sta. Maria, Zamboanga City

Platinum Tourist Inn - 4 Barcelona Street, Zamboanga City

MagV Royal Hotel - San Jose Road , Zamboanga City

Hotel Paradise Pension House - P. Reyes Street, Zamboanga City

David Inn Pension House - La Purisima Street, Zamboanga City
List of Restaurants
ABC Bakery and Restaurant, beside Shoppers' Central.

Alavar's Seafood House, Don Alfaro St., Tetuan.

Flavourite Cuisine, Rizal St. and Nuñez branches.

Food Paradise, Climaco Avenue.

Hai San Seafood Market and Restaurant, 60 San Jose Road.

Lejan Ice Cream House and Restaurant, Santa Maria.

Manang Terry's Chicken Inato, Mayor Jaldon (Canelar) and Nunez (MP Tower) branches.

Papito's Grille, Lunzuran Road, Tumaga, (beside Ateneo High School).

Savoury Panciteria and Restaurant, Mayor Jaldon St., Putik, Tetuan, Santa Maria.

Shamba Grille, Gov. Camins Avenue beside Caltex Gas Station.

St. Mary's Grille, Gov. Ramos Avenue fronting Sta. Maria Parish Church.

Tropics Fine Cuisine, Sta. Maria fronting SLQ Chicken

La Vista Seaside Restaurant, La Vista del Mar Resort, Calarian.

Z-Beryani Persian Cuisine, Nunez Midtown Plaza.
Accessibilty
By plane
There are daily flights to/from Manila by Philippine Airlines and Cebu Pacific, flights to/from Sandakan by Asian Spirit and South East Asian Airlines (SEAIR) Philippine Airlines, Air Philippines and Cebu Pacific have regular flights to Manila, Cebu, & Davao and vice versa.
By boat
Super Ferry boats are available 2 days a week for sailing from Cebu City, Davao, and Manila and vice versa. Ferries are also available to and from Sandakan.
The Port of Zamboanga is an international port of entry. It has a schedule passenger trip to Sandakan, Malaysia, a cruise ship destination and several shipping lines offer regular trips from and to Davao, Cotabato, Dipolog/Dapitan, General Santos, Pagadian, Jolo, Bongao, Isabela City, Cebu City, Dumaguete, Iloilo, Bacolod and Manila.
By road
If you are from Luzon and Visayas, the Nautical Highways (RoRo) can bring you here. Buses from major cities in Mindanao are also available.
Jeepneys and motorcycles are available as a common mode of transportation around the city.

Rating:
0 people rated this.