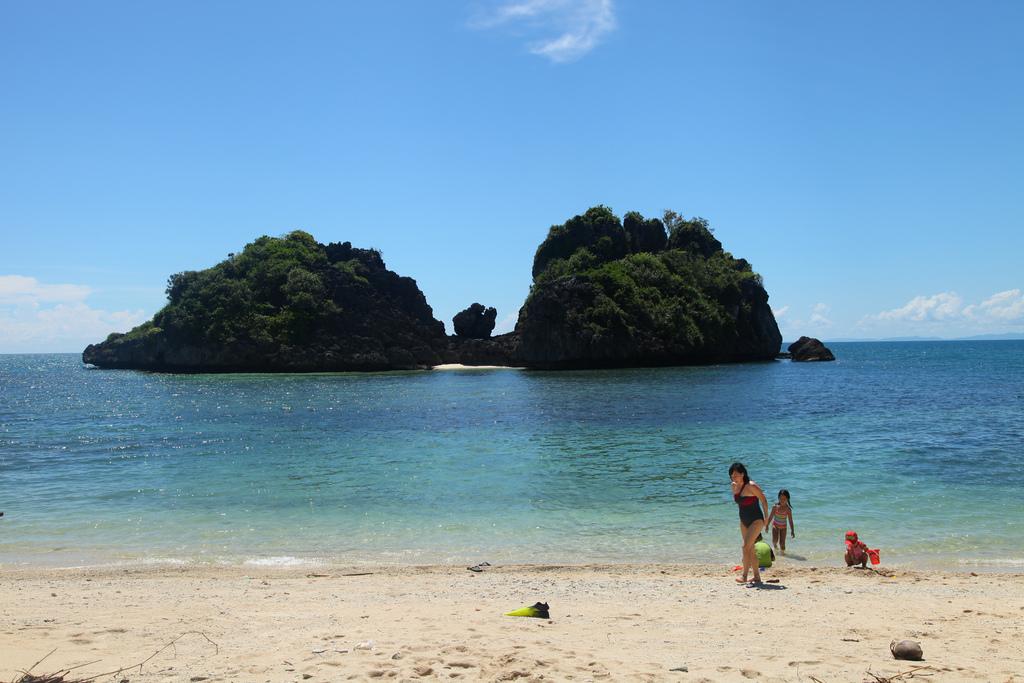 Tatlong Pulo, Guimaras
Guimaras is an island province of the Philippines located in the Western Visayas Region. Its capital is Jordan. Among the smallest provinces, the island is located in the Panay Gulf, between the islands of Panay and Negros. To its northwest is the province of Iloilo and to the southeast is Negros Occidental.
Guimaras is blessed with natural and historical attractions. It has white sand beaches, falls, springs, offshore islets, coves, and caves.
Tourist Attractions
HISTORICAL
Punta Blanco & Camp Jossman,

Tinadtaran, Buenavista
Target range and military camp constructed by the United States Army in 1903.
NATURAL AND MAN-MADE
Costa Aguada Island Resort
Located at the crocodile shaped Inampulugan Island, it has clean white sand beaches, mini zoo, and jungle park. Ideal for horseback riding, snorkeling.
Located at the southern tip of Guimaras; surrounded by sandy beaches and growing corals; has 20 cottages, a restaurant, a bar for cold drinks, and a freshwater swimming pool. Offers island hopping tours, sailing, excursion, and snorkeling in neighboring islands.
Puerto del Mar,

Nueva Valencia
A 34-hectare of nature-favored domain; has three coves, a picnic center called The Mooring Cleat, beach cottages, convention hall, conference and game hall, gift shop, and recreation and sports complex; offers a variety of activities for tourists and vacationists such as swimming, picnicking, snorkeling, sailboating or island touring.
Isla Naburot,

Sinapsapan, Jordan
Island has rich colorful marine life, visible and exotic sealife; special berth for lovers; tranquil hideaway for soothing tense nerves; has 8 native-styled cottages; ideal for fishing, boating, swimming, snorkeling, island hopping, and scuba diving.
Raymen Beach Cottages,

Alubihod, Nueva Valencia
Long stretch of shoreline, white sand beach, and crystal clear water; ideal for swimming and sunbathing.
White sand beaches ideal for swimming, boating, and windsurfing; offers a hidden lagoon.
Colmenares Mountain Beach Resort,

Bgy. Hoskyn, Jordan
Has a conference hall for seminars/conferences; has picnic huts and swimming pool.
Villa Encarnacion Mountain Resort,

Bgy. Zaldivar, Buenavista
Swimming pool; topmost part offers a commanding view of the whole place.
Free Land Beach Cottages,

Poblacion, Nueva Valencia
Ideal for swimming and sunbathing.
Shann Beach Huts,

Poblacion, Nueva Valencia
Ideal for picnics and excursions.
Enrico Beach,

Zaldivar, Buenavista
Stretch of white sand beach; abundant supply of cool spring water.
Sunrise Beach,

San Enrique, Buenavista
One-hectare beach with picnic huts and cottages.
Tiniguiban Islet,

Pulang Pasayan, Igang, Nueva Valencia
A haven of scuba divers.
Natagong Beach Resort,

Nueva Valencia, Guimaras
A stretch of milky white sand beach.
Rumagangrang Beach,

Cabalagnan, Nueva Valencia
Offers a clean beach and numerous coves.
Paradise Cove,

Sinapsapan, Jordan
Has a beach house and beach hut.
Tatlong Pulo,

Tando Area, Unisan Island
Has some of the diving sites in Guimaras.
Macopo Falls, Balcon Falls, Ambacan Falls, Sadsad Falls
Waterfalls in Guimaras.
Villa Fe Daliran Cave, Catilaran Cave, Suli Cave
The famous caves in Guimaras.
Summer house of the Lopez family built in 1910 on top of a huge rock.
A panoramic vacation house of the Lopez family; offers a picturesque view of Iloilo City.
Good Shepherd's Fold Academy,

Buenavista
45-hectare orphanage; offers high school, vocational training, practical arts, and sciences; built in 1946.
The island province has more than 50,000 fruit bearing mango trees. Has 3 major plantations: Oro Verde, Buenavista; Southern Orchard, Jordan; Guimaras Tree Farm, Buenavista.
VILLA IGANG BEACH RESORT,

Poblacion, Nueva Valencia, Guimaras
Villa Igang Park formerly known as Puerto del Mar is the happy midpoint between sky and seabed. Whichever direction the eye chooses to go, it will catch only a sense of rightness. The resort was originally planned as a conservation area for tropical foliage and marine life and important lines are drawn toward this end. Virgin coral beds and old trees are equally protected with love, and a keen sense of the future. It is located at Poblacion, Nueva Valencia, Guimaras adjacent to other resorts along Alubihod Bay.
RELIGIOUS
Trappist Monastery, 12 kms. from Jordan Wharf; founded bya group of American monks in 1972; has an orchard that grows assorted tropical fruits; has an interesting souvenir shop.
Bala-an Bukid Shrine, located on top of the Bundulan Pointat Bgy. Hoskyn, Jordan; pilgrimage site for Catholics every first of Mayand Holy Week.
Navalas Church, a historical church built in idyllic coastof Bgy. Navalas, Buenavista in 1880; has served as a refuge for the localsin times of distress.
Ang Pagtaltal sa Guimaras, a holy lenten presentation stagedon the hillside of Jordan every Good Friday.
Accommodations
Shirven Hotel -

San Miguel, Jordan, Guimaras
Pine Haven Hotel -

Islander Village, San Miguel, Jordan, Guimaras
Small Wings Pension Inn -

San Miguel, Jordan, Guimaras
Miewa Pension House -

Mclain, Buenavista, Guimaras
OLP-Trappist Monastery Guest House -

San Miguel, Jordan, Guimaras
Guisi Heritage Cottage -

Dolores, Nueva Valencia, Guimaras
Restaurants
NVDS Refreshment/ Tita Nels Refreshment -

Mclain, Buenavista, Guimaras
Gladys Refreshment (Carinderia & Videoke) -

Rizal, Jordan
Paul and Michelle Kitchenette -

Rizal, Jordan
Toms Place Bar and Refreshment -

Hoskyn, Jordan
Dans Batchoy -

Rizal & San Miguel, Jordan
Souvenir Shop
OLP-Trappist Monastery -

San Miguel, Jordan, Guimaras.
Guimaras Trade & Information Center -

Located at Pasalubong Center, Provincial Capitol, San Miguel, Jordan, Guimaras.
Immaculate Heart of Mary Enterprise (Contemplative Outreach to the Poor, Inc.) -

Located at the Old Site, San Miguel, Jordan, Guimaras
Guimaras Best Pasalubong Center -

New Site, San Miguel, Jordan, Guimaras
Genned-Up Pasalubong Center -

New Site, San Miguel, Jordan, Guimaras
Accessibility
Iloilo City is the gateway to Guimaras. Guimaras can be reached by air and boat from Manila and other origins, via Iloilo City and by pumpboat in Pulupandan, Negros Occidental. The island province is 20-30 minutes by motorboat or ferry boat from Parola, Ortiz, Muelle Loney or Lapuz Wharves in Iloilo City. Direct travel to Guimaras is possible by light planes, which can land at the Guimaras Feeder Airport.
Jeepney and tricycles are also available as a mode of transportation when touring the province from one town to another.
Check the Guimaras Official Website for more informations about the transportation schedules and locations.
Rating:
0 people rated this.