Albay: Home of Mayon Volcano
2,078
4,012
626
Albay is a province of the Philippines located in the Bicol Region in southeastern Luzon island. The capital of the province is Legazpi City, which is located in the southern foothill of Mayon Volcano, the symbol most associated with the province. This near perfectly-shaped active volcano forms a scenic backdrop to the city of Legazpi and is visible throughout the municipalities and cities of Albay including the surrounding provinces. Mayon Volcano plays a major role in the alluring of tourists in Albay and helps to flourish tourism in Philippines.
Albay has a total land area of 2,552.6 square kilometers (985.6 sq mi), which makes it the 26th smallest province. The province is bordered by the provinces of Camarines Sur to the north and Sorsogon to the south. To the northeast, the province lies along the Lagonoy Gulf, which separates it from the province of Catanduanes. To the southwest of the province, is Burias Pass with the island of Burias, Masbate located about 14 kilometers (8.7 mi) offshore.
The province is generally mountainous with scattered fertile plains and valleys. In the eastern part of the province is a line of volcanic mountains starting with the northernmost Malinao in Tiwi, followed by Masaraga and Mayon Volcano. Separated from Poliqui Bay is the Pocdol Mountains in the town of Manito.
Bikol is the primary language spoken in Albay, being a part of the Bicol Region. It has many dialects, such as Bicolano Viejo, Daragueño, Legazpeño or Albayano, Oasnon and others. The dialects spoken in the coastal areas of the province are similar to the language spoken in Camarines Sur, while those further inland are similar to each other but differ significantly from the coastal dialect. The majority of the inhabitants also understands Tagalog and English.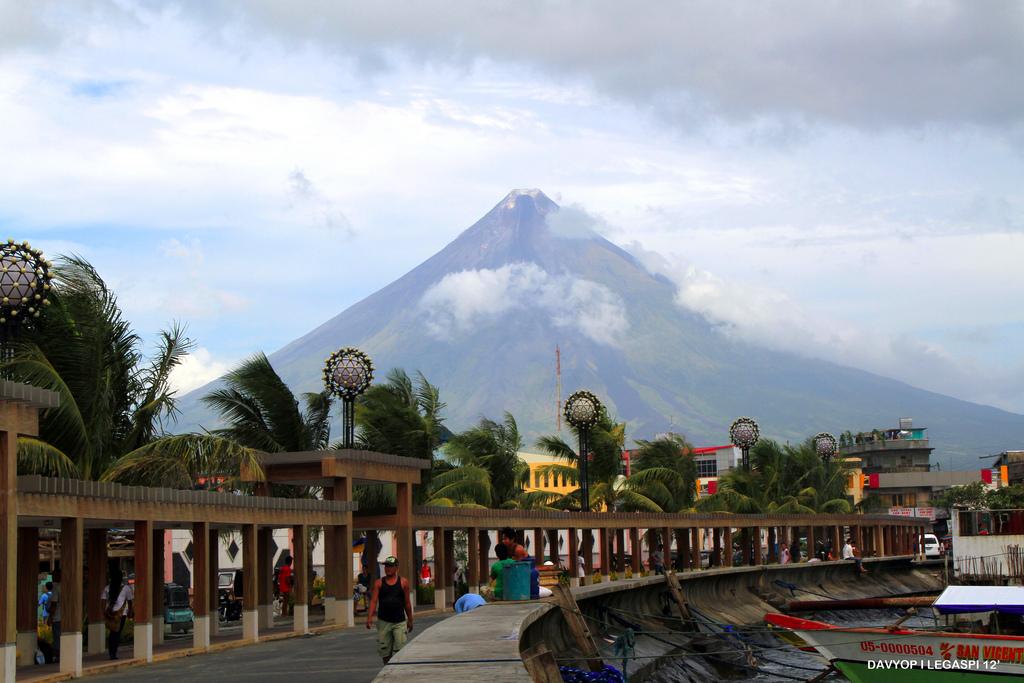 The province has continued to direct its efforts toward the development of its industries. Of the total 6,369 manufacturing establishments in the Bicol Region, half are located in Albay. 48.6% of the large scale lot are operating in Albay.
Agriculture, however, still accounts for the largest share in the total production and employment. Coconut, rice, abaca, and corn are the major crops.
Handicrafts are the main source of rural income. Albay is a major supplier of geothermal energy to the Luzon Grid with its Tiwi Geothermal Plant in Tiwi.
The province is also famous for its variety of beautiful and exquisite orchids that can be bought practically everywhere but more specifically in Cagsawa Park and in downtown Legazpi.
Tourist Attractions
The Albay province is a paradise located in the Bicol Region of the Philippines, 460km (287mi) south of Manila. Albay is home to the spectacular Mayon Volcano, the region's crown jewel and one of the great wonders of the world.
Only one hour away is the natural habitat of the fascinating Whale Sharks in Donsol, an amazing interactive eco-experience for the whole family.
Albay is filled with many natural wonders: waterfalls, caves, natural springs, beaches and marine life. The local cuisines are delectable, and for those who like to shop, there are plenty of the finest abaca handicrafts, cutleries and ceramics. The people are friendly and very hospitable.
Natural
Mayon Volcano (The World's Most Perfect Cone)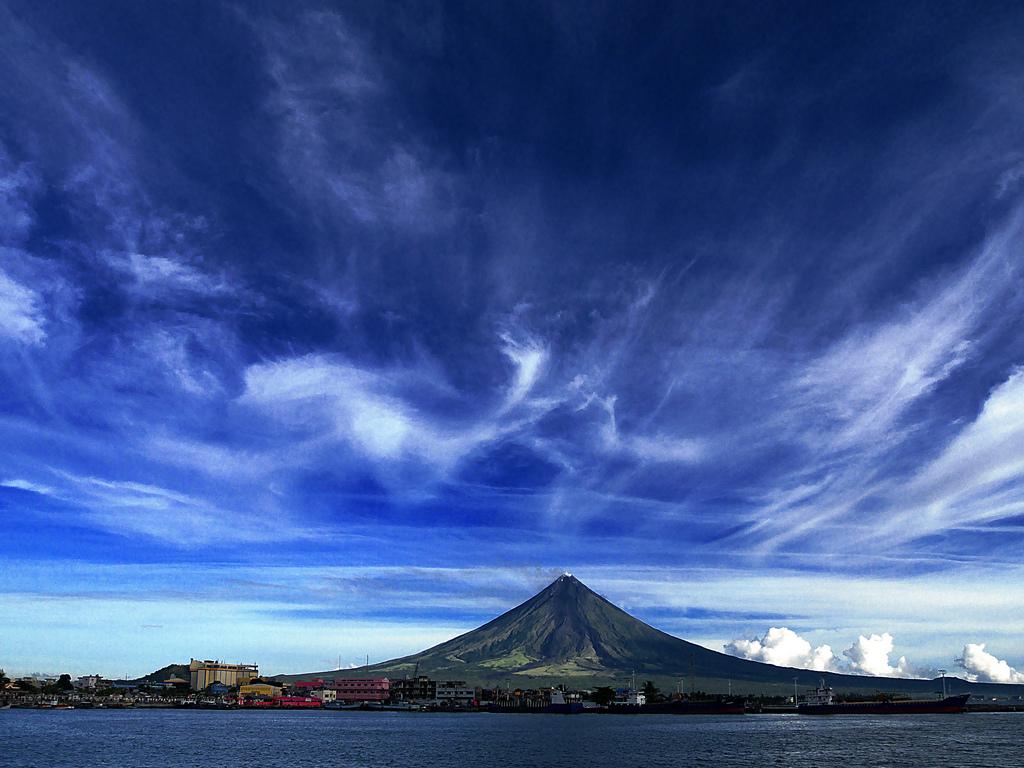 Lying at the eastern portion of the province and rising to around 2,462 m. above sea level, Mayon covers an entire area of 250 sq. km. With a base circumference of 62.8 km., it encompasses the seemingly sleepy towns of Camalig, Malilipot and Sto. Domingo.
Mayon Volcano has recorded a total of 45 eruptions since its first recorded eruption in 1616. In her calm, Mayon is overwhelming and magnificent in its grandeur. Unused by serious climbers for decades, the volcano's northern trail exudes the fragrance of forest trees and diverse vegetation and has made a habitat to different unique species. Farther in the forest, other attractions are the moderate to heavy moss-covered earth walls and soil. A peculiar stretch of clearing can be seen as traces of a road bed constructed sometime in the 1930's.
At Camp 2, one gets another perspective of the volcano's slopes and a birds'eye view of the trail one took. A novice climber will be guided and taught climbing and survival techniques by trained guides mandatory to the climb, making one feel as if he is a seasoned climber.
One can choose a day hike leading to the forest area to experience variety of flora and fauna. At 3,500 ft. above sea level is a viewing area that provides a fantastic panorama of the Albay Gulf, Mt. Malinao and the slopes of the volcano itself. A one and half day climb completes the towering 8,075 feet Mayon
Adventure. At this level one sees the nine towns surrounding the volcano and the Albay Gulf on the east.
Matagingting Falls (Jovellar)
Located in Jovellar this broad waterfalls cascade into a river.
Bugsucan Falls (Tiwi)
This tiered waterfalls set on a beauteous mountainside is another natural phenomena. The cascading water blend perfectly with its natural springs.
Minaroso Caves (Rapu-Rapu)
This natural cavern is situated close to the sea. It is a haven of sea birds and swallows.
Roca Baluarte (Bacacay)
This fort like formation has been converted into a beach resort.
Ilologan Beach (Manito)
A long stretch of coral islands excellent for bathing, skin diving and fishing.
Parian Mainit Spring (Camalig)
A popular swimming and picnic resort. Thermal swimming pool and cottages are also available
Sogod Beach (Bacacay)
Well-known for its enclaves of black sandy beaches with towering coconut palms and lush vegetation providing cool shades.
Corangon Island (Tiwi)
A tiny islet formed by pulverized corals through thousands of years. The swirling turns of waves and sea currents caused these crushed corals to surface above the sea line, circling on and on until it evolved into an island. The island is clearly apparent during low tide as one approaches the town of Tiwi.
Putsan Beach (Tiwi)
The original source of ancient ceramics and potteries industry in the Bicol Region. Sweeping in a long graceful curve, the beautiful white surging surfs of the ocean from a sharp contrast with jet black volcanic sands.
Vera Falls (Malinao)
Nestling about 400 ft. above sea level, on a secluded nook of Mt. Malinao, this natural paradise of forest and clear cascading water is a treasure to behold. A snake-like trail passing along rivers and tree-filled hills awaits you, trekking with endless enthusiasm. At its base, cold water fresh for drinking flow freely. Time seems to stop when one reaches this pristine falls.
Calabidongan Caves (Camalig)
The name really means "Caves of the Bats"; a grotto-like formation inside the cave astounds visitors.
Pototan Cave (Batan Island,Rapu-Rapu)
A four-hour spelunking adventure about 10 ft. above the beach line. Its cave entrance, about 30 ft. high and 20 ft. wide, is shaped like a yawning mouth. Once inside, an underground river that spans around 12 ft. high calmly flows into different chambers and passageways. Stalactites and stalagmites of various shapes, sizes, and contours are carved on craggy walls.
Busay Falls (Malilipot)
Considered as one of the highest waterfalls in the country because of its seven-tiered cascading white foam, estimated to have a vital height of 800 feet from the top.
Cagraray Island (Bacacay)
Beach Lovers and Spelunkers Haven. Twenty kms. away and a two-hour boat ride from the town of Bacacay is the paradise island of Cagraray. Among the interesting and significant caves discovered in this island are: Cagbulacao Cave, Malubago Cave, Misibis Cave, Buhi Cave and the Mataas Cave. White sandy beaches in Misibis, Mosboron and Sula are nature lovers' paradise
Mosboron Beach
Noted for its fine white sands, its irregular coastline facing the Pacific Ocean stretches almost three kilometers. A paradise for beach lovers, artists and nature lovers, an ideal place for swimming as well as exploring its rich and exotic marine life.
MisIbis Beach Waterfront Resort
Other nearby islands with white beaches are: Buguias in Sula Channel, Guinanayan near the northeastern tip of Cagraray Island, and Rapu-Rapu particularly a northwestern barangay called Morocborocan.
Hoyop-Hoyopan Cave (Camalig)
A natural tunnel-like structure. Legend says that this cave was the primitive habitat of the natives of the
Nag-Aso Boiling Lake (Manito)
A river with naturally heated water from beneath the earth.
Del Rosario Caves (Jovellar)
This grotto-like cavern is naturally formed on a hillside.
Sula Channel (Bacacay)
This channel connects Tabaco Bay and Albay Gulf. In the midpoint it looks like a lake because it is enclosed between the mainland Cagraray Island, then it meanders around the islets. The channel used to be the moorage of Spanish galleons during typhoons. It still has the same use at present.
Historical
Cagsawa Ruins (Daraga)
A grand and lavish church during the Spanish era that was buried during the worst Mayon eruption on February 1, 1814. Originally, the name was taken from
Kagsawa which suggested a snake charmer. Today, only the belfry remains as a mute testimony of Mayon's unpredictable fury and devastating strength.
Spanish Galleon Wreck Site (Sto. Domingo)
The site serves as a strong reminder of the rich Manila-Acapulco trade routes during the Spanish era. Found along the shores of Buhatan Beach, this galleon relic was wrought by a strong typhoon on its way to Acapulco and crushed on the reefs of Albay Gulf. This historical remains lie at five fathoms under the sea with green transparent water
Daraga Catholic Church (Daraga)
Built in 1773 by Franciscan missionaries, it's highly prized by art enthusiasts because of its rich baroque architecture. Its very high structure is considered above standard. Standing on massive hilltop, it dominates among the structures of the town of Daraga. At closer look, it contains archeological relics such as "santos" and religious seals carved articulately on volcanic rocks. These relics are considered priceless and collector's items.
Camalig Church (Camalig)
This is another missionary church built out of volcanic rocks. Today, relics from Hoyop-hoyopan Cave are carefully stored and displayed for viewing. These relics excavated from the cave reflect historical origins. They manifest the early Malaysian influence through the primitive jars excavated. Glazed ceramics reveal Chinese influx while the primitive potteries was derived from the flourishing Philippine culture 2,000 years ago.
Religious Sites

Our Lady of Church- Daraga, Albay
Built in 1773 on a top of a hill by Franciscan Missionaries, the church is a priceless relic for art enthusiasts because of its rich baroque architectural designs carefully carved on volcanic rocks, and its façade gives the church its special distinction from the other churches in the country. It contains archeological relics of "santos" and rare religious seals ingeniously carved throughout the entire face of the church, even up to the belfry.
Our Lady of the Assumption Parish (Guinobatan Church) - Guinobatan, Albay
In 1672, the Parish of Guiinobatan was already mentioned in books as a "visita" of the Municipality of Camalig. In 1678, DON FRANCISCO BAMASBAD, chief of the "tenientes absolutos", spearheaded the elevation of a petition to the Governor-General through the Franciscan Missionaries that the settlement, then a part of Camalig town, be declared an independent municipality. After ten years, (1678-1688) the request was granted. By virtue of Don Francisco Bagamasbad's initiative, he was appointed "Gobernadorcillo" and recognized as the first civil administrator of the new Municipality of Guinobatan. Thus, DON FRANCISCO BAGMASBAD was considered as the founder of Guinobatan.
San Juan Buatista Church - Tabaco City
Declared by the National Museum as one of the National Cultural Treasures, this church was built by the secular clergy in 19th century. Its belltower features rocaille elements dated from an earlier time. The church has an unusual floor plan, with compartments that are inexplicable as of now. The stones on the walls bear masons' marks, rarely seen elsewhere in this country.
St. Dominic Guzman Church - Santo Domingo, Albay
Built in honor of the town's patron saint, St. Dominic Guzman whose feast is celebrated every 8th of August.
St. John the Baptist Church - Camalig, Albay
The Episcopal seat of the Diocese of Legazpi
Our Lady of Mount Carmel Parish - Malilipot, Albay

It is a Catholic church that can be found at 4510 Malilipot in the town of Malilipot, Albay.
Malinao Church - Malinao, Albay
OAS Church - Oas, Albay
Saint Stephen Protomartyr - Ligao City
Saint Gregory the Great Cathedral
The Episcopal seat of the Diocese of legazpi.
Nuestra Señora de Salvacion - Joroan, Tiwi, Albay
Every 3rd Saturday of August, thousands of pilgrims flock to this small church in Joroan to pay homage to the miraculous image of Nuestra Señora de Salvacion, Albay's Patroness.
Socio-Economic
Tiwi Geothermal Electric Power (Tiwi)
An electric generation project with geothermal energy as a source. Designed to generate more than 227 megawatts, operated by NPC/NEA and Union Oil (USA).
List of Accommodations
ALICIA HOTEL - F. Aquende Drive, Albay District, Legazpi City

CASA EUGENIA HOTEL & RESTAURANT -- Tagas, Tabaco City

HOTEL CASABLANCA - Peñaranda Ext., Legazpi City

HOTEL LA TRINIDAD - Rizal St., Legazpi City

HOTEL VENEZIA - Renaissance Gardens, Washington Drive, Legazpi City

PEPPERLAND HOTEL - Airport Road, Legazpi City

JENNIFER'S GARDEN APARTELLE - J. Estevez St., Albay Dist., Legazpi City

HOTEL VICTORIA - Rizal St., Legazpi City

AVENROSE SUITES - Washington Drive, Legazpi City

CLIFFSTONE INN - Lidong, Sto. Domingo, Albay

IBALONG TRAVELERS HOSTEL - BDB Bank Bldg, 210 J.P Rizal St

DIVINE TOURIST INN - A. Luna St., Divino Rostro, Tabaco

NEUHAUS TOURIST INN - Magayon Dr., Daraga, Albay

SAMBITAN TOURIST INN - Diversion Road, Ligao, Albay
Transportation
Air Transport
By air, Legazpi City is 45 minutes away from Manila via the nation's flag carrier, Philippine Airlines.
Land Transport
By land, aircon tourist bus companies ply the Manila-Legazpi route daily with an average travel time of nine hours. The average travel time by train is sixteen hours via the Philippine National Railway, the country's sole rail transportation service.
Sea Transport
Several shipping lines have regular trips to and from Catanduanes through the Tabaco Port. Travel time from Visayas and Mindanao pass through the port of Matnog in Sorsogon.
Getting around the city
Buses and jeepneys are generally the modes of transportation in getting around Albay's destinations. Pedicabs and tricycles are also available for short distance travels. Taxis and rent-a-car services are also available.