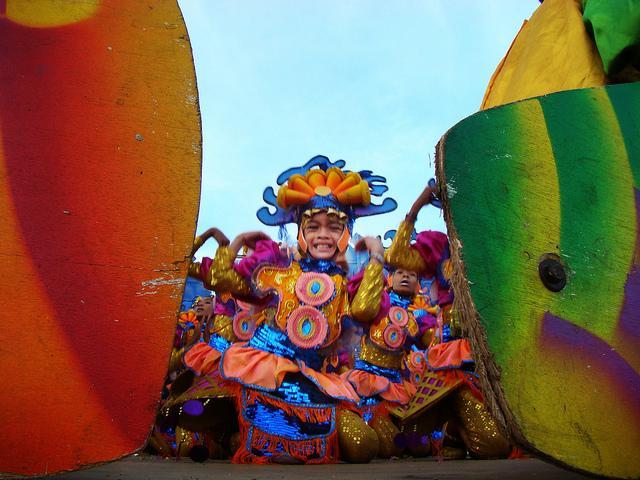 The Pintados-Kasadyaan Festival is a blast of joyful cultural-religious events held in Tacloban, Leyte during the whole month of June. The climactic highlights are celebrated on the last week, in time for the feast day of Señor Santo Niño, the patron saint of Tacloban.
Tattooed on History
The year 1668 marked the coming of the Spaniards in the Visayas region. They found heavily tattooed men and women whom they called the Pintados or "The Painted Ones". These native people of Leyte and Samar had their own set of cultures, traditions, customs, and lifestyles that were exotic and scary in the eyes of the foreign colonizers. As such, the friars banned their tattoo practices in the 17th century, saying that those were savage and evil.
In 1888, El Capitan, the name of the Child Jesus' image, was brought to the island of Leyte by Spanish missionaries. The indigenous people were drawn to the story of the Child Jesus and became devotees and worshipers of El Capitan; later on, they left their pagan way of living and were converted into Christianity.
The depiction of this significant piece of Leyte's pre-Hispanic and colonial past is the main objective of the Pintados-Kasadyaan Festival today.
Engraved on Culture
Tattoos were a big part of Leyte's aboriginal culture. Back then, not everyone could have a tattoo; they were exclusive only to the greatest and bravest of warriors. Natives had to win battles and fight in wars in order to earn their tattoos. The process of tattoo-marking was a test of courage in itself because the instruments used were very sharp metals heated over fire. Getting these marks was painful and open to the risk of infection, so the man who faced the dangers of tattooing and survived was considered strong and brave. Also, tattoos were symbols of status and rank. They were the counterpart of today's military badges; the highest ranking warrior was adorned with tattoos from head to toe.
Kasadyaan, on the other hand, means "merriment" or "gaiety" in the Visayan language. It is a very fitting representation of the best Filipino trait – the ability to smile and laugh in the face of adversity. In hopeless times, we Pinoys will still find something – anything – to be thankful for and to keep us going. This strong sentiment of resilience and optimism uplifts our feelings, thus making us stand up together after a painful fall.
Etched by These Spearheads
In 1986, a group of proactive businessmen and entrepreneurs formed the Pintados Foundation, Inc. and came up with a festival for the dual purpose of showing appreciation to the Eastern Visayas culture and honoring the Señor Santo Niño. These first organizers were composed of then parish priest of Tacloban now bishop of Naval, Msgr. Filomeno Bactol as chairman, Atty. Roque A. Tiu as the president, OIC Mayor Butch Veloso as the honorary chairman, Manager Shane Lim of Tacloban Coca Cola Plant, Manager Rommel Gonzales of the Philippine Airlines, Manager Mon Torralba of San Miguel Corporation, Mr. William Chan, and Mrs. Evelina Acevedo of the Katolinan Dance Company, among others. The first Pintados Festival was celebrated on June 29, 1987.
The Kasadyaan Festival was first staged in 1996 as project of the Eastern Visayas Regional Tourism Council through the inspiring leadership of then Governor, former Congresswoman of the First District of Leyte, now Vice President of PAGCOR, Hon. Remedios L. Petilla.
Since then, these two festivals have been celebrated together. During the first three years, this joint festival was held on varying dates. In 1999, it was officially declared that the Pintados-Kasadyaan Festival be held every 29th of June. Starting 2008, however, the festival has been moved to the 27th to give way to Sangyaw Festival which is celebrated two days after, sponsored by the city mayor.
Painted on the Streets
The highlights of this very lively festival are:
Leyte Kasadyaan Festival of Festivals.

This event brings together the diverse, vibrant, and colorful festivals from the different towns in the Province of Leyte and other participating festivals from the sister islands of Samar and Biliran, as well as other provinces in the Visayas and Mindanao. Different groups join the prestigious dance competition to be recognized as the best performers.

Pintados Ritual Dance Presentation. This special part of the festival features the rich history and culture of the Leyteños. The ritual dances have different themes depicting the pre-Spanish lifestyle – wars, epics, and folk religions – of the Pintados. The performers are adorned with decorative body paint imitating the ancient tradition of tattooing.

Pagrayhak Grand Parade.

Numerous dance troupes and musicians move to the beat of indigenous musical instruments like bamboo, wood, and leaves. They parade the streets of Tacloban City, showcasing their extravagant costumes and smiling faces. This event also doubles as a streetdance competition, so the participants are all eager to display their skills and talents.
There are also a lot of culminating activities, both religious and cultural. Several games, contests, and a beauty pageant are also included in the course of events.
Sketched on Society
In our Philippine society where people with tattoos are avoided and indigenous tribes are shunned, the Pintados-Kasadyaan Festival is a great eye-opener for everyone.
Ethnic tribes should not be discriminated or shown prejudice. Just because they are somehow left behind in time, abandoned by modernization, and continuing to live primitively don't mean that they are less human than us. We should remember that we got our rich culture from these aborigines and they also played a big part in our country's history, therefore they should also be given gratitude and recognition.
We should learn that tattoos are not all that bad. Not all people with tattoos are ex-convicts or members of gangs. Most of the time, in our changing and progressing world, tattoos are harmless marks of self-expression and special forms of art.
How to get there
By Sea
There are no boats traveling directly from Manila to Tacloban, but you can travel by Super Ferry going to Cebu City, then ride on SuperCat Ferry to Ormoc City. From Ormoc City, there are available vans and buses going to Tacloban.
By Air
Philippine Airlines and Cebu Pacific have direct flights from Manila to Tacloban.
Rating:
0 people rated this.