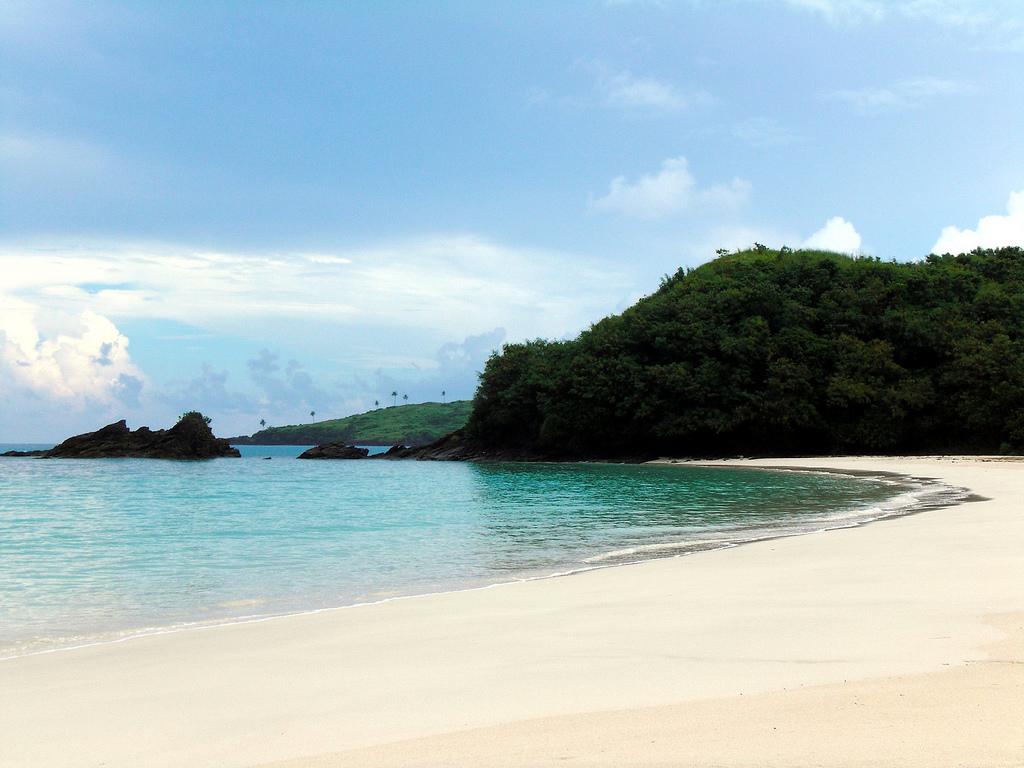 Calaguas Island, Camarines Norte
A province with much wealth of potential for eco-tourism is Camarines Norte in the Bicol Region. With its numerous natural and historical attractions that are guaranteed to awe even the most jaded of tourists, Camarines Norte is steadily becoming known as the next big tourist destination of southern Luzon and will soon aggregate to the growing tourism in the Philippines.
Camarines Norte is a province of the Philippines located in the Bicol Region in Luzon. Its capital is Daet and the province borders Quezon to the west and Camarines Sur to the south. It has a population of 513,785 as of 2007, roughly 10% of the region's population of 5,109,798 and 0.62% of the country's population of 88,574,614. Bikol is the major language spoken, together with Tagalog and English as second or third languages.
The province of Camarines Norte is found in the northwestern coast of the Bicol Peninsula, which form the southeastern section of Luzon, the largest island in the Philippine archipelago.
One of the six provinces that make up Region V (Bicol), it is bounded on the north by the Pacific Ocean, in the east by the Pacific Ocean and San Miguel Bay, in the west of Lamon Bay, and in the south by Quezon province and the adjoining province of Camarines Sur. Its capital town, Daet, is 342 kilometers southeast of Metro Manila, a 8- to 10-hour drive by bus or a 45-minute trip by plane.
The four major manufacturing and processing industries in the province are jewelry craft, gifts/toys/housewares, pineapple and coconut industry.
Camarines Norte has a total land area of 220,012 hectares, or 2,200 square kilometers. This is inclusive of 8,762 hectares of land disputed by the Province of Camarines Norte and Quezon, which was finally awarded to Camarines Norte by the Supreme Court in 1989.
History
From 1573 to 1829, Camarines sur and Camarine Norte formed only one political unit known as Ambos Camarines.
In 1829, they were separated but reunited again in1854. They again separated, to be reunited again in 1893. This union continued until 1919. On March 3, 1919, Camarines Norte was created by the Philippine Legislature in Act 2809.
When Camarines Norte was separated from Ambos Camarines in 1829, it was assigned to the towns of Daet, as capital, Talisay, Indan (Vinzons), Labo, Paracale, Mambulao (Jose Panganiban), Capalonga, Ragay, Lupi and Sipocot. Seventeen years late, it lost Sipocot, Lupi and Ragay to Camarines Sur in exchange for the town of Siruma.
Juan de Salcedo, dispatched by Legazpi to explore the island in 1571, influence the existence of Camarines Norte. After subduing Taytay and Cainta, he marched further across Laguna and Tayabas.
He visited the rich gold-laden town of Mambulao and Paracale obsessed by them about which he heard from native's there of existing gold mines.
When Francisco de Sande took over from Legazpi as Governor General, Spanish influence started to be felt in the region. He established a permanent spanish garison in Naga to control the region and defend it from Chinese and Muslim pirates. Capt. Pedro de Chavez was assigned to head this force.
There were already native settlements here when the Spaniards arrived. The flourishing town of Mambulao and Paracale were two of them.
Indan and Daet were the other settlements besides Capalonga and others. But Paracale remained the most sought after and the most prosperous because of its gold mines. The towns were chiefly inhabited by Tagalogs; the rests were of Visayan strain. However, most of the immigrants were from Mauban Quezon. The Spanish missionaries did not falter in their mission to Christianized the natives.
By virtue of RA Act 2809 of March 3, 1919, General F. B. Harrison separated Camarines Norte from Camariens Sur with Don Miguel R. Lukban as its first governor. At present it has twelve towns: Basud, Capalonga, Daet, Jose Panganiban, Labo, Mercedes, Paracale, San Lorenzo Ruiz, San Vicente, Santa Elena, Talisay and Vinzons. Daet remained as its capital town.
Tourist Attractions
Natural
Calaguas Group of Islands (Vinzons)
It is suitable for water-based activities such as swimming, snorkeling, wind surfing, and island hopping, and land-based activities like trekking and sunbathing. All the islands have beaches with powdery white sand similar to that in Boracay.
The islands are also perfect for surfing and kiteboarding. They can be considered virgin since no resorts have been established there yet.
Bagasbas Beach (Daet)
The most popular beach resort in the province is in Brgy Bagasbas. The beach has a long and wide expanse of fine gray sand. During clear but windy days, the big waves that roll in from the Pacific Ocean make it a paradise for surfing beginners and afficionados.
A clean gray beach facing San Miguel Bay with clear water suitable for swimming and outings. Its scenic and peaceful ambience provides excursionists and tourists a nice place for relaxation. Cottages, restrooms, roadside eateries and sheds are available to tourists at reasonable prices.
Pag-asa Beach (Jose Panganiban)
Just 3 kilometers away from the town proper, this beach became popular among enthusiastic swimmers, bathers and night promenaders
Lanot Soda Spring (Mercedes)
A fascinating creation of nature, a soda springs on the beach in Barangay Lanot.
Itok Waterfalls
Surrounded by fresh and lush foliage that makes it more romantic and inviting to tourists
An hour ride by bus northeast of Daet. Frequented by picnickers and swimmers. It has a clean sand and commands a panoramic view of the wide Pacific Ocean.
Roughly 18 kilometers west of Daet. One has to hike 3 kilometers to reach the scenic attraction. The deep cool water males it suitable for swimming
San Jose Beach (Talisay)
An extension of Bagasbas beach. Known for its fine gray sand. It faces the Pacific Ocean and features strong winds, making it ideal for wind surfing, snorkeling, swimming and jet skiing.
Canton Cave
An exhilarating wonder for a handful brave adventurers,.
The most popular river resort in the province because of its crystal-clear water, long-span hanging bridge and with lush foliage inherent in the place. Best of all the place is well visited because of its proximity in the capital town of Daet.
Mercedes Group of Islands (Mercedes)
The islands can be reached in about 30 to 45 minute motorboat ride from Mercedes town proper. The major attractions in these islands are its clean white beaches, corrals, underwater sceneries, rock formations and fish sanctuary. Additional come-ons are scenic landscapes and seascapes, the attractive lighthouse in Canimog Island, unexplored Canton Cave, and the different types of seashells and tropical fishes that abound specially around the seven (7) hectares Malasugui Island. The place is good for island hopping, surfing, swimming, bird watching, boating, snorkeling, trekking, scuba diving, golf in Apuao Grande Resort, jet skiing, spear fishing, and other related activities
Pineapple Island Resort
Located in the sprawling 5-hectare eco-tourism lot, 3 kms. southwest of Dae. It has a water park, Y-shaped man-made lagoon, fantasy laden pool and breath taking waterslides with various levels for a distinct splash on a gentle pool.
The resort is located in a vast tract of land near a river and only ten minutes drive from the town proper of Labo. Lush greeneries, tall forest trees and pristine water of the rive cannot escape the meticulous eye of the visitors. The river was converted into pools to suit the swimmer's age and need.
Man Made
The zig zag road along the National Highway. Its contour have similar characteristics with the road going to Baguio. It lies within the beautiful Bicol National Park
Tulay na Lupa Reservoir (Labo)
A recreational resort situated in the town of Labo.
Historical
First Rizal Monument (Daet)
The town of Daet holds the distinction of being the first town to erect a monument in honor of Dr. Jose P. Rizal. This is the first monument to be built throughout the Philippines. The effort was initiated by Lt. Col.
Antonio Saez of the Revolutionary Army. The unveiling was held on December 30, 1898. This historical landmark stands on the corner of Magallanes and J. Lucban Streets.
Laniton Shrine
Lanton is the site of the first ever armed confrontation between Filipino guerilla units and the elements of Japanese Imperial Army in the Philippines as recorded in the annals of the history. It was Wenceslao Q. Vinzons who led the Filipino guerilla resistance forces in that fateful encounter.
Martyr's Shrine
Unveiled in 1996 in honor of the Katiouneros and great sons of Camarines Norte who offered their lives for the country during the 1898 revolt.
Rufino Pabico's Ancestral House
Built in 1917 located along Vinzons Avenue, Daet. Intricate wood carvings were attached at the ceiling of the house. A combination of skills in painting, sculpture and architecture becomes more visible as one examines the interiors and the structure of the house.
Wenceslao Q. Vinzons is the only Bicolano hero who rose to national prominence at a very young age and displayed an unparallel leadership and heroism. A former student of the University of the Philippines and a statesman par excellence, his shrine has a public library and a museum. It stores the memorablia of Vinzons.
Museo Bulawan
Located within the the Provincial Capitol Complex. Take a glimpse of the many facets of life and culture and the beauty of being an inhabitant of the province. Collections range from archeological articrafts, memorablia of heroes, periodic exhibit, gallery of an art works and many others.
Religious Sites
Capalonga Shrine of the Black Nazarene
One of the famous tourist spots of the province where all roads it seems, lead to it every May 23, feast day od the Black Nazarene, as devotees and pilgrims of different nationalities flock to pay homage to the miraculous image of the Black Nazaren. The shrine is situated at the town proper of Capalonga, about three hours ride from Daet.
St. John the Baptist Church (Daet)
This is one of the oldest churches in the province of Camarines Norte. It can be found in the town of Daet. During the 16th century, the church was established headed by Don Manuel dela Estrada. He developed the church in the town.
Socio-Economic
Formosa "Queen" Pineapple
The "queen" variety pineapple is highly adapted to the soil and climatic condition of Camarines Norte. It is grown largely as a coconut intercrop in the municipalities of Basud, Daet, Jose Panganiban, Labo, San Lorenzo Ruiz and San Vicente. The fruit has a sweet taste, crispy texture and aroma. It weighs from 0.45 to 1.3 kilograms, has a tapering shape, deep eyes, and rind with yellow to deep yellow fresh color when ripe.
Mercedes Fishing Village
It is widely known for the biggest catches during fishing seasons. Hundreds of fishing vessels of different tonnages, speed and capacity drop anchor in this community. At the height of the fishing season, this town's offshore looks like a miniature Manila Bay when hundreds of glaring electric lights are in full blaze on the masts and decks of numerous fishing boats awaiting their big catch from the deep waters of the sea.
Gold Jewelry Making
Because of the abundance of gold in the province jewelry shops number to 88 and has a combined capitalization of approximately Php 37 million with an estimated workers of 169 people. The skill of goldsmith in creating gold jewelry has been raised to a fine art. Many jewelrers of Camarines Norte have kept the ancient craft making tradition a constant source of livelihood.
Landmarks
The structure, a landmark in itself, is reputed to be the most poshly constructed provincial government in the Bicol Region. The Doric-like façade of the building is propped up by twelve columns symbolic of the twelve towns of the province.
La Consolacion College of Daet
One of the private learning institutions in the province offering courses from pre-school to graduate courses. The town of Daet has a state college and boasts of six other private colleges.
List of Accommodations around the province of Camarines Norte
DAET TOURIST INN - F. Pimentel Avenue, F. Pimentel Avenue, Daet, Camarines Norte

DIAMOND MOTOR LODGE - Gov. Panotes Avenue, Daet, Camarines Norte

DOLOR HOTEL - Vinzons Avenue, Barangay VI, Daet, Camarines Norte

HABIBI APARTELLE - Roseville III Subdivision, Barangay VII, Daet, Camarines Norte

PINK DIAMOND HOTEL - Vinzons Ave., Pandan Highway, Daet, Camarines Norte

PINOY HOTEL - San Vicente Road, Purok 6, Barangay Lag-on, Daet, Camarines Norte

SAMPAGUITA TOURIST INN - F. Pimentel Avenue, Daet, Camarines Norte

TRAVELLERS HOTEL - Barangay Bagasbas, Daet, Camarines Norte

TRAVELLERS INN - Barangay Mancruz, Daet, Camarines Norte

VILLA MILA HOTEL AND GARDEN RESORT - Vinzons Avenue , Barangay Gahonon, Daet, Camarines Norte

WILTAN HOTEL - Vinzons Avenue, Barangay V, Daet, Camarines Norte

ZENAIDA'S PALACE - Purok 3, Barangay Bagasbas, Daet, Camarines Norte

NATHANIEL APARTELLE - San Gregorio Village, Barangay Mancruz, Daet, Camarines Norte
How to get there
Camarines Norte is accessible by land, air and sea transport.
By Land
Camarines Norte is about six hours' drive from Manila through lush forests and picturesque seascapes.
By Air Transport
Camarines Norte can also be reached by air through the Pili Airport in Camarines Sur. From the airport you can take a bus or a cab to Daet via Naga City.
Sea Transport
Motorboats, motor launches and non-motorized bancas are usually used in transporting passengers and cargoes from the mainland to the coastal barangays and islands of the province.
Rating:
0 people rated this.