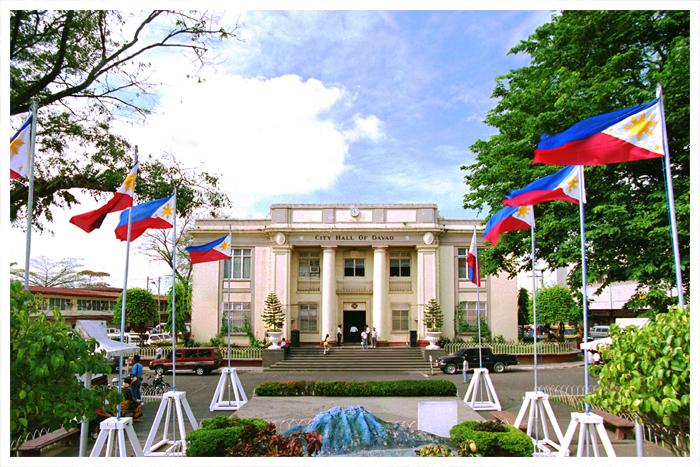 Overview
The City of Davao is a highly-urbanized Philippine city. The city serves as the regional center of the Davao Region and the center of Metro Davao. The City Mayors Foundation ranks Davao City as the 87th fastest growing city in the world, and it has been listed by the FDi magazine as the 10th "Asian City of the Future".
Name's history
Local historians of Davao claim that the word davao came from the phonetic blending of the word of three Bagobo subgroups when referring to Davao River, an essential waterway which empties itself into the Davao Gulf near the city. The aboriginal Obos who inhabit the hinterlands of the region called the river, Davoh; the Clatta or Guiangans called it Duhwow, or Davau, and the Tagabawa Bagobos, Dabu. To the Obos, the word davoh also means a place "beyond the high grounds", alluding to the settlements located at the mouth of Davao River which were surrounded by high rolling hills. When asked where they were going, the usual reply is davoh, while pointing towards the direction of the town. Duhwow also refers to a trading settlement where they barter their forest goods in exchange for salt or other commodities.
History
Davao's rich heritage in arts, culture and history come from its indigenous tribes, among the predominant groups include Bagobo, Mandaya, Mansaka, Manobo, Ata and B'laan.
According to historians, the word "Davao" is a result of the phonetic blending of words from three Bagobo sub-groups, meaning "beyond the higher grounds" or "over the hills yonder", a reference to the location of Davao River, a trading settlement. When different tribes went to the area, they would say that they were going to "davoh" (Obo group, considered the earliest tribe to settle in the area), "duhwow" (Clatta group) or "dabu" (Tagabawa group) as the place was surrounded by the hills of Buhangin, Magtuod, Maa, and Matina.
Led by Alvaro de Saavedra, the Spaniards - the first non-natives to visit Davao - arrived in the region in 1528. After the Spanish troops revolted and slayed Moro leader Datu Bago in 1847, a local hero who protected Davao from foreign invaders, Don Jose Oyanguren became the first governor of the undivided Davao province and renamed the place Guipuzcoa.
Way before World War ll, Davaoneos had amicable relations with Japanese. In 1900, a group of Japanese established extensive plantations of abaca around the gulf area and was engaged in logging, fishing and trading. The increase of Japanese residents earned Davao the title "Japan kuo" or "Little Japan." In March 16, 1937 Davao finally became a city when President Elpidio Quirino formally inaugurated the signing of Davao as a charter city.
Tourism
Davao City is endowed with a variety of picturesque landscape, Davao's topography dazzles: fruit plantation and orchid farms mantle volcano-fed hills and valleys. Virgin forests nurture rare wildlife. Coral highest peak mirror flat water. And the country's highest peak magnificently lords over the hinterland.
Just enchanting is its brilliant tapestry of harmony, woven from the diverse cultural threads of its people. In Davao, the contemporary fuses with the traditional as migrant settlers from all over the the country co-exist in peace with a fairly large expatriate community and numerous ethnic tribes who continue to live as they did centuries ago.
Davao is an anchor destination and one of the 7,000 times more islands that make up the Philippine archipelago. It is a natural haven for both sedate and daring pursuit. Davao really proves the competency of tourism in the Philippines.
Nature Lover's Paradise
On the slopes of Mount Apo was discovered the waling- waling, an orchid of exceptional attributes- with full, velvet petals tinged in royal colors of purple, red and yellow. So delicate is this stunning bloom that it can only thrive on flesh and balmy air. The waling- waling (Vanda sanderiana) has since been successfully transplanted from its natural environment and cultivated in many of Davao's flower farms. Retailing at several hundred dollars a plant, the Queen of the Rainforest has become an attractive business proposition.
Colorful species of birds headline this one of a kind bird show at Malagos Garden Resort. Eagles, hawks, parrots, crows, ostriches and even ducks perform fascinating tricks to the amusement of guests while educating the importance of conserving the environment
The Philippine Eagle (pithecophaga jefferyi) is considered one of the largest eagles in the world. It has the countenance of regal majesty- snowy white plumes dappled with gray, a distinct crested head matched with a pair of sharp eyes and a strong curved beak, a powerful eight- foot wingspan, and lethal preying claws. This majestic bird of prey has been saved from extinction and now a national symbol is sheltered at the Philippine Eagle Nature Center in Malagos.
The Philippine Eagle Nature Center is a sanctuary for this endangered species. The center is primarily a breeding facility for the eagles but it is also a temporary habitat of different animals endemic in the region. Many species of indigenous flora, including the waling waling orchid, flourish in the park's flawless natural beauty and rugged environment. The Philippine Eagle Research and Nature Center in the Malagos rainforest in Calinan, 45 minutes away from downtown Davao.
The Davao Crocodile park is home to the largest crocodile in the country aptly named Pangil ("jaw") . Aside from 19- foot reptile, other mindorensis and porosos crocodile species, wild cats, pythons, turtles, lizards, monkeys, and varieties of exotic birds and butterflies can also be found inside the mini – zoo.
Beat the Heat
Sizzle under the sun, beneath the sea or while strolling along the beaches of Davao. Beach resorts and seaside restaurants border the Matina, Talomo and Toril shorelines of the city. Davao City is also a gateway to Samal, an island known for its white beaches, diving, and snorkeling spots . Davao Gulf is also an exciting site for kayaking, windsurfing, jetskiing, boating, game fishing and whale watching.
Get wet as you explore into unforgettable dive sites beneath the waters of Davao Gulf. Dive sites are within 45 mins. To 2 hrs. away via pump boat from the main land wharf. The crystal clear waters, coral gardens, and sunken wrecks off the islands are a delight for scuba divers and other aqua sports enthusiasts. Or go wild as you go island hopping on the outlaying islets that shelter coral reefs, pulsating with marine life, dropping by various resorts, interspersed with coconut trees ringed with secluded coves of white sand beaches
One simply does not get bored in Davao. There are just so many options for a pleasurable stay. Go on a tour to Island Buenavista and enjoy the privacy and serenity offered by one of the Philippines' most secluded island resorts.
Explore the Great Outdoors
Conquer Our Country's Highest Peak
The challenging trek to the Philippine's highest peak towering at 10,311 feet, traverses through creeks, ridges and waterfalls with an amazing panorama of rainforest and fauna. Mount Apo, the grandfather of all the Philippine mountains. Trek your way to the highest peak of the Philippines and rediscover the first successful ascent led by Don JoaquinRajal, a Spanish Politico General dating back October 10, 1880. Climbing Mt. Apo requires time, preparation and an experienced guide. Climbers reaching the summit are rewarded with the most spectacular views to be seen anywhere in the Philippines.
White water river rafting along the winding Davao River is one of the latest adventure activities in the city. A high adrenaline adventure, it cruises through challenging rapids from Barangay Tamugan to Barangay Lacson in Calinan District. BaganihanBaganihan Trekking Site. Only an hour and a half drive from the city proper, Marilog take pride of its wonders such as spring resorts, caves, waterfalls and jungle trails. The district is also one of the city's main sources of agricultural produce. Enjoy the mountainous and forested area with more or less 400 hectares and it's suited for agricultural and Tourism project due to its weather (coldness) and preserved ecosystem of the area. Trekking site is accessible by foot or horseback.
Davao has its share of world-class golf courses. Whether you plan to play golf at Rancho Palos Verdes and Apo Golf and Country Club, you are assured of the full advantages of gently rolling terrain to provide you a challenging game. At the end of the day, enjoy an excellent view while relaxing with a cool drink at the clubhouse.
NCCC Mall Bowling

Golf at Palos Verdes

Biking
And for those who want to try wakeboarding, Davao's Deca wakeboard Park is the first cable wakeboarding facility in Mindanao. This 8-hectare recreation resort uses Reixen Seilbahnen, the world's leading manufacturer of cable wakeboard and waterski system. The resort also has restaurants, cottages and cabanas.
Davao also offer extreme activities for the fearless and adventurous. Tourists and locals can enjoy white skimboarding, white water rafting, ziplining and spelunking at very affordable costs.
White water rafting

Adventure Racing

Spelunking

Skimboarding in Davao

Ziplining

Diving in Davao City
Experience a rush of adrenaline with zip lining, one of the city's most popular outdoor activities. Enjoy a panoramic view of the city by ziplining at Zip City, Outland Adventure and Eden Nature Park.
Another must-try activity when in Davao City is white water rafting. Go white water rafting along the winding Davao river and cruise through 24 challenging rapids from Barangay Tamugan to Barangay Lacson in Calinan District.
Cultural heritage sites and tourist attractions
There are several cultural heritage sites in the city, such as museums like Davao Museum (in Insular Village, Lanang), Mindanao Folk Arts Museum (Philippine Women's College, Juna Subdivision, Matina), Davaoeño Historical Society Museum (at Magallanes and Claveria Streets), Philippine-Japan Museum (Matsuo Compound, Calinan), and Japanese historical sites like Japanese Tunnel (used by Japanese forces during World War II), Japanese Cemetery (burial site used in the 1900s, Furukawa Fiber Plant (used by Yoshizo Furukawa as abaca and banana plantation), and many others.
List of Tourist Attractions
Historical
Japanese Memorial Shrine/Cemetery

Old Japanese Houses (Old Davao)

Battle Memorial

Bonifacio Rotonda

Camp Domingo Leonor (Formerly PC Barracks)

City Hall

City Social Services development Office

Commemoration Marker

Cortez St.

Daliaon Elementary School

Davao City National High School

Early Davao Settlement

Furukawa Plantation Site

Golden kris

Japanese Peace Memorial Shrine/ Cemetery

Kapitan Tomas Monteverde Elementary School

Memorial to a Brave Son

Mintal Marker

Osmeña Park

Ohta Memorial Shrine at Mintal Elementary School

Peace Monument

Philippine National Bank Building

San Pedro Cathedral

Sangguniang Panglungsod Marker

Sta. Ana Elementary School

Terraza Mileza Bulding

The Fort of Davao

U.M Gymnasium

University of Immaculate Conception

Uyanguren Landing Site

Washington Marker
Cultural
Davao Museum

Ford Academy of Arts

T'boli Weaving Center

Sulyap Mindanao Cultural Center

Children's Museum of Davao City

Nieva's Arts & Crafts

University of the Philippines - Mindanao Cultural Center
Natural
Mt. Apo National Park

Baganihan Caves

Catigan

Tagurano Mountain Park

Tamayong
Man-Made
Eden Nature Park

Malagos Garden Resort

Riverford Nature Park

GAP Farms

Felis Resort Complex

Guino-o Beach Resort

Hilltop Vista Point Garden. Dencio's Kamayan Restaurant

Island in the Sky

Kadayawan Resort

Malibago Beach Resort

Palm Beach Resort

Puentespina Orchid and Tropical Plants Garden

Saavedra Beach Waterfront Resort

Jones Beach

Seagull Beach Resort

Seagull Valley Mountain Resort

Sunrise/Kalayaan Beach Resort

Vales Beach Resort

Vistorio's Beach Resort

Mergrande Ocean Resort

Villanueva Beach Resort

Bonguyan Beach

Minflo Flower Market

Mountain Breeze Resort

Yuhico Orchid Garden

Davao Casino Filipino
Religious
Sta. Ana Church

Redemptorist Church

St. Jude Church

Carmelite Monastery/Church

Baptist Church

Pink Sisters Monastery

Assumption Church

St. Joseph Church

Jesus Christ the Name Above Every Name

Fatima Church

Muslim Mosques

Mindanao Taoist Temple

Pieta

Sacred Heart Parish

San Pablo Church

Shrine Holy Infant Jesus of Prague

St. Mary Perpetual Rosary

Iglesia Ni Kristo
List of Accommodations in the City
111 Pacific Residence Inn - #498 Quirino Ave.305-6183

Abi Yhors Inn - Matina Aplaya

Alta Pension House - J.P. Laurel Ave.

Ashnor Traveller's Inn - #276 Mini Forest, Quezon Boulevard

BB Inn & Apartelle - #3 Panacan Ave.,

Big Apple Hotel and Bar - Mamay Road, Lanang

Casa Leticia Boutique Hotel - J. Camus St.

Courtside Princess Inn - J. P. Cabaguio Ave., Agdao

Cover Inn - Shanghai, Matina Aplaya

Danking Apartelle - #16 Sapphire St.,Gem Village, Maa

Davao Fortune Inn - R. Magsaysay Ave.

Davao Lodging Inn - C. M. Recto St.

Ecoland Suites - Tulip Drive Corner Walnut St.,

Elles Pension House - A&J Bldg., Mt. Apo St.

Emma Victoria's Inn - New Bonguyan Beach, Matina Aplaya

Garnet Country Inn - #9 Garnet St., Marfori Heights

Hari Royale Suites - Narra St. corner Sta. Ana Ave. 3

Hotel Cabaguio - J. P. Cabaguio Ave., Agdao

Hotel Galleria - Gov. V. Duterte St.

Jen & Cats Family Lodge - 8-B Villa Abrile Hunry Bldg.

Leanzo's Guest House - DIHO Subd., Buhangin

Marco Polo Hotel - C. M. Recto St.

Metropolis Suites Davao - Macopa St. Corner Cabaguio Ave.

Prince Court Hotel - J. P. Cabaguio Ave., Agdao

Rosewill Lodging Inn - #164 Vicente Bldg.,

Sunny Point Hotel - #30 Evergreen St., Brgy. Maa

Villa Carmelita Inland Resort & Hotel - Km. 14 MacArthur Highway, Toril
Getting There
By land
The common modes of public transportation are multicabs, jeepneys, tricycles, buses, and taxis. Multicabs and jeepneys ply 82 designated passenger vehicle routes around the clock. Tricycles ply the routes that are outside the main streets of the city. Taxis have several routes in and outside Davao City. In mountainous areas, the habal-habal passenger motorcycle is the main mode of transportation.
Davao City offers a wide bus network connection to major cities and provinces, not only in Mindanao but even as far as Manila and Pasay City in Luzon. The city is accessible by bus to and from points in Mindanao like Cotabato, Monkayo, Kidapawan, Midsayap, Digos, General Santos, Koronadal, Isulan, Tacurong, Tagum, Cagayan de Oro, Surigao, Butuan, and with Manila in Luzon.
The DPWH is proposing to build the Tagum-Davao City-Digos Light Rail Transit, which will be the first on Mindanao island, and the construction of the Davao-Samal Bridge, which will be like the San Francisco Golden Gate Bridge in the United States, to begin in 2017.
By sea
Davao is connected to Manila by a series of roll-on roll-off or inter-island ferry connection.
The city is served by domestic passenger ferries at Sasa Port and Sta. Ana Wharf, both of which are the international seaports of the Port of Davao, the busiest port in Mindanao. This port could service both inter-island and international shipments. It is located the Davao Gulf and its port of entry has two approaches; one is at the Pakiputan Strait between Davao and the water west of Samal Island.
By air
Davao City has direct flights to major cities in the Philippines and some Asian cities. The Francisco Bangoy International Airport serves the general area of the city and its surrounding areas.
Rating:
0 people rated this.