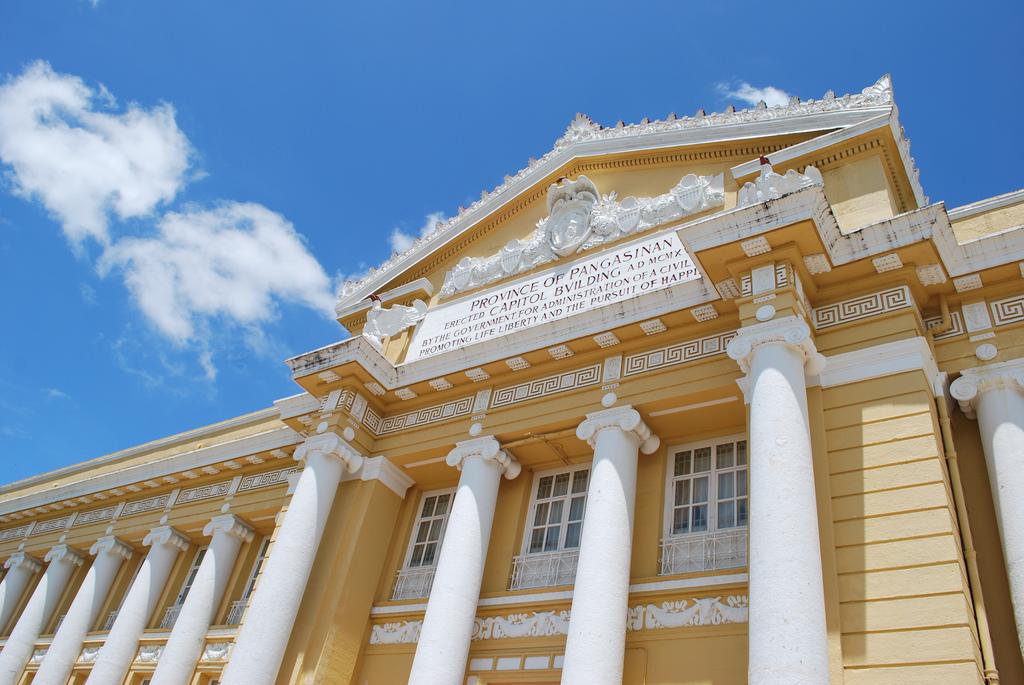 Pangasinan Provincial Capitol
Pangasinan is a province of the Republic of the Philippines. The provincial capital is Lingayen. Pangasinan is located on the western area of the island of Luzon along the Lingayen Gulf and West Philippine Sea. It has a total land area of 5,368.82 square kilometers (3336.030 sq mi). According to the 2007 census, it has a population of 2,645,395 people in 477,819 households. The total population is projected to rise to 3,039,500 in 2010. According to the 2007 Philippine general elections, Pangasinan has a voting population of 1,360,807, which is the second highest in the Philippines.
Pangasinan is the name for the province, the people, and the primary language spoken in the province. Indigenous Pangasinan speakers are estimated to number at least 1.5 million. The Pangasinan language is one of the officially recognized regional languages in the Philippines. Pangasinan is spoken as a second-language by many of the ethnic minorities in Pangasinan. The most significant minority ethnic groups in Pangasinan are the Ilocano, Bolinao, and Tagalog.
The name Pangasinan means "land of salt" or "place of salt-making"; it is derived from the prefix pang, meaning "for", the root word asin, meaning "salt", and suffix an, signifying "location." The province is a major producer of salt in the Philippines. Dagupan City is known for its bangus or "milkfish" festival, named after the fish that has made the city famous.
A kingdom called Luyag na Kaboloan existed in ancient Pangasinan before the Spanish conquest that began in the 15th century. The ancient Pangasinan people were skilled navigators and the maritime trade network that once flourished in ancient Southeast Asia connected Pangasinan with other peoples of Southeast Asia, India, China, and the Pacific.
Pangasinan occupies a strategic geo-political position in the central plain of Luzon, known as the rice granary of the Philippines. Pangasinan has been described as a gateway to northern Luzon and as the heartland of the Philippines.
Tourism
Pangasinan is one of the country's most diverse provinces where you find an abundance of marvelous landscapes and natural wonders, warm polite and hospitable people with cultural roots in centuries of glorious history, and a way of life that is a delightful combination of tradition, innovation and creativity.
Known as a land of romance and miracles, Pangasinan represents the best Provincial Philippines, where you find both the familiar and unfamiliar world, keeping abreast with the challenges of the 21st Century, but splendidly preserved its vast panorama of outstanding natural beauty and unique attractions, each in their own memorable styles.
Come, Discover Pangasinan
Amidst the fast advancing urban spread, only four hours away by land from Manila, lies Pangasinan, a vast territory of legendary surroundings, many of which remain virtually unknown to the outside.
In the best tradition of Pangasinan hospitality, you are invited to discover this unspoiled paradise—tranquil seas, golden beaches, spectacular coral reefs, majestic mountains, unexplored caves, hot and cold natural springs and many other diverse attractions that bring back the hearty feel of the countryside. Here, you will find old and charming towns, ancient churches, picture-book farmlands and coastal villages where you can thrill to deep-sea fishing and every conceivable water sports with the natives.
Here, one can also savor the legendary Pangasinan hospitality with its warm and gentle people in their traditional industries, indigenous arts and culinary delights. And, finally, join us in our colorful festivities mostly in the height of summer, when people come in droves to pay homage to the Almighty and the magnificence of Mother Nature. My sincerest wishes for a pleasant stay in the province.
Tourist Attractions
BEACHES
Tondol White Beach, Anda

Balo Beach, Alaminos City

Surip Beach, Bani

Patar White Sand Beach, Bolinao

Cabongaoan Beach, Burgos

Colibra Islands, Dasol

Tambobong White Sand Beach, Dasol

Lingayen Beach, Lingayen

San Fabian Beach, San Fabian

Bonuan Tondaligan Beach, Dagupan City
CHURCHES & PILGRIMAGE SITES
Our Lady of Manaoag Shrine, Manaoag

Redeemer's Way of the Cross, Bani

Church of Saint James the Great Fortress, Bolinao

St. Claire's Monastery, Bolinao

Mt. Zion Pilgrimage Mountain, Bugailan

Sr. Divina Tesoro Shrine, Calasiao

Sts. Peter & Paul Parish, Calasiao

Our Lady of Rosales Grotto, Rosales

San Fabian Church, Pangasinan
HISTORICAL / ARCHITECTURAL LANDMARKS
Capitol Building and Capitol Grounds, Lingayen

FVR House/ Museum, Lingayen

Gov. Daniel Maramba Boulevard, Lingayen

Sison Auditorium, Lingayen

Cape Bolinao Lighthouse, Bolinao
ECOTOURISM SITES
Hundred Islands, National Park, Alaminos City

Balingasay River, Bolinao

Marine Protected Area, Bani

Manleluag Hot Spring, Mangatare

Mt. Balungao, Balungao
MUSUEMS
Bolinao National Museum, Bolinao

Dagupan City Museum

Narciso Ramos Musuem, Asingan

Urdaneta City Museum, Urdaneta City
CAVES
Nalsoc Cave, Bani

Enchanted Caves, Bolinao

Villacorta Cave, Infanta

Cacupangan Cave, Mabini

Binmatya Cave, Mabini
SPECIAL INTEREST SITES
UP Marine Science, Institute, Bolinao

Sual Coak Fired Power Plant, Sual

San Roque Dam, San Manuel

Geo Farm, Bayombong
Points of Interest
THE PROVINCIAL CAPITOL BUILDING AND PARKS, LINGAYEN
The historic Provincial Capitol building lies in front of the historic Lingayen Gulf where Mac Arthur's liberation forces landed at the tail end of WWWII for the liberation of Luzon. Built in 1918 and designed by eminent American Architect Ralph H. Doane, it has been identified as one of the eight architectural treasures of the Philippine by NCCA and the Filipino Heritage Festival, Inc. The area is a favorite place to visit, with attractions such as Don Daniel Maramba Boulevard and a Veterans Memorial Shrine dedicated to WWII, with a collection of vintage armor, and the Urduja House, the governor's official residence, with its unique design inspired from the time of legendary Princess Urduja.
THE BEACHES ALONG LINGAYEN GULF
Part of Pangasinan's 160 kilometers coastline offers a variety of moods and features from public beaches of San Fabian to resort-owned beach areas of Labrador. Take your pick depending on your preference or budget. Accessible by the national highway, accommodation range from cool affordable huts to DOT rated hotels and resorts. Recommended sites include Tondaligan Park at Bonuan Heach Dagupan City and the Capitol Beach Front in Lingayen.
THE BEACHES IN WESTERN PANGASINAN
If your perfect beach has white sand and less tourist traffic, then the gorgeous beaches of Anda, Bolinao, Bani, Infanta, Burgos and Dasol are your picks. Accessible by good roads, fine white sand, deserted islands inspire more than the usual activities with deep-sea fishing, kayaking, snorkeling and diving.
THE HUNDRED ISLANDS
Alaminos City, is one of the most favorite destinations up north and the setting of popular water recreational activities such as diving, snorkeling, kayaking or just plain basking under the sun in an island of your choosing. There are available tour packages to suit any budget, or if your feel just like driving to Alaminos City, drop by at the City Tourism Office for assistance or more information.
CACUAPANGAN, BINTAYA, VILLACORTA and NALSOC CAVES
Mabini, Infanta and Bani, feature undamaged specimens of stalagmite and stalactites. There are caves ideal for hardcore spelunkers and some perfect for beginners. Ask locals for a cave guide.
BIRD WATCHING
In Bani and Alaminos City, commune with nature and watch different species of birds both local and migratory, on their undisturbed ecosystem.Local bird watching guides are available in Bani.
SAN ROQUE MULTI PURPOSE PROJECT
San Manuel, a marvel industry and engineering site side by side with verdant rice fields are rural landscapes.
SUAL COAL FIRED POWER PLANT
Another industrial giant structure built amidst the picturesque Sual cove.
An apparition and many miracles made our Lady of Manaoag a famous destination for thousands of Catholic devotees from all over the world. For the Catholic faithful, masses are scheduled every hour from 5am to 12noon.
REDEEMER'S CROSS, BANI
For the faithful or the nature enthusiasts, climb hills set with Stations of the Cross. At the bottom, nature's reward with the balmy waters of the South China Sea at Surip Beach. Want to be more inspired? Hike right back up the cross site and watch a perfect sunset.
LOCAL CHURCHES
Pangasinan's ancient.Hispanic churches are both a visita Iglesia' devotee and architectural buffs paradise. This includes Our Lady of Purification Parish in Binmaley, one of the largest vaulted dome churches in the province; Lingayen's Church of Epiphany with its collection of historical bells; Bolinao's St. James the Great Fortress Church, with its imposing façade hewn from coral rocks; the Saint Peter and Paul Parish, considered by the National Museums as a National Cultural Treasure. MORE PILGRIM'S DESTINATIONS include the Our Lady of Rosales Groto in Rosales, the Mt. Zion Pilgrim Mountain and the Our Lady of Lourdes Shrine, both in Bugalton, the St. Claires Monastery in Bolinao, and the Senor Divino Tesoro in Calasiao.
BOLINAO MUSUEM
Open to the public from Monday to Friday with its nature dioramas and laymans lesson on native flora and fauna. See one of the important cultural properties of the Philippines, the Bolinao skull with gold peggions on its teeth, ancient burial jars. Stone Age tools and mammoth fossils that were excavated from a 14th to the 15th century burial site in Bolinao.
THE CAPE BOLINAO LIGTHOUSE
This lighthouse was built by the Americans in 1903 and is the second tallest in the country. Climbing atop it, one gets a spectacular 360-degree view of the South China Sea.
UP MARINE SCIENCE INSTITUTE
An extension of the UP Diliman's College of Biology, here is your chance to come face to face with giant clam and more marine species. Learn how to conserve and propagate them.
Gallery

Hundred Island

Beach at Rock Garden Resort, Bolinao, Pangasinan
The "Treasurers of Bolinao", Pangasinan

1995 Ramos House, Lingayen, Pangasinan
St. John the Evangelist Metropolitan Cathedral, Dagupan City, Pangasinan
Capitol Building (Lingayen, Pangasinan)
Urdaneta City Museum, Urdaneta City
Lingayen Gulf at San Fabian, Pangasinan
Land of Salt, Pangasinan

Festivals
PISTA'Y DAYAT or Sea Festival in Lingayen in celebrated with a week-long series of various fun events, concerts, food and product fairs, exhibits and competitions which culminate on May 1st, Labor Day, where the main attraction is and has always been, taking a dip in the cool waters of Lingayen Gulf.
Bangus Festival, Dagupan; April 30

Sugpo & Malaga Festival, Binmaley; Feb. 2

Talong Festival, Villasis; 1st week January

Goat Festival, Balungao; March 17

Pidudungo Festival, Bolina; 3rd week April

Pandan Festival, Mapandan; April 6

Longganisa Festival, Alaminos; 3rd week March

Talaba Festival, Alaminos; 3rd week March

Hundred Islands Festival, Alaminos; May 1st

Binungey Festival, Anda; 3rd week April

Manaoag's Galicayo Festival; 2nd Sunday December

Puto Festival, Calasiao

Corn Festival, Sto Tomas
List of Accommodations
Hundred Island Resort Hotel - Brgy. Inansuana, Lucap, Alaminos City

Tondol White Sand Hotel and Restaurant - Tondo, Anda

Andanians Hotel and Restaurant - 19 Luna St., Poblacion, Anda

Crispina Mountain Resort, Icn. - Sitio Namangbagan, Poblacion, Bani

Hide-away Sea and Beach Resort - Centro Toma, Surip, Bani

Surip Mountain Resort - Centro Toma, Surip, Bani c/o Municipal Hall

SCL Garden Paradise Resort - Ilog Malino, Bolinao

Punta Rivera Resort - Ilog Malino, Bolinao

Rock Garden Resort - Brgy. Amedo, Bolinao

JY Beach Resort - Baybay Lopez, Binmaley

Villa Jireh Japhet Holistic Resort Hotel - Uyong, Labrador

The President Hotel - Maramba, Boulevard, Lingayen

Manaog Hotel - Poblacion, Manaog

Hidden Rock Farm Resort - Uyong, Labrador

Caraballo Spring Resort - Brgy. Cabangaran, Umingan

Hundred Islands Pension House - Lucap, Alaminos City
Getting There
Pangasinan is accessible by land. Air-conditioned bus lines such as Victory Liner, Five Star, Dagupan Bus and Viron have daily trips from Manila to the cities of Dagupan, Urdaneta, San Carlos, Alaminos and the towns of Bolinao and Tayug. Lingayen, the capital town, is 226 kilometers north of Manila via Dagupan-Urdaneta highway.
TRAVELING TIMES: Manila to Pangasinan by bus, 5 hours; 4 hours or less by private vehicle; Lingayen to Bolinao by bus, 2 hours; Lingayen to Dasol by private vehicle, 1 hour 45 min; Dagupan City to Baguio City by bus, 2 hours, by private car under an hour via Kennon Road.
ENTRY AND EXIT POINTS: Via Camiling, Tarlac, advisable if you're going directly to the Western part. More common entry and exit point is via Carmen, Rosales.
NATIONAL TRANSPORT CARRIERS: Victory Liner; daily trips from depots, Pasay, Caloocan and Cubao with direct routes to Alaminos, Bolinao, Manaoag, Dagupan City, Lingayen and San Carlos. Five Star Bus Company also has daily trips from its depots in Cubao and Pasay.
LOCAL TRANSPORT CARRIERS: Dagupan is the main central hub for transport to both the eastern and western parts of Pangasinan.
Rating:
4 people rated this.